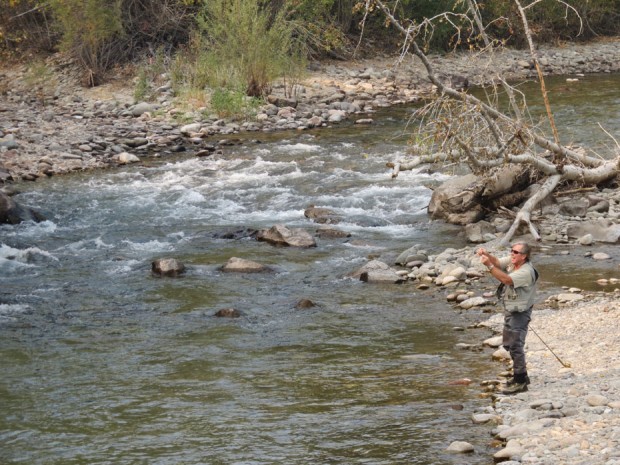 Show the public where the Big Wood River ran before the Magic Reservoir dam was put in, and put in details on when and how the dam was built.
This historic low water year has revealed interesting finds such as a cleared path through the rocks northwest of the dam which I presume dates back to when people "lived" there and needed a path to the river for water which is borne up by the crumbling "house" just above it. Also, the architecture and very fine building qualities of the old caretaker's house by the trees across the dam are a marvel of construction (I'm a cabinetmaker/carpenter). The fact that this stone house with perfectly straight and plumb walls still are is amazing but there are also built in parts of the stonework that I can see were put there to support the wood needed for the floor and other parts of the house.
Magic Reservoir, east of Fairfield, is located on the Big Wood River on the border of Blaine and Camas counties, mainly in Blaine County. The reservoir is managed by the Bureau of Land Management and offers boating, camping, fishing, hunting, and water skiing at one of nine semi-developed recreation sites. It is also popular for ice fishing. The reservoir is secured by Magic Dam, which was built in 1907-10.
Primary inflows are Big Wood River and Camas, Lava, Poison, and Rock creeks. Primary outflow is the Big Wood River.
Magic Dam is an earthen embankment dam in southwestern Blaine County, about 40 miles north of Twin Falls. The dam was completed in 1910 for $3,000,000 by Magic Reservoir Hydroelectric, Inc. for irrigation, flood control and hydroelectric generation. Water from the reservoir is used to irrigate 89,000 acres of farms near Shoshone and Richfield. It also supports a power station with three turbines totaling a capacity of 9,000 kW.
The dam was constructed in the Wood River Canyon though the name has since changed to Black Magic Canyon.
Kevin Lakey, Watermaster for Water District 37's Department of Water Resources said right now the reservoir stores 27,000 acre feet of water and normally it's probably 50 to 80,000 acre feet. He said it retains 191,500 acre feet of spring floodwater for summer use downstream when it's full.
The actual dam itself is 143 feet high and 782 feet wide said Lynn Harmon, General Manager of Big Wood Canal Company. There is another 1,200-foot embankment west of the dam.
Two supplementary dikes support the reservoir from overflowing during high elevations, while a concrete emergency spillway west of the dam helps to pass floodwaters. At full water levels, Magic Reservoir extends six miles up the Big Wood River and two and half miles up Camas Creek. The dam and reservoir control runoff from a catchment area of 1,600 square miles.
Lakey said there were ranches down in the canyon before the dam was put in.
There were probably two old homesteads said Harmon. At least one of them was purchased by the canal company and was adjacent to East Magic.
He said the original dam tender's house is across the dam, and it burned in the late 1940s or early 1950s.
Both Lakey and Harmon said the Big Wood River ran in its original channel before and after the dam was built.
Resorts and RV facilities are available along with docks, fuel, and plenty of parking about 18 miles north of Shoshone on Highway 75, and five miles southwest of the Highway 75/Highway 20 intersection.
Have a question? Just ask and we'll find an answer for you. Email your question to Kimberly Williams Brackett at timesnewscuriousmind@gmail.com with "Curious Mind" in the subject line.