TWIN FALLS — Residents can display their support for breast cancer awareness once a week at the end of their driveway.
Area waste collection companies are offering residents pink trash carts in place of their standard bins for a one-time donation that benefits mammogram services in the Magic Valley.
Twin Falls City Councilwoman Ruth Pierce, a nearly 14-year breast cancer survivor, ordered a pink cart for herself. She said she hopes the visibility of the carts convinces people to get a potentially lifesaving mammogram.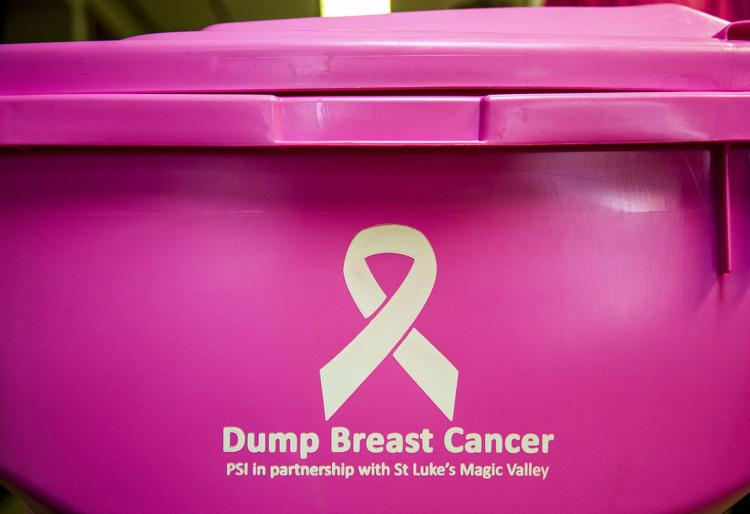 "Seeing those just reminds me of a positive force behind this disease," Pierce said. "Seeing them out in the community shows me that it's touched a lot of families."
PSI Environmental Systems began offering the cans in July for a one-time $50 donation as part of its drive to Dump Breast Cancer. The waste collection company has since provided 245 pink carts to residents and raised more than $12,000.
St. Luke's Health Foundation for Mammograms receives 100% of the donations. That helps pay for the Mobile Mammography Coach, which travels to rural areas and provides 2,000 mammograms each year to those who otherwise might not have access.
Jason Kirschenmann, operations manager at PSI, said a mammogram found his wife's pre-cancerous breast tumor about 10 years ago. The pink cart program helps raise money and awareness for a lifesaving procedure, he said.
"People can take pride that they've donated to a good cause," Kirschenmann said. "Once a week, they get to show their neighbors that they did that."
You have free articles remaining.
PSI receives calls from four or five customers a day interested in switching to the pink carts, customer service representative Kacee Gram said. People want to share their experience with breast cancer and how it's impacted them or someone they know.
"You don't realize how much it affects people, even just in Twin Falls, until you get those phone calls daily," Gram said.
Western Waste Services also started offering the carts to display the Power of Pink as part of their initiative to Trash Cancer. Residents can switch to pink for a $50 donation. The company will soon deliver cans to residents, and about 75 customers have already pledged to make the switch.
WWS began offering the service after receiving significant interest from residents in the area, sales manager Joe Wrenfrow said. The cans allow people to show support for a cause.
"There's nothing different about the can," Wrenfrow said, "but that color is pretty powerful."
The company hopes to raise more than $10,000 for cancer research, and 100% of the donations will go to St. Luke's mammography program.
Money raised by both programs will help save lives, wrote Brent Evans, an officer with St. Luke's Magic Valley Health Foundation.
"The funds raised will help to increase breast cancer screenings for community members who lack transportation, have disabilities, do not have insurance, or do not have the ability to pay," Evans wrote in a statement. "Early detection of breast cancer, before it has spread, is easier to treat and survival rates are significantly higher."