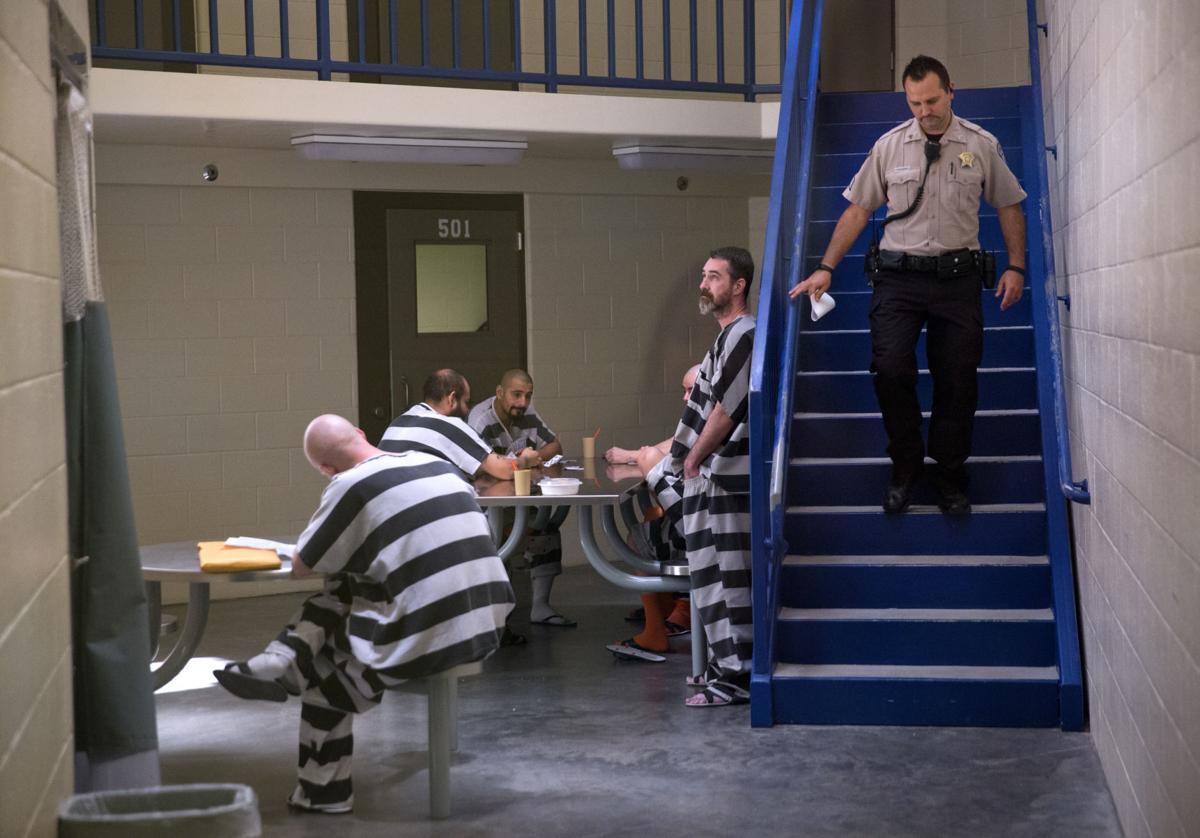 JEROME — Jerome County officials are exploring new options for leasing excess beds at the county jail after nearly a year of waiting on a contract from Immigration and Customs Enforcement.
The long-awaited contract, which would allow ICE to lease 50 beds at the Jerome jail, has been fiercely protested throughout the past year by local civil rights groups and dairy farmers, who say the move would create a culture of fear in the area's Hispanic community.
Now, in a development that's sure to be welcomed by opponents of the ICE proposal, county officials say they're considering alternatives to the controversial deal — but there's disagreement on which alternative would be best.
Commissioner Charlie Howell wants to see Jerome take more state prisoners that might otherwise be sent out of state due to overcrowding in Idaho prisons. That theoretical became one step closer to reality Wednesday morning after a phone call between Rep. Clark Kauffman and Idaho Department of Correction director Henry Atencio.
Sheriff Doug McFall is less keen on the idea, and says he would rather pursue a potential contract with the U.S. Marshal's Office.
After reading a report this week that the Idaho Department of Correction is considering shipping as many as 1,000 prisoners out of state to mitigate overcrowding in state prisons, Howell reached out to Kauffman to discuss the possibility of Jerome County taking in more overflow from the state.
The Jerome jail already houses some state prisoners — they currently account for about half of all inmates in the jail — but there isn't an official contract between IDOC and the county. Howell wants one.
"Why are we spending state money out of state when we can keep state money in state?" Howell said. "Our economic driver's always to buy local, buy local, buy local. Why aren't we serving local also?"
In a phone conversation with Kauffman Wednesday morning, Atencio indicated that the state would be open to sending more prisoners to Jerome.
"I guess they were under the impression that Jerome was waiting to be a repository for ICE," Kauffman said. "He said, 'Boy, we would be glad to send prisoners to Jerome as opposed to out of state.' And so we just kind of got the ball rolling for them to call the Jerome County sheriff or Commissioner Howell and see if they can make a deal."
Atencio confirmed that the state is indeed interested in leasing additional beds at the Jerome County Jail "as soon as we can." The department had been in touch with county officials Wednesday, Atencio said, to work out details such as the number of beds available.
"We would like to get going on it," he said.
The new talks with the state were applauded by Benjamin Reed, public relations coordinator with Jerome United Making Progress (JUMP), a local group opposed to the ICE contract.
"That is definitely progress and a step in the right direction," Reed said. "If they would abandon their pipe dream of getting this contract with ICE for easy money and get something that would benefit all of us in the state, that would heal a lot of community tension."
This wouldn't be the first time Jerome County and the IDOC have discussed entering a contract to house overflow from state prisons, according to Sheriff McFall. Prior to the new jail facility opening in 2016, McFall said, the state expressed interest in leasing "as many beds as you have available."
The 135-bed jail opened in July 2016. As the year came to a close and he hadn't heard anything more from the state, McFall said, he reached out to IDOC himself and was told that the state wasn't interested in a contract at that time.
Now, the shoe may be on the other foot, as McFall has hesitations about taking more inmates from the state. For one thing, he said, the county jail doesn't have the physical structure or manpower to house a large population of state prisoners.
"Quite frankly, we're not a prison environment. We're a county jail environment. And there's a pretty big difference," McFall said. "[State inmates] tend to be more hardened criminals that are a higher risk and take more manpower to keep under control."
Financial factors will likely also enter the discussion. The state pays the county $45 per bed per day. ICE is expected to pay $75, although that amount isn't guaranteed yet.
"It's a matter of economics," McFall said. "I think the people that voted for the jail in Jerome County expect us to make the best decision to get this bond paid off early."
A third option has also surfaced: Leasing beds to the U.S. Marshal's Office.
The Marshal's Office contacted Jerome County roughly a month and a half ago to express interest in renting bed space, McFall said. Like ICE, the Marshal's Office is expected to pay $75 per bed per day.
If the county hasn't heard from ICE by Jan. 1, "we're probably going to at least communicate to them that we've got to hear one way or another, or we're going to start talking to the Marshal's Office," McFall said.
A contract from any agency would be presented to the county commissioners for a vote.
If given a choice between leasing beds to ICE and leasing beds to the state, Howell said, he would choose the state. He hopes to get a potential deal with the state on the commissioners' agenda as early as next week.
"To be honest, it's less controversial" than a deal with ICE, Howell said. And "since we don't have a contract from ICE, for me it's not a consideration. You take the business that's offered in front of you."
It's unknown how the other two commissioners would vote on any contract from the state, ICE, or IDOC.
"There's a lot of communication that needs to take place, and a lot of numbers, facts, and figures that are going to be looked at before I can even come close to saying which way I can go," said Vice Chairman Cathy Roemer.
"This is the first I've even known that the state has all these people to send," Roemer added. "There is a huge lack of communication here. And that needs to be rectified."
Commissioner Roger Morley did not immediately return a call for comment.
Sign up for our Crime & Courts newsletter
Get the latest in local public safety news with this weekly email.