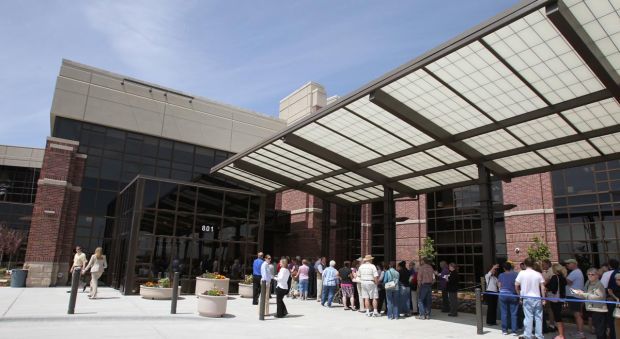 TWIN FALLS — A jury awarded a Twin Falls couple nearly $4 million in damages after deciding a nurse at St. Luke's Magic Valley Medical Center acted recklessly when she improperly removed a catheter from a woman's neck, causing her to have a stroke and permanent brain damage.
According to the original civil complaint filed last February, Joyce Herrett was a patient at the hospital on Christmas Eve in 2013 when a nurse, Marilou Wentz, "improperly removed a central venous catheter line which caused Mrs. Herrett to suffer an air embolism and stroke."
"The nurse's actions were in direct contravention of reasonably safe practices, violated the applicable standard of care and showed reckless disregard for the consequences," the Herrett's lawsuit read.
Joyce Herrett was supposed to leave the hospital that Christmas Eve and spend the holidays with family. Instead, the stroke kept her at St. Luke's for more than two months, until Feb. 28, during which time she had to re-learn basic skills like walking and talking.
"As a result of the improper removal of the central line, Mrs. Herrett suffered a stroke which caused significant brain damage," the lawsuit said. "She has been left disabled and suffering from severe loss of physical and cognitive abilities. Mrs. Herrett spent many weeks hospitalized and endures ongoing rehabilitation and requires round the clock care."
On Friday, following an eight-day civil trial in Twin Falls County District Court, the jury returned its verdict, saying Wentz acted recklessly and that St. Luke's should compensate Joyce Herrett and her husband $3.85 million.
The couple's attorney, Jarom Whitehead, said the case was "essentially forcing the hospital to pay its own bills" after St. Luke's billed the Herretts for the costs they incurred after the stroke.
"We feel this was a complete victory and well deserved," Whitehead said. "The Herretts have suffered, they've paid out of their own pockets."
The decision by the jury provided "affirmation that (the Herretts) were harmed by reckless conduct," Whitehead said.
"St. Luke's was held responsible," the attorney said. "Justice was served."
Michelle Bartlome, spokeswoman for St. Luke's Magic Valley, said that "based on imaging studies, we realized the stroke was caused by an air embolism, and that more likely than not, a nurse removing the central line did not have Mrs. Herrett positioned flat on her back."
The hospital notified the Herretts of the mistake immediately, Bartlome said.
"St. Luke's agrees that Mrs. Herrett is entitled to compensation," Bartlome said. "But we believe the jury verdict is excessive, and are preparing to appeal."
Bartlome did not immediately respond to questions of whether the incident led to protocol changes at the hospital or whether Wentz was disciplined.
A Facebook profile for Wentz showed she no longer works at St. Luke's and is now employed as a registered nurse at a dialysis center in Encino, Calif.
As for Friday's verdict, the jury had eight questions to answer about the case after hearing testimony from medical experts and others for a week and a half. They sided with the Herretts on all eight questions.
"It was a great result, I can't speak highly enough of the hard work of that jury," Whitehead said. "I'm very proud of them. They did a good job with a hard set of facts."
First, the jurors had to decide whether Wentz acted recklessly when she removed the catheter from Herrett's neck. Out of the 11 jurors, 10 decided her actions were reckless. The same 10 jurors also agreed that a hospitalization in September and October of 2014 was "proximately caused by the ... stroke."
The other six questions had to do with specific amounts of money. All 11 jurors agreed St. Luke's should compensate the Herretts $327,520 for "past economic damages," which Whitehead said included hospital bills and other medical expenses for things like in-home treatment and rehabilitation.
The jurors awarded the Herretts another $94,484 to cover the costs of the 2014 hospitalization, and $178,000 to make necessary modifications to their home.
"That's basically to make the house handicap accessible," Whitehead said. "Joyce was completely independent" before the stroke, but now needs constant care.
The biggest sums of money were awarded for future costs. The jury awarded the Herretts $1.4 million for future medical bills, which was a number that took a whole day of testimony to reach, Whitehead said.
"As a brain-injury patient, she'll require special care for the rest of her life," the attorney said. "The jury felt that would cover her bills moving forward."
That dollar figure was reached by considering factors like Herrett's life expectancy plus the costs of skilled in-home nursing, care plans and other medical expenses.
The jury also awarded $1.5 million for non-economic damages, which Whitehead explained are the things "you can't add up with a calculator," like pain and suffering, disfigurement and the loss of joy in life.
"What's a brain injury worth? How do you put a price on something like that?" Whitehead said.
Lastly, the jury awarded Rodney Herrett $350,000 of non-economic damages for loss of consortium, which Whitehead explained is "a fancy word for the loss a spouse would suffer" in a case like this, like loss of companionship, love or support.
"It's putting a price on the priceless," the attorney said. "It's the hardest thing a jury has to do."
Sign up for our Crime & Courts newsletter
Get the latest in local public safety news with this weekly email.