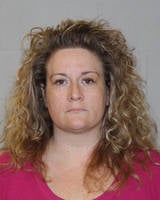 BURLEY • Tara Leigh Bagley, 41, a vice principal at Burley High School, was arrested Friday on charges of sexually abusing a minor.
According to a press release issued by the Cassia County Sheriff's Office, Bagley was arrested without incident on a warrant by police near St. George, Utah. She is charged with seven counts of sexual abuse of a minor 16 to 17 years old, and is being held in the Mini-Cassia Criminal Justice Center on $250,000 bond.
Bagley was arrested at 9:17 a.m. Friday by the Hurricane City Police, according to staff at the Washington County Sheriff's Office.
The alleged events occurred from July 2011 to December 2012 in Cassia County.
According to the release from the sheriff's office, the incidents did not occur on school property.
Burley High School's website lists Bagley as vice principal for the 10th and 12th grades. The Cassia County School District did not respond to requests Friday for Bagley's employment history.
No arraignment date has been set yet for Bagley, and her 5th District Court case file was sealed Friday. Deputies said the investigation is ongoing.