RAFT RIVER — Police are searching in Cassia County for a man who they believe shot a person in Utah before fleeing to Idaho.
Idaho State Police said Jonathan Llana, 45, of Los Angeles is believed to be armed and dangerous. As of 3 p.m., ISP said the search remained active.
The Utah Highway Patrol said the search for Llana began at about 8 p.m. Wednesday when emergency dispatchers in Box Elder County received a 911 call from a passenger in a Range Rover who said the driver of the vehicle had been shot while driving west on Interstate 84 near Rattlesnake Pass, between Snowville and Tremonton. The passenger was also injured in the shooting.
The passenger described the shooter's vehicle as a silver Volkswagen Jetta with plates from another state, Utah Highway Patrol said.
The driver was Dennis Gwyther of Salt Lake City, who was driving to Boise for work, Utah State Bureau of Investigation Lt. Ryan Van Fleet said.
Van Fleet said there was no indication the two drivers had interacted before the Wednesday shooting.
The attack occurred after the Jetta and Range Rover cleared a traffic slowdown that resulted when two big rigs were side by side as one passed the other, Van Fleet said.
Utah officials issued an attempt-to-locate notice for Idaho and Nevada for the Jetta. Emergency workers confirmed the Range Rover's driver had died and the passenger was taken to the Bear River Valley hospital.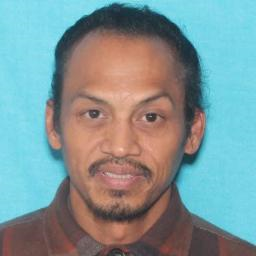 Idaho State Police and Cassia County Sheriff's deputies later stopped the Jetta.
Officers prepared to use a "felony takedown procedure" to take Llana into custody when "he hammered the gas" and sped away, Cassia County Sheriff Jay Heward told the Times-News. A high-speed chase ensued that ended with Llana driving into the Raft River, which is about 8- to 10-inches deep near Interstate 86 and Raft River/Yale Road.
Llana fled south on foot, Heward said. He was last seen wearing a tan jacket but could be wearing other clothing.
"There are scattered homes in the area and across southern Cassia County," he said. "People should keep their doors locked and not let strangers inside their homes. Don't pick up anyone when you are driving or befriend anyone."
Llana is considered armed and dangerous, but it is unknown whether he still has a weapon in his possession, Heward said. The Utah Highway Patrol said a weapon was found in the car.
"People should be watchful and if they see anything suspicious, they should call 911," Heward said.
People living in the rural area should take note if vehicles are missing from their property, he said.
The Cassia County Sheriff's Office has its tactical SWAT team searching the area along with other deputies, Heward said. The Utah Highway Patrol had a plane in the air searching most of the night and Thursday morning.
Llana is 45 years old, 5 feet 10 inches tall and weighs 150 pounds, with black hair and brown eyes, police said.
Anyone who sees a person matching Llana's appearance is asked to immediately call law enforcement. ISP can be reached at 208-846-7550 or by dialing *477 on cellphones.
Cassia County School District Spokeswoman Debbie Critchfield said the district has heightened security at the district's schools in Malta.
The district has implemented its hall check protocol, which means all the exterior doors are locked. Students are in classes but the classroom doors are locked. Classes carry on as usual but the students are not allowed outside.
All staff and administration were placed on alert and parents are being notified of the implemented procedures. The doors all have access control points that limit people coming in and out of the schools to one location and are controlled through an electronic system in the office.
"We have been in constant communication with local law enforcement so that we are able to make good decisions and reassess when needed," Critchfield said. "For parents that have more heightened concerns, we remind them that they are able to check their child out of school. At this point we feel that we are addressing the safety concerns."
The Minidoka County School District said it has additional security in place at its schools and exterior doors were locked Thursday because of the search.