TWIN FALLS — Randy Stoker, who was a judge in Twin Falls County for 15 years, died Monday.
His stepson, Scott Pemberton, posted on Facebook: "Today the world has lost a great man. Former Honorable Judge Randy Stoker lost his courageous battle with cancer. He has been fighting it for 8 long hard years. Not only was Randy my step-father, but he was my mentor, and friend. I can honestly say if it wasn't for him I would not have turned out the way I have. He will be miss by all that knew him. God Speed Papa, I will see you again."
Stoker presided over many of Twin Falls County's high-profile cases. As a district judge he handled felonies for the county along with now-Idaho Supreme Court Justice Richard Bevan.
"It's a tough, tough deal," Bevan said Monday evening, still reeling from the news. "He was such a good friend and colleague. We worked together 14 years and had lunch every Monday."
Bevan said Stoker had a wonderful work ethic and prided himself in being well-prepared for each case.
"Twin Falls has lost a wonderful servant," he said.
Twin Falls County Prosecuting Attorney Grant Loebs and Stoker were professional friends for 25 years.
"He was always approachable," Loebs said Monday evening. "His door was always open."
Stoker's death, combined with Bevan moving to the Idaho Supreme Court, will leave a big hole in the county's legal house, he said.
Loebs said he had talked about Stoker at lunch earlier Monday and had decided to check in on him when he got back to the office.
But that's when he heard the news.
"We're going to miss his experience," Loebs said.
"It's a sad day. He was a nice guy," said Fritz Wonderlich, the Twin Falls city attorney.
Wonderlich was surprised to learn of the news on Monday after having worked with Stoker since the 1980s. Stoker was doing criminal defense when Wonderlich was a prosecutor, he said.
Stoker's rulings drew national attention in the past few years, including the sentencing of John K. Howard, who was sentenced to probation in the assault of a mentally disabled black teammate in a locker room in October 2015. While the sentencing drew some criticism, The Idaho Judicial Council unanimously decided Stoker did not violate the state's Code of Judicial Conduct in his handling of the case.
For the past decade, Stoker presided over many high-profile cases in the Magic Valley. Recently, he sentenced Jerry Burton Kimball to up to 45 years in prison for being an accomplice in the murder of Twin Falls developer Kent Wayne Storrer.
As he often did, he advised Kimball to use prison as a time to think: "I hope you spend your next 24 years trying to figure out not only why it happened, but what to do if you are placed in that situation again," Stoker said. "If you can't figure it out I don't think the parole board will let you out again."
Stoker could have stern words for defendants and occasionally went outside the box of traditional sentencings, once telling a man who fired a shotgun at a crop-duster he had to buy a half-page advertisement in a Sunday edition of the Times-News explaining what he did and why it was wrong.
Others saw a softer side of the judge. Stoker regularly married couples at the courthouse, and on one busy Valentine's Day, married a record seven couples, earning him the nickname "The Love Judge." Stoker, a Shriner, could also be seen riding a mini-motorcycle in Buhl's Sagebrush Days Parade.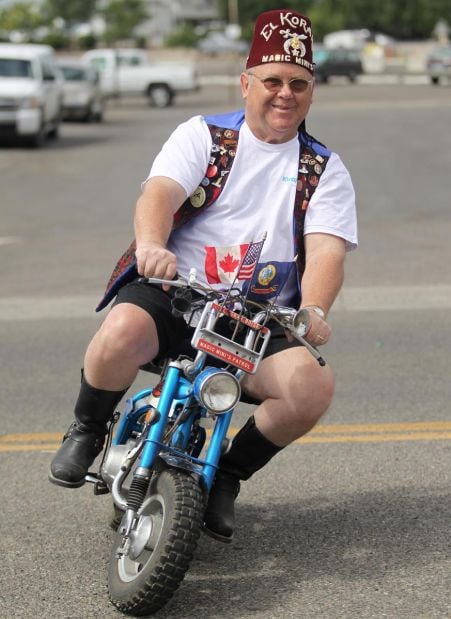 Other notable cases include Stoker's denial of a request to repeal Idaho's ban on insanity pleas and his ruling in a contentious 2014 lawsuit where he ousted an embattled Idaho GOP chairman.
After 28 years of practicing law in Twin Falls and three attempts to gain a judgeship, Stoker was named as a magistrate judge in 2002 at age 52.
The Burley native was a University of Idaho graduate and worked in private law practice, including work as a public defender. He was appointed a district judge in 2007 by Gov. C.L. "Butch" Otter.
Parke's Magic Valley Funeral Home is handling services.