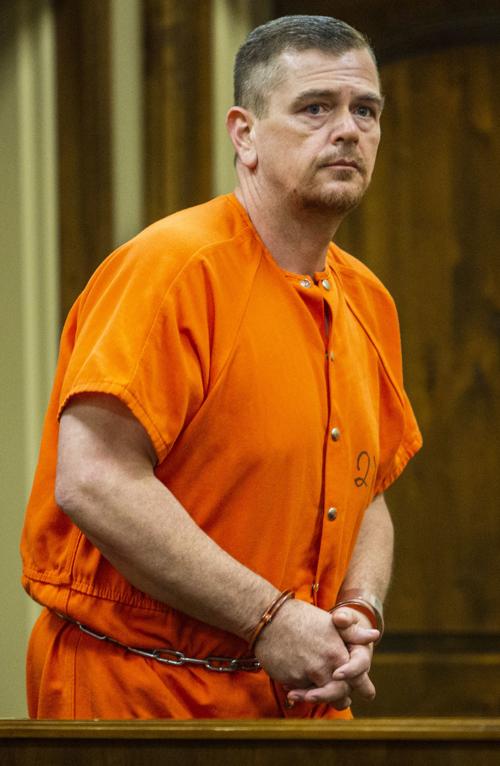 TWIN FALLS — The trial for a man accused of firing a gun near his wife and children is scheduled for August 21, but a plea agreement may be signed before that date in the case.
Kenneth Dwayne Sartin, 41, of Twin Falls, is charged with felony aggravated assault with a deadly weapon, felony malicious injury to property, two misdemeanor counts of injury to a child, and exhibition or use of a deadly weapon for the incident that took place in early March.
Police say Sartin and his wife attended a party at which Sartin became intoxicated. The couple later got in an argument at their home and Sartin fired a gun 10 times with his wife in the same room and his children nearby, court documents say.
Sartin appeared before Fifth District Judge Benjamin Cluff on Aug. 5 at the Twin Falls County Courthouse for a pretrial hearing with his public defender, George Essma.
Essma told Cluff that, while the trial date should remain on the calendar, there is an issue with some of the discovery, or evidence, requested by the defense.
That evidence is hospital records from the night police officers escorted Sartin to the hospital, where tests were performed. Sartin wants to see the results of those tests, Essma said.
Deputy Prosecutor Jill Sweesy confirmed the issue, telling Cluff a subpoena for the records was served on St. Luke's Magic Valley Medical Center July 29.
"There is a potential resolution," Sweesy added, announcing her intention of preparing an offer for Essma to review with Sartin by the end of the day.
That offer, Sweesy said, would expire by noon on Friday, meaning if Sartin did not accept the plea agreement, the trial would go forward as scheduled.
Cluff agreed to keep the trial on the calendar, with the prosecution planning on calling five witnesses and presenting an audio of the 911 call and photographs, Sweesy said.
Essma is not planning on calling any additional witnesses for the defense, only those on the prosecution's list.
Sartin remains in custody at the Twin Falls County Jail on $1 million bond.
Sign up for our Crime & Courts newsletter
Get the latest in local public safety news with this weekly email.