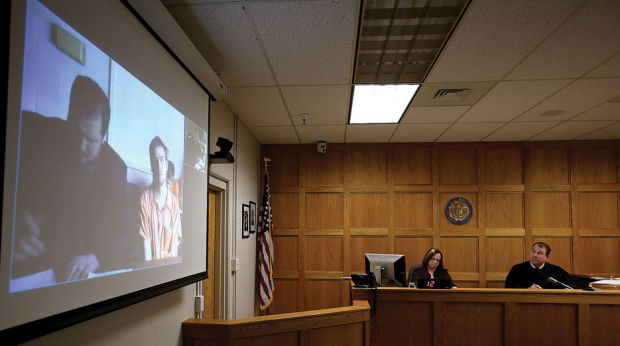 TWIN FALLS • Idaho law clearly lays out rules for setting bail, but judges still have a great deal of discretion in setting bond amounts.
It's a system in which nuance dictates decisions and sometimes leaves observers scratching their heads.
Some who read that Steven Ray Stone got a $5,000 bond on a Dec. 2 domestic battery case became outraged when he was charged with raping and kidnapping the same woman later that month. A closer reading reveals that Stone was not arrested for the Dec. 2 case until he also was arrested for the Dec.16 alleged rape. During a separate hearing, Stone was given a $500,000 bond on the second case.
Prosecutors recently took the relatively rare step of asking for no bond to be granted in the case of Bradley Frank James, a Filer man accused of first-degree murder. Under Idaho law, the maximum penalty for that crime is death, so the judge allowed no bond.
Bail is not punishment for an accused crime.
"You can't have a penalty component until a finding of guilt," said 5th District Senior Judge Barry Wood.
Wood started as a Lincoln County magistrate judge in 1987, was a district judge in Gooding, Jerome and Lincoln counties, was the presiding judge of the Snake River Basin Adjudication and was the 5th District's administrative judge. He became a senior judge in 2010.
By law, anyone charged with a crime is entitled to bail, with some exceptions, such as death penalty cases.
"Of course, bail is mentioned in the Constitution," Wood said.
The Idaho Bail Act and Idaho Criminal Rule 46 outline the rules for bail in Idaho.
Bail is ordered essentially to ensure that the defendant returns to appear in court.
If a person shows up at all of their court hearings, a judge exonerates their bail, meaning the defendant gets that money back. This happens whether the person is found not guilty, guilty or if the case is dismissed.
Bail also can protect victims, witnesses and the public.
Twin Falls attorney Lynn Dunlap said he's seen excessive bail required, though not often in the 5th District covering the Magic Valley.
Dunlap said sometimes his clients are denied bail, and other times he's surprised that bail is granted.
Years ago, Dunlap said, he had a first-degree murder suspect granted bail, albeit at a high dollar amount.
Once assigned an attorney, a defendant can request lower bail. The attorney has more time to gather evidence and prepare that request.
But, said Dunlap, "A judge hesitates to change another judge's bond."
Under state guidelines, judges can use the Idaho Bail Schedule to set bond amounts for misdemeanors.
"That's the framework," said Senior Judge Wood. "If it's a scheduled offense, typically that's what's done."
But a judge can use the bail schedule as a starting point, then consider factors in Idaho Criminal Rule 46.
Those include the defendant's employment status, family ties in the area, reputation, length of local residency, past criminal record and, often most important, whether they have a history of showing up for court hearings.
"They're common-sense factors," Dunlap said of Rule 46.
Felonies don't have a bail schedule. The judge decides.
"There isn't any mechanical formula for, 'This piece counts that much, and that piece counts this much,'" Wood said.
But is it fair for judges to have so much discretion?
"Here's the thing," Dunlap said. "To become a judge, you have to have been a practicing attorney. As a general rule, the judges have pretty good experience in the court process. They have seen the system.
"I don't always agree with their decisions, but as a general rule their rationale is pretty solid."
When setting bail, Wood said, he first considers an own-recognizance release, but the bond can rise from there.
"You take one battery versus the next battery that includes, 'When I get out I'm going to do X,'" the judge said. "Those kinds of things are not subject to a mechanical formula."
Instead, the judge's wisdom and experience on the bench help make that determination.
"You cannot emphasize enough that it's the totality of the circumstances and each case on its own merit," Wood said.
"I've had cases where I really wanted them to stay in (jail) simply because they were safer there," Dunlap said. "Maybe there's some vengeful victims."
In other cases, Dunlap wants to avoid more criminal allegations against his client.
Time spent in jail also can benefit the client if he's later convicted.
"You may want them to stay in jail and say, 'He's already done this much time, he's seen jail and he doesn't want to be there," Dunlap said.
That might persuade a judge to sentence the client to probation rather than more jail time.
A judge can restrict a defendant's activities, movements, associations and residence upon release.
"A classic one would be a no-contact order," Wood said.
A judge also order can someone not to drink or to submit to random drug tests or driving restrictions.
"Whatever is applicable to the circumstance," Wood said. "Whatever is relevant."
If a person can't afford to pay their entire bail, they can enlist the help of a bail bonds agent.
Most bail bonds companies require the person to pay 10 percent. Some offer discounts if the person has a private attorney or is a member of the military. Conditions very from company to company.
"We do not always require collateral," said Eve Collins-Benavidez, owner-agent for A Bail Bonds Company in Twin Falls. "We let them make payments."
She said her long history of living in the Magic Valley lets her be more flexible. If she knows someone's family and has a good reference, she's more likely to help someone get out of jail.
Collins-Benavidez has worked for other bail bonds companies but started her own business with a partner a little more than a year ago.
"You've got to be a hard worker, independent, a go-getter," she said. "It's not meant for everyone."
Sign up for our Crime & Courts newsletter
Get the latest in local public safety news with this weekly email.