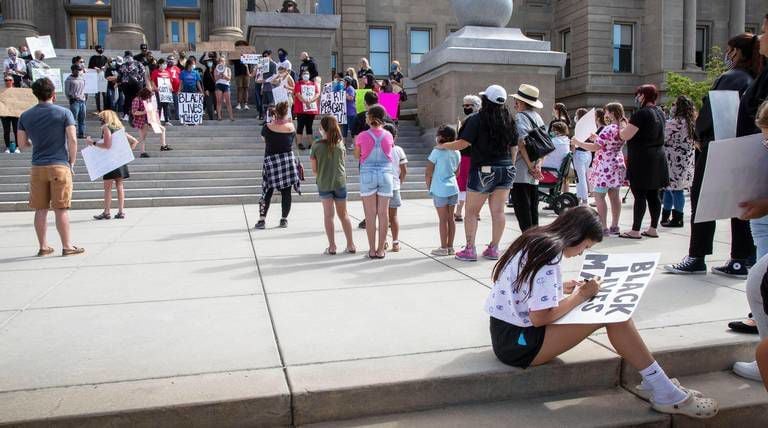 BOISE — Multiple posts that circulated Monday on social media spread false information claiming that anti-fascist protesters were planning riots in Idaho, according to multiple local law enforcement agencies and other officials.
Several posts shared widely on Facebook claimed that local police departments and sheriffs' offices had confirmed the presence of "antifa" protesters in Boise, claims the agencies denied.
The allegations came as multiple cities around the U.S. experienced violent conflicts between police and demonstrators protesting the death of George Floyd, a black man from Minneapolis who died last week while a police officer knelt on his neck. That officer, Derek Chauvin, has since been fired and charged with third-degree murder and second-degree manslaughter.
Antifa is a left-wing activist movement that has gained prominence in the U.S. in recent years and is sometimes blamed for inciting violence during protests and other demonstrations. The movement is not a single organization, and it does not have centralized leaders, according to experts who study the activists.
President Donald Trump has blamed antifa for violent protests in Minneapolis and said Sunday on Twitter that he "will be designating ANTIFA as a Terrorist Organization."
In a Facebook post on Sunday, the Real 3 Percenters Idaho group said it had "credible intel tonight that Antifa and other groups are planning a riot tonight in the Boise area." No riot occurred.
"Their plan is to destroy private property in the city and continue to residential areas," the post said. "We are calling on all business owners to contact us if you are concerned for your business and your private property immediately. We are here to protect you, your private business, and have teams on the ground standing by."
Eric Parker, who founded the political activist group, told the Statesman in a phone interview Monday that his "credible intel" came from three sources.
"One was an email to a hospital," Parker said. "I'm not going to disclose who it was from or who it was to — just to be prepared that they were expecting problems, and for the ER to be ready."
Representatives for Saint Alphonsus and St. Luke's hospitals in the Treasure Valley said they had not received or sent such emails, though they were aware of the rumors.
Parker said he was "not really comfortable with saying" who one source was, and he said the other was "law enforcement in Washington state."
He said members of his organization "monitored" a small protest in Boise on Sunday evening that took place after hundreds rallied earlier in the day to remember Floyd and speak out against his death.
"We didn't see any (antifa protesters)," Parker said. " ... It's all hearsay as to whether or not anybody came to town. I never did see any pictures of the buses."
Social media posts claim agitators sent via bus, plane
"The buses" Parker referred to were part of another viral post claiming the left-wing movement had sent agitators to Boise.
In a Facebook post Monday morning, the Payette County Sheriff's Office refuted another post claiming, "Antifa has sent a plane load of their people into Boise and three bus loads from Seattle into the rural areas. "
"The Payette County Sheriff's Office has not had contact with and has not verified that Antifa is in Payette County," the sheriff's office said. "The Payette County Sheriff's Office has not given any specific warnings to our citizens about Antifa or other organizations. The information in this social media post is not accurate."
Sheriff's Lt. Andy Creech told the Statesman on Monday that one post "had been shared almost 200 times by this morning and seemed to be getting some traction," prompting the sheriff's office to make its post. Creech said in a phone interview that residents were reaching out to dispatchers and via other means to ask the sheriff's office if the posts were true.
"I'm not sure where the false information originated from," Creech said. "Our main point was that we wanted to just clarify the false information in that post."
Creech said if Idahoans "have concerns about their local area, they should definitely reach out to their local law enforcement entities to verify information."
"I know on social media sometimes it can be hard to verify the accuracy of information out there. We will gladly speak with our citizens and help them understand what's happening in our community," he said.
One post shared nearly 2,000 times on Facebook told Idahoans to "be ready for attacks downtown and residential areas."
"At least a dozen males got off the plane in Boise from Seattle, dressed head to toe in black. Backpacks only," the post said. "One had a tattoo that said Antifa America on his arm."
The posts urged people to arm themselves. "Watch your 6 and carry heavy," one post said, referring to military jargon for watching your back. Commenters on several of the posts insinuated that they would shoot antifa protesters.
"Friend of mine was at the airport when they got off the plane," wrote one person. "Locked and loaded here in Nampa."
"I'm stacked and packed, if they come near me they'll quickly regret it," said another.
Rumors swirl in Meridian
Multiple commenters also said they'd confirmed the presence of antifa with friends in local law enforcement. One man said he'd confirmed rumors regarding potential riots at The Village at Meridian. Hugh Crawford, manager of the shopping complex, said that was not true.
"If we learn of something that's real, we'll absolutely take steps to be prepared," Crawford told the Statesman, adding that The Village has 24/7 security and is working with Meridian Police Department to keep abreast of the rumors.
Stephanie Galbreath, spokeswoman for the Meridian Police Department, said the department is coordinating with local, state and federal agencies to monitor the situation but had not confirmed antifa presence in the area. Similarly, Boise Police Department spokeswoman Haley Williams told the Statesman that the department had "no confirmation of people coming into Boise to protest."
Dozens line streets and protest in Coeur d'Alene
Ada County wasn't the only area in Idaho to see demonstrators Monday.
Dozens of people were out protesting around Coeur d'Alene on Monday, according to Coeur d'Alene police spokesperson Officer J. Wilhelm. He said that protests began near the town's WinCo Foods grocery store on just off Appleway Avenue, with roughly 80 people near the street.
As the day went on, 40 to 50 people, many armed, arrived downtown, Wilhelm said. Some identified themselves as members of an armed militia.
The Coeur d'Alene Press reported that many people were downtown Monday evening to protect businesses in the hopes of warding off looters or others damaging businesses. The paper also reported that armed people were standing watch out of concern that "what they said were threats of left-wing militant groups coming to start riots at the store."
KREM reported Monday that an assistant manager of the WinCo said the store was not planning to board windows or doors. At least one business in downtown Coeur d'Alene had boarded up windows Monday evening, according to the TV station.
Wilhelm said the Monday demonstrations were peaceful, and no issues were reported to police. He gave credit to residents for peacefully making their voices heard.
"We're proud of everyone for exercising their rights in a peaceful way," Wilhelm said.
Federal, state leaders react to protests
The federal administration continued to name antifa on Monday as an organizer of the nationwide unrest.
President Trump said Monday during a press conference outside the White House that he was deploying the military to some cities and encouraged governors to use their military forces to stop the protests. During his announcement, Trump again mentioned antifa in reference to the unrest.
"Those who threaten innocent life and property will be arrested, detained and prosecuted to the fullest extent of the law," Trump said. "I want the organizers of this terror to be on notice that you face severe criminal penalties and lengthy sentences in jail. This includes antifa and others who are leading instigators of this violence."
On Monday, Idaho politicians called Floyd's death "senseless" and "unacceptable."
"We can all unite around our demand for justice for this innocent man," Idaho Gov. Brad Little said in a tweet. "I'm proud of the Idahoans who have channeled their sorrow and anger in peaceful protest, and I appreciate mayors across Idaho who are helping manage this situation."
He said he prays for the safety of Idahoans and local law enforcement.
U.S. Sen. Mike Crapo echoed those sentiments. Crapo said the deaths of Floyd, Ahmaud Arbery, who was shot while jogging, and Breonna Taylor, who was shot in her home, have rightfully hurt and angered Americans.
"Their deaths should be investigated and dealt with to the fullest extent of the law," Crapo posted on Twitter. "I endorse the right of Americans to exercise their First Amendment right to peaceably assemble and demand of redress for their grievances, and I condemn acts of violence that thwart and exploit that right."
Sign up for our Crime & Courts newsletter
Get the latest in local public safety news with this weekly email.