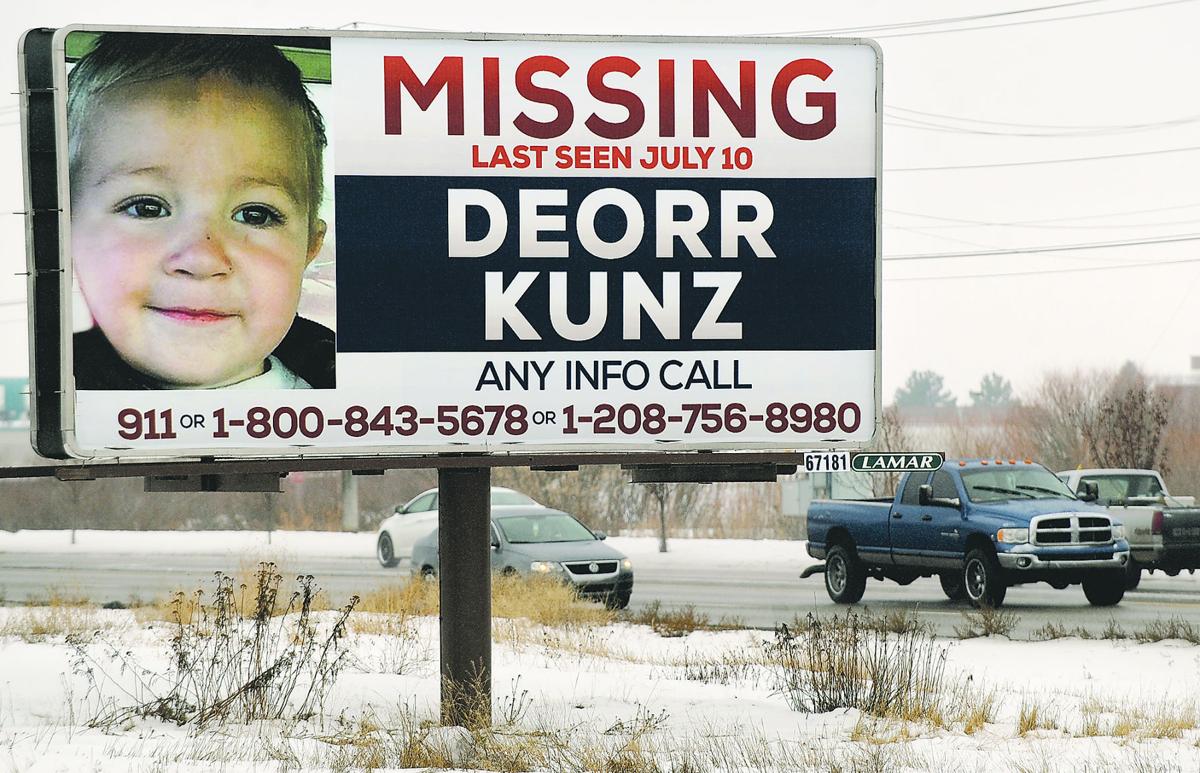 IDAHO FALLS | Despite an abundance of theories and intensive national media and social media interest, the whereabouts of a missing 3-year-old remain unknown six months after his disappearance.
DeOrr Kunz Jr. disappeared July 10 from a campsite in the Salmon-Challis National Forest. DeOrr's family marked his third birthday Dec. 30 without him present.
The case has garnered national attention across social media and in news reports.
Experts and Internet sleuths alike have provided much speculation, but law enforcement, including Lemhi County Sheriff's Office deputies, Bonneville County Sheriff's Office deputies and the FBI as well as private investigators, haven't been able to unravel what happened to the boy.
Steve Penner, Lemhi County chief deputy, said Tuesday he could not comment on any potential new information in the investigation. He said there is plenty of land still to search and the case remains very active.
"We pounded it (the search)," Penner said. "But Mother Nature is unforgiving."
He said investigators intend to resume searching the Timber Creek Campground area in the spring.
The case was featured Dec. 24 in the "Bring Them Home for Christmas" episode of The Nancy Grace Show on HLN and Grace previously discussed DeOrr's disappearance in other segments of her shows in 2015. The case also is the subject of a documentary being produced by an independent Colorado film crew.
In November, a Texas investigation firm took up the case after declining to investigate twice due to costs. Philip Klein, CEO of Klein Investigations and Consulting, said he will release a theory that investigators are pursuing Monday — be it kidnapping, parental abduction, a wild animal taking the child, homicide or any other possible motivation. Klein refused to elaborate.
"I'll say we are happy with the direction of the case … and we feel this case is solvable; we're going to get there," Klein said.
Klein's firm claims to have solved 109 of 112 missing person and parental kidnapping cases it has investigated. In 2014, the firm reunited a Texas girl who'd been missing for 12 years with her father.
Klein said DeOrr's family has been cooperative, but added that Isaac Reinwand, a family friend who joined the July camping trip, would not make a statement to his investigators.
"We are very disappointed Isaac Reinwand has hired legal counsel and will not give us a statement. Very disappointed," Klein said.
Reinwand previously voluntarily submitted to a polygraph examination, as did all the members of the camping trip.
The Post Register contacted Reinwand, who refused to comment on the case.
DeOrr went missing after his parents went for a hike, leaving him in the care of his great-grandfather Robert Walton. After searching for the boy for about 45 minutes the parents called 911, sparking a rigorous search of the area involving multiple agencies, dogs, drones, sensor-equipped planes, boats, ATV patrols and foot searches.
No shred of evidence of the boy has been found.
Trina Clegg, DeOrr's maternal grandmother, said the family has not spoken to news media recently because there is nothing new to report about the disappearance.
"It's killing us all inside that we don't have anything new right now," Clegg said.
She said it has been hard to keep the family going with all the attention the case has gotten, some of it accusatory toward the family.
But she said an outpouring of support from community members has negated some of the nasty comments on social media.
"With the people saying the negative stuff, if one person said something bad there are 20 folks doing good that replace that," Clegg said.
She said the holidays were difficult for DeOrr's family. Spending Thanksgiving and Christmas without their child and seeing his birthday come shortly after was "heartbreaking."
"The only thing that got me though is the community," Clegg said. "People just mailing over Christmas cards … or I would go to talk to people and they would just walk up and hug me."
Clegg said that support has carried over into fundraising efforts to aid in the investigation. Klein's company has a fund set up for circumstances in which families cannot afford to pay for his investigators to look into missing persons cases.
People from around the area have donated items for a Jan. 16 raffle and auction to raise funds to pay Klein's team. Clegg said an autographed Carolina Panthers football, two tickets to a Utah Jazz NBA game against the Cleveland Cavaliers and many other items have been donated. (For more on the raffle see box.)
Klein said his nine investigators on the case have turned over about 75 percent of the information they've collected to local law enforcement. He said the remaining 25 percent is useless information. Klein said his investigators have conducted around 80 interviews and put in about 500 man-hours on the case.
Klein's Facebook page has been inundated with comments about DeOrr. Klein said he has employees who closely monitor the Facebook page in case a tip or clue can be found.
But when it comes to missing persons cases, social media can be both a help and a hindrance.
In December, Klein asked that Facebook accounts about DeOrr be shut down so the investigation won't be hindered. Multiple Facebook pages, several geared toward speculation on the case, remain open. The pages operate under names such as We Love You DeOrr Kunz Jr., Deorr Kunz Jr's Voices and Miracles For Little Man. Many of the pages, including Klein's, contain threads that have been derailed by trolls.
Even online fundraising pages to help pay for the investigation and campground search efforts haven't been immune to ad hominem attacks.
"They're going to say about us what they're going to say," Klein said. "That's just their First Amendment right, but we would ask the public to take a breath before hitting that post button and read it back once or twice."
Private investigator Frank Vilt, a retired U.S. Marshal who previously worked with the family, said he backed out of the case after offering a reward for information leading to DeOrr. Vilt said the family disagreed with posting a reward.
Vilt said the lie detector tests administered to those at the campsite were inconclusive.
"The whole thing doesn't make sense; I don't think they'll be able to solve this," he said.
Clegg said Klein has worked diligently on the case and she hopes the raffle will help keep investigators going.
Klein said he appreciated the hospitality Idahoans granted his investigators.
"All I want is the child to come home," he said. "We'll get the answers that public and the family needs."
Sign up for our Crime & Courts newsletter
Get the latest in local public safety news with this weekly email.