March crime report: Grandma drive-by, new suspect in baby murder, former sheriff arrested
Did you miss any of the crime and court news from March? Here's a collection of the crime reports, notable arrests and important court hearings from the month to make sure you know what's going on. 
March crime report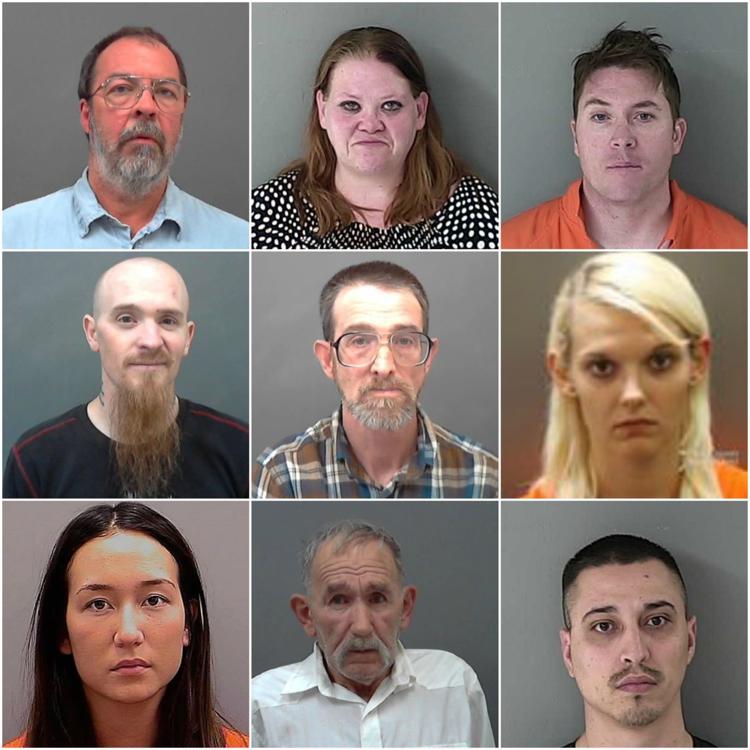 Boyfriend charged in murder of Twin Falls baby
TWIN FALLS — A Jerome man has been charged in the 2017 murder of 20-month-old Lyryk Jean Altom.
Joshua Molina, 33, was arrested March 27 and arraigned March 28 on one count of first-degree murder and four counts of felony injury to a child.
Molina was the boyfriend of the child's mother, Amanda Dunlap, according to court documents. Dunlap was arrested shortly after Lyryk's death in October on charges of first-degree murder, eight felony counts of injury to a child and one misdemeanor count of injury to a child.
Recent police interviews with Dunlap and a review of text messages on her phone revealed that she had previously lied to law enforcement about Molina's relationship with Lyryk, according to court documents.
Photos and texts suggest that Molina, who told police at the time of Lyryk's death that he was not really involved in the medical care of the baby, may have physically abused the infant over a period of several months.
"Josh broke my kid today," Dunlap texted a friend in September, after Molina broke Lyryk's wrist. Dunlap told her friend that the incident was an accident.
The next week, Dunlap left her daughter and three-year-old son alone with Molina and returned to find bruising on Lyryk. Molina said Dunlap's son and his son, who was also three years old at the time, had beaten up the baby. A doctor at St. Luke's later told police he didn't believe the injuries could have been caused by small children.
When Dunlap texted the same friend on Oct. 8 that Lyryk had suffered "another seizure," she said Molina wouldn't let her take Lyryk to see a doctor.
Molina had been blowing marijuana into Lyryk's face to alleviate the symptoms of her seizures, Dunlap told the police in a recent interview, and he was afraid that his son would be taken away from him if Lyryk tested positive for marijuana.
That same day, Dunlap's friend picked Dunlap and Lyryk up and took them to the emergency room. Lyryk was flown to Boise, where she died six days later.
Lyryk's doctor at St. Luke's told police the baby had bleeding in her brain, and said he believed her head injuries were caused by non-accidental blunt force trauma.
While driving up to Boise on Oct. 8, Dunlap and Molina discussed what to tell law enforcement, Dunlap told police in a recent interview. She agreed to a cover story because she was "in shock and overwhelmed," according to a police affidavit.
It's unknown how Molina's arrest could affect Dunlap's case, as Twin Falls Prosecutor Grant Loebs declined to comment. A long-delayed preliminary hearing for Dunlap is scheduled for Friday.
Molina has been jailed without bond.
UPDATE: Former Twin Falls Cop accused of sexually abusing young girls pleads guilty
TWIN FALLS — In a surprise move, a former Twin Falls patrol officer pleaded guilty Thursday morning.
William Anthon Jansen will be sentenced at 1:30 p.m. May 21 in Twin Falls, defense attorney Joe Filicetti said Thursday afternoon.
"We have a plea bargain," Filicetti said.
A teenage girl came forward with the allegations in late March last year, saying Jansen sexually abused her in 2008 and 2009 when she was between 7 and 9 years old. She told a sheriff's detective that Jansen also abused at least two other girls — one who has since died and another who said Jansen abused her in 2005 and 2006 when she was 8 years old. Jansen is accused of touching the then-preteen girls' genitals with his hands when he was in his early 20s.
One of the girls is now an adult; the other will turn 18 soon, according to Ada County deputy prosecutor Kassandra Slaven.
In exchange for his guilty plea, the charges were amended from four counts of lewd conduct with a minor to two counts of sexual abuse of a minor under 16. Jansen has agreed to take a psycho-sexual evaluation, and the severity of his sentence could be determined by the results of that evaluation.
If the evaluation shows he has a low risk of re-offending, Jansen could get probation with one year of county jail time. If he is a moderate to high risk, the court could retain jurisdiction through a prison-run therapeutic program.
"However, the ultimate sentence Jansen receives will be determined by Judge (John) Butler at the time of sentencing," Slaven said Thursday afternoon, "and that could include prison time."
Jansen is also required to register as a sex offender, she said. He is out of jail pending sentencing.
"We are pleased with the outcome and appreciate the Twin Falls Sheriff's Office's work on the case," Slaven said. "We feel it's a good outcome for the victims."
Twin Falls County Prosecutor Grant Loebs handed the case over to the Ada County Prosecutor's Office to avoid conflict. Jansen was a Twin Falls officer when charged in April.
"It was unusual," Loebs said of the guilty plea. "It was in the middle of the trial."
The victims testified in court Tuesday, followed Wednesday by Jansen's ex-wives, Nicole Mathis and Amanda Barnes. Mathis and Barnes both testified that Jansen had confessed during their marriages to abusing young girls.
Prosecutors Slaven and Abby Kostecka rested their case against Jansen Wednesday afternoon. Filicetti was set to begin Jansen's defense Thursday morning.
Jansen pleaded guilty at about 9 a.m., Filicetti said.
"Ada County did a fine job," Loebs said, "and I'm happy it worked out."
Former Jerome County sheriff Doug McFall arraigned on theft charges
JEROME — Former Jerome County Sheriff Doug McFall appeared in court March 8 and was arraigned on four criminal charges.
McFall is charged with grand theft and misuse of public funds, both felonies, and two misdemeanor charges of petit theft.
A judge informed McFall of the charges and his rights, and a preliminary hearing was set for June 28.
A criminal complaint from the Idaho Attorney General's office says the grand theft charge stems from Dec. 17, 2016. McFall told Jerome County resident Rick Grimes that he would not arrest him for theft if Grimes took horses from another person, the complaint says. Grimes later took horses from the Sugar Loaf Arena and McFall did not arrest him.
The complaint says McFall misused public funds in December 2015, December 2016 and in March 2017 by:
Redeeming a Costco Reward Certificate that belonged to Jerome County for his own use and keeping the remaining balance
Recycling Jerome County tin and automotive parts and keeping the proceeds for himself
Using the Jerome County gas card and the Jerome County credit card to buy fuel while on a personal trip
Using the Jerome County credit card for an overnight hotel stay during a personal trip
The petit theft charges come from March 9 and 10 in 2017 when McFall claimed expenses with Jerome County when he was scheduled for an official function but didn't attend, the complaint says.
In May, McFall asked county commissioners for an attorney to represent him in an investigation by the AG's office. County Prosecuting Attorney Michael Seib denied the request, saying the request was "premature," according to the meeting's minutes.
McFall denied any wrongdoing.
The investigation began about the time a former employee with the sheriff's office was accused of taking money intended for undercover drug buys. Dan Kennedy, a former lieutenant, pleaded guilty to a misdemeanor charge of misuse of public funds in September.
McFall began his career in law enforcement in 1984 with the Idaho State Police. He retired in 2008 and ran for sheriff that fall. McFall was re-elected in 2016 to his third term, and he resigned Feb. 28.
Ex-Gooding school employee pleads guilty
GOODING — A former Gooding school employee and coach pleaded guilty Monday to two counts of felony injury to a child and a misdemeanor for dispensing alcohol to a minor.
Ann Kuroki, 26, was arrested in January and accused of sexually abusing a student. As part of a plea agreement, five other charges — three felony counts of sexual battery of a minor child and two counts of misdemeanor dispensing alcohol to a minor — were dismissed by the Gooding County Prosecutor.
Kuroki's sentencing is scheduled for June 26.
At Gooding High School, Kuroki was a classified, at-will employee — meaning she wasn't a certified teacher — and was hired last school year. She monitored the Idaho Digital Learning Academy lab, where students take online classes. She also coached junior varsity boys basketball.
Kuroki was fired from the Gooding School District "due to other findings uncovered while conducting their own internal investigation," the Gooding Police Department said in January statement.
Kuroki was arrested after police were told about her inappropriate behavior with a male student, police said. The student is 16 or 17 years old.
After initially denying allegations, Kuroki admitted to police she'd had sex with the student six times at her house — starting in late November or early December 2017 — and bought him alcohol twice, according to a police affidavit.
Police release new pictures, surveillance video in downtown Burley fire
BURLEY — The Bureau of Alcohol, Tobacco, Firearms and Explosives have partnered with Cassia County Sheriff's Office and the Idaho State Fire Marshal to bring the reward money offered on a downtown Burley arson fire and pipe bomb up to $15,000.
The Jan. 29 fire destroyed two adjacent buildings at 1222 and 1226 Overland Avenue.
Investigators are seeking the public's help to supply additional leads on the fire and information on a pipe bomb found at the front door of a restaurant across the street from the fire, the sheriff's office said in a statement.
The ATF has kicked in a reward of up to $10,000 for information that leads to the arrest and conviction of the individual or persons responsible. The fire marshal's office is offering up to $5,000.
Anyone with information on the fire or bomb should call the ATF's toll free hotline at 888-ATF-FIRE or 888-283-3473. Callers can also reach the Cassia County Sheriff's Office Crime Stoppers at 208-878-2900, where callers can remain anonymous.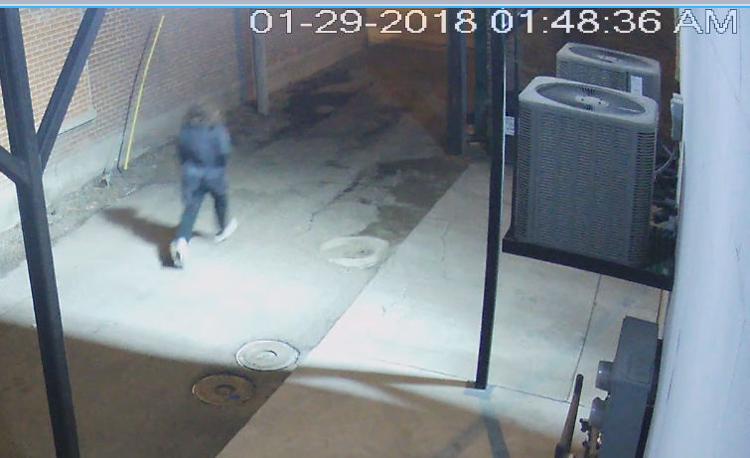 A tip can also be submitted through the ATF's app available at reportit.com and at Google Play and the Apple App Store. Tips are confidential and can be anonymous.
The destroyed buildings are owned by Brian Tibbets and his partner Brek Pilling owns the restaurant across the street.
The bomb's fuse had been lit but went out. The destroyed buildings are being demolished.
Verl Jarvie, state fire marshal investigator, said someone had made an effort to ensure the building burned. The fire was set inside the building using paper and rags and a fire accelerant was used throughout the building. The adjacent building was destroyed by water damage.
Grand theft: Makeup — Police ask for help identifying woman in makeup theft
TWIN FALLS — Police say a woman made off with more than $1,400 in merchandise from a Twin Falls cosmetics store earlier this month.
Twin Falls police are asking for help identifying the woman.
In surveillance stills unidentified woman is wearing a white striped shirt, black pants, and white sneakers. Her hair is brown and in a ponytail. 
The theft took place on a cosmetics store on Fillmore Street the morning of Mar. 14. 
Police are asking for anybody with information on the woman's identity to call dispatch at (208)735-4357. 
Police: Rupert man charged with punching woman, pushing her down stairs
RUPERT — A Rupert man is charged with felony aggravated battery after police say he punched a woman and pushed her down a stairwell.
Samuel L. Jeppson, 30, was arrested after police found a bloody woman and her husband at an apartment building on Friday. Police were dispatched at 2:34 a.m. to apartments on D Street where they found the couple, according to court documents.
Police said the woman was "in a state of hysteria" sitting near the top of a stairwell. Due to the blood trails running down her face the officer was unable to see the extent of her injuries. She was taken to the hospital and admitted for a concussion and a "moderate gash on her forehead that required stitches."
The woman's husband said he, his wife and Jeppson were out drinking, then came back to the apartment they all shared. An argument started about living expenses and Jeppson ran up the stairwell and grabbed the woman by the hair at the back of her head and began punching her face with his closed fist, court records say.
The man told police Jeppson struck his wife several times before he was able to come to her aid. The two men then began to fight.
Jeppson told police that he only pushed the woman down the stairwell, but the woman told police Jeppson hit her in the face and pushed her down the stairs.
Police found small cuts to Jeppson's face and his knuckle was broken open.
A preliminary hearing is set for March 28 in Minidoka County Magistrate Court.
Buhl woman accused of stealing $2K from employer
TWIN FALLS — A Buhl woman is accused of stealing more than $2,000 while working at Castle's Corner gas stations.
Nancy E. Kidd, 43, was arraigned Tuesday in Twin Falls County Fifth District Court. She's charged with felony grand theft and a felony count of computer crime — access or uses to defraud or obtain money or services by fraudulent pretenses.
Kidd is accused of stealing $2,097.27 from her employer at two gas stations, but it may be more because Castle's Corner is continuing to review months of video and cash register transactions, according to a police affidavit.
A Twin Falls police officer responded Jan. 8 to Castle's Corner at 1230 Blue Lakes Boulevard North for a report of an employee theft. The Castle's Corner owner reported Kidd "had been altering transactions and taking money from the cash registers," the police officer wrote in an affidavit.
The business owner told the officer Kidd had been employed for about six months. She said she had store video footage of Kidd taking money from the cash registers and the theft had been going on for a while.
Video footage showed Kidd voided items for a transaction and took several $20 bills out and placed them in her purse, according to the affidavit. In total, the Castle's Corner owner "believed it would be well over one thousand dollars in loss."
When Kidd was called in to talk with the business owner and police, she was shown the video footage, but denied voiding transactions "and was unsure of what she was being accused of," according to the affidavit.
After being asked why she needed the money, Kidd began to cry and continued to deny the allegations.
Kidd's bond is set at $10,000. A preliminary hearing is March 30.
Rupert police: Heyburn man asked for sex from officer posing online as 15-year-old girl
RUPERT — Police say an office posing as a teen girl online caught a Heyburn man trying to meet a child for sex.
Benjamin J. Rogers, 50, was arraigned Monday in Minidoka County Magistrate Court on a felony charge of enticing a minor via the internet.
A Rupert police officer working with the Idaho Attorney General's Office Internet Crimes against Children Task Force said he was posing online on the app Whisper as a 15-year-old girl when a post from Rogers appeared asking if there were any "younger women" interested in being spoiled, court records say.
The officer said, in his experience, posts asking for younger women generally come from someone seeking sexual conduct with minors.
The officer sent a message to Rogers saying he enjoyed being spoiled. Rogers asked how old she was, and the officer told him 15. Rogers said he was 50, and the casual conversation quickly turned sexual.
Rogers said he was interested in "more than a one-time thing," and that he wanted to watch movies, cuddle and buy the girl ice cream. He also described sexual activities that he wanted to perform on her and sent her a partially nude photo of himself. The officer sent Rogers a clothed photo of his online persona.
Rogers asked if they could meet and talk when he got back from a work trip as a truck driver, court records said. He also said he knew it was illegal to have sex with a minor, and that he was worried about going to jail.
The officer arranged for a meet-up at a Rupert church parking lot, while Rogers expressed concern that he would be met by police. But later Rogers sent a message to the officer saying he had a soda pop requested by the girl and was on his way.
After he was arrested, officers found the soda in his vehicle and his phone was open to the Whisper conversation with the officer.
Rogers told police that he was just fantasizing, and he was a lonely truck driver looking for companionship. He also told police he was not going to have sex with the girl, but was going to explain to her that their conversation was inappropriate.
A preliminary hearing hasn't been scheduled.
Woman who killed Twin Falls firefighter in hit-and-run arrested on meth charge
TWIN FALLS — Almost a year to the date of her sentencing for the hit-and-run death of a firefighter, a Hollister woman has been arrested on drug possession charges.
Hollie Marie Winnett, 34, was charged Thursday with possession of methamphetamine, a felony. She also faces one count of marijuana possession and two counts of paraphernalia possession, both misdemeanors.
Last year, Winnett pleaded guilty to misdemeanor vehicular manslaughter and felony leaving the scene of a fatal crash after falling asleep at the wheel and hitting Twin Falls firefighter Ryan Franklin. She was sentenced to 90 days in jail and seven years of probation on March 17, 2017.
Twin Falls deputies arrested Winnett on a drug possession charge Wednesday after probation officers found illegal substances and paraphernalia in Winnett's home, according to court documents.
Winnett later admitted to using methamphetamine and told officers that she is pregnant.
A preliminary hearing is scheduled for March 23.
Rupert man withdraws guilty plea in child sex case, new trial date set
RUPERT— A Rupert man who took a plea deal on child sex charges was allowed to withdraw his guilty plea Friday.
A June jury trial is set for Daniel Leonard Bush, 59, on charges of felony injury to a child, lewd conduct with a child under age 16, battery with intent to commit a serious felony and child sexual abuse of a minor under age 16. The three-day trial is set to begin at 9 a.m. at the Minidoka County District Court in front of Judge Ned C. Williamson.
Bush was set to be sentenced Friday after pleading guilty to an injury to child charge.
The judge allowed him to withdraw his guilty plea and Minidoka County Prosecutor Lance Stevenson confirmed that he will be tried on the four original charges.
Minidoka County District Court Clerk Janet Sutherland said Bush originally entered a guilty plea where both parties had agreed to the sentence. Sentencing was delayed until after the court could review presentence reports. Judge Ned C. Williamson said that he could not follow the agreed sentence and allowed Bush to withdraw his guilty plea.
Bush came under investigation after a neighbor reported that two girls confided in him that Bush was committing sex crimes against them, court records say.
One of the girls told the neighbor's son that Bush was drunk and attempted to force her into a bedroom to have sex. He also told police the older girl told his sister that Bush forced her to perform oral sex around Christmas 2015.
One of the girls told police that Bush yells at them for no reason when he's drunk and calls them names.
The case was filed in May.
Malta man given a suspended jail sentence for injury to child charge
BURLEY — A Malta man was sentenced to jail last week on a charge of misdemeanor injury to a child after police said he inappropriately touched a young child.
Kevin Allen Christiansen, 53, was originally charged with one count of felony lewd conduct with a child under the age of 16. The charge was amended to the misdemeanor charge.
He was sentenced in Cassia County Magistrate Court to 365 days in jail with 362 days suspended and credit for three days that he served in jail. Christiansen was placed on two years of supervised probation and ordered to undergo counseling with a licensed therapist until he is released.
Christiansen was originally charged after the 11-year-old child was interviewed during the Children at Risk Evaluation Services interview last May in Twin Falls.
The girl told officials that she went into a bedroom at a Malta residence and Christiansen asked her to get in bed with him. The girl said he touched her inappropriately one time between January and May 2016.
Murtaugh man gets 5 to 15 years in prison, retained jurisdiction program for gun crime
BURLEY — A 69-year-old man who pointed a gun at his neighbor will spend time in a prison-run therapeutic program for his crime.
A Cassia County judge sentenced 69-year-old Stephen Douglas Bailey Jr. to the program with the option to send him to prison for five to 15 years depending on how well he does.
Bailey, who formerly lived in Murtaugh, was found guilty of felony aggravated assault with a deadly weapon as a persistent violator at a December jury trial.
"Pulling a gun on your neighbors is not appropriate," McCord Larsen, Cassia County chief deputy prosecutor, said. "And cocking a gun is no way to solve problems."
Bailey was taken into custody immediately after the Tuesday hearing.
He was charged after sheriff deputies were called to 933 S. 2030 W. on July 27.
Police said the neighbor, who has a dog-training business, was at his home talking with customers, when he saw Bailey leaning against a fence post with his gun drawn. The neighbor told police he raised his arms and approached Bailey to calm him down but Bailey kept leaning on the fence and pointing the weapon. The neighbor drew his gun and pointed it at Bailey and said he was afraid Bailey would pull his trigger. After a few moments the neighbor lowered his gun and Bailey lowered his.
During the trial, Larsen said, it became evident that Bailey does not think that he has done anything wrong.
Larsen said Bailey is a "life-long" violator of the law.
Bailey's attorney, Tim Schneider, said he objected to Bailey being characterized as a life-long felon. This was his third felony, the first two were felony DUI convictions and his first occurred when he was 50 years old.
"He went 50 years without a felony," Schneider said. "That doesn't make one a life-long felon."
Schneider recommended that the court sentence Bailey to a term of probations saying he is not a danger to reoffend and he no longer drives a vehicle.
Cassia County District Judge Michael Tribe said while it is clear Bailey has an alcoholism disorder, his actions had an impact on his victims and the community take-away from the case needs to reinforce that it is not OK to point a firearm at your neighbor.