TWIN FALLS — One defendant charged in the June theft of a Cadillac Escalade refused to testify against two co-defendants on Oct. 11, despite previously saying he would do so as part of a plea agreement.
Johny Hernandez, 27, was scheduled to testify during the preliminary hearings for Tia Garcia, 22, and Christopher Garrett, 38 at the Twin Falls County Judicial Annex.
When he came to the witness stand before Magistrate Judge Thomas Borreson, however, Hernandez repeated, "I refuse to testify," to each of Deputy Prosecutor Trevor Misseldine's questions.
Hernandez's attorney, Steven McRae, told Borreson he had advised his client to cooperate, given that a refusal would negate the plea agreement.
Borreson ordered Hernandez to testify, but he continued to refuse.
At that point, Misseldine informed Borreson he had no choice, since other witnesses had not been subpoenaed to attend the hearing, to dismiss the robbery charges against Garcia and Garrett.
Those charges will be refiled, Misseldine said after the hearing concluded.
Garcia, Garrett and Hernandez, along with Helena and Christopher Herrera, were charged with robbery after the Herrera's allegedly lured the owner of a Cadillac Escalade to their house on June 15, according to court documents.
Police say Garcia, Hernandez and Garrett assaulted the victim, taking her keys and stealing the Escalade.
Helena Herrera, 39, appeared before Borreson for a related preliminary hearing Friday, as well.
You have free articles remaining.
Represented by attorney Tim Williams, she faces a charge of passing a counterfeit $100 bill when buying cigarettes at the Oasis station at Filer Avenue and Blue Lakes Boulevard on June 14.
One of the witnesses testifying about those bills is the victim in the Cadillac theft case.
She told Misseldine that she had a stack of "play money" that was clearly fake, with Chinese symbols around the edges.
Helena Herrera took some of those bills, along with $20 from the victim's wallet, the victim testified.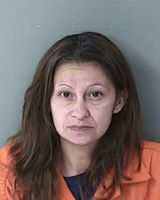 This testimony directly conflicted with what Herrera told the police officer who responded to the incident: she had received the $100 bill when she withdrew money that morning from her bank.
In his final statement providing probable cause to bind Herrera over to District Court, Misseldine told Borreson, "She got these bills. She knew they were fake."
He added that Herrera wrote on the bills in such a way to conceal the Chinese characters, and used them in an attempt to make a purchase.
Borreson ordered her bound over on that charge.
Herrera's District Court arraignment date is pending. Her pretrial date on the Cadillac theft charge is set for Nov. 25.
Christopher Herrera's pretrial hearing is Dec. 2.
Hernandez is scheduled for sentencing on Oct. 21.