JEROME — When Cheryl Miller unexpectedly died on Dec. 13, 2017, she left her four daughters very meaningful Christmas presents.
The silver pendants are engraved: "Here's to strong women. May we know them. May we be them. May we raise them."
Miller's daughters have needed that strength in the months since Larry Ray Halbert, 41, spent Dec. 13, 2017, drinking and then, while driving his Ford F-150 south on U.S. Highway 93, hitting Miller's northbound car, killing her.
On Sept. 16, Tabitha Miller wore her pendant at the Jerome County Judicial Annex while listening to Halbert plead guilty to the two felony counts against him: driving under the influence and vehicular manslaughter.
Before accepting his plea, Fifth District Judge Rosemary Emory reviewed the maximum sentences: 10 years in prison and a $10,000 fine, with an additional $5,000 civil penalty and drivers license suspension for the DUI charge, and 15 years in prison, with a $15,000 fine and $5,000 civil penalty for the vehicular manslaughter charge.
Emory also noted that the sentences, when they are imposed, may run consecutively.
"Do you believe you have any defense in this case?" Emory asked Halbert, who sat in striped prison garb, his crutches beside him, at the defense table with his attorney, Carlos Rodriguez.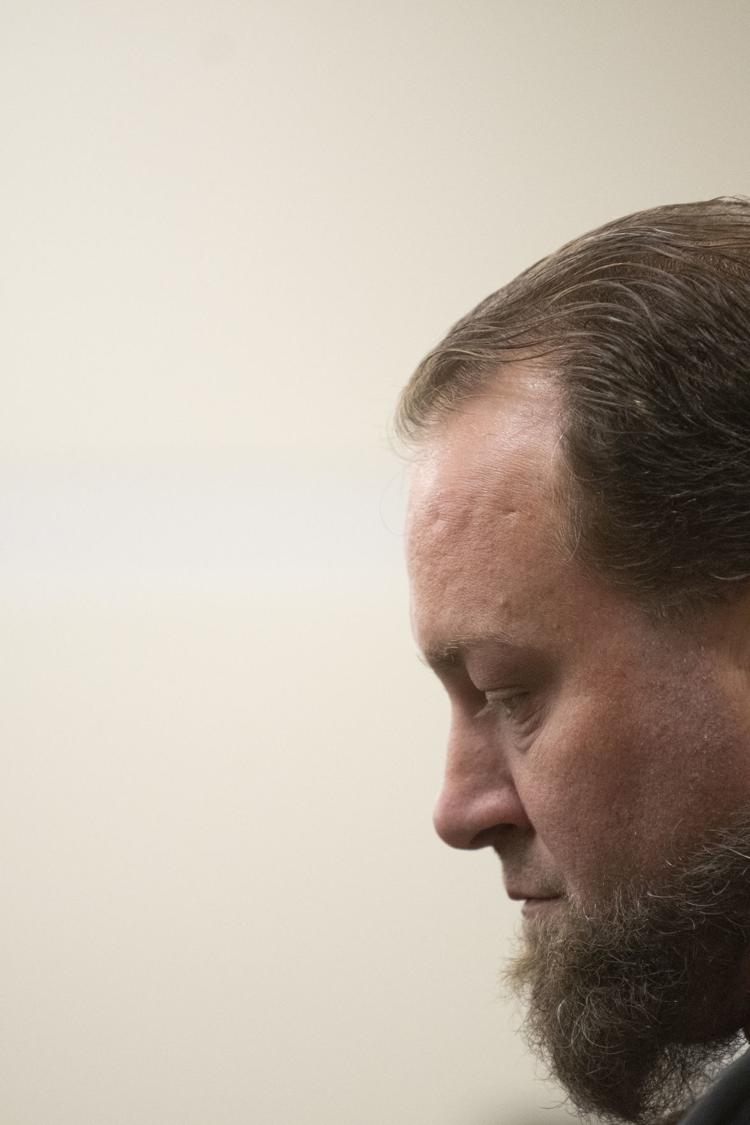 When it came time for Halbert to tell Emory what happened the night of the crash, he replied, "I have no recollection of that evening."
Rodriguez explained that, due to Halbert's injuries, his guilty plea was being entered based on the evidence the state had gathered.
Sandra Scott, Jerome County deputy prosecuting attorney, recited some of that evidence, including that Halbert had been drinking at a bar in Shoshone before the crash, and that tests performed at the hospital afterward showed he had .28 blood alcohol content.
Tabitha Miller told the Times-News the family had been advised not to find Halbert's guilty plea satisfying. "It'll be good not to have to sit through a trial."
That trial had been set to being Sept. 24.
Emory offered to delay Halbert's sentencing until after the holidays, but the Millers agreed that holding it sooner was acceptable and it has been scheduled for Dec. 16.
Scott told Emory that about 10 victims will be speaking at that hearing, along with other witnesses.
Halbert remains in the custody of the Idaho Department of Correction on a probation violation stemming from previous DUI convictions in 2011.
Miller's family has filed a civil suit against Halbert, BSR Ventures and Advanced Heating and Cooling of Boise; Halbert was driving a company pickup at the time of the crash, though his drivers license had already been suspended. That trial is set to begin in May 2020.
Sign up for our Crime & Courts newsletter
Get the latest in local public safety news with this weekly email.