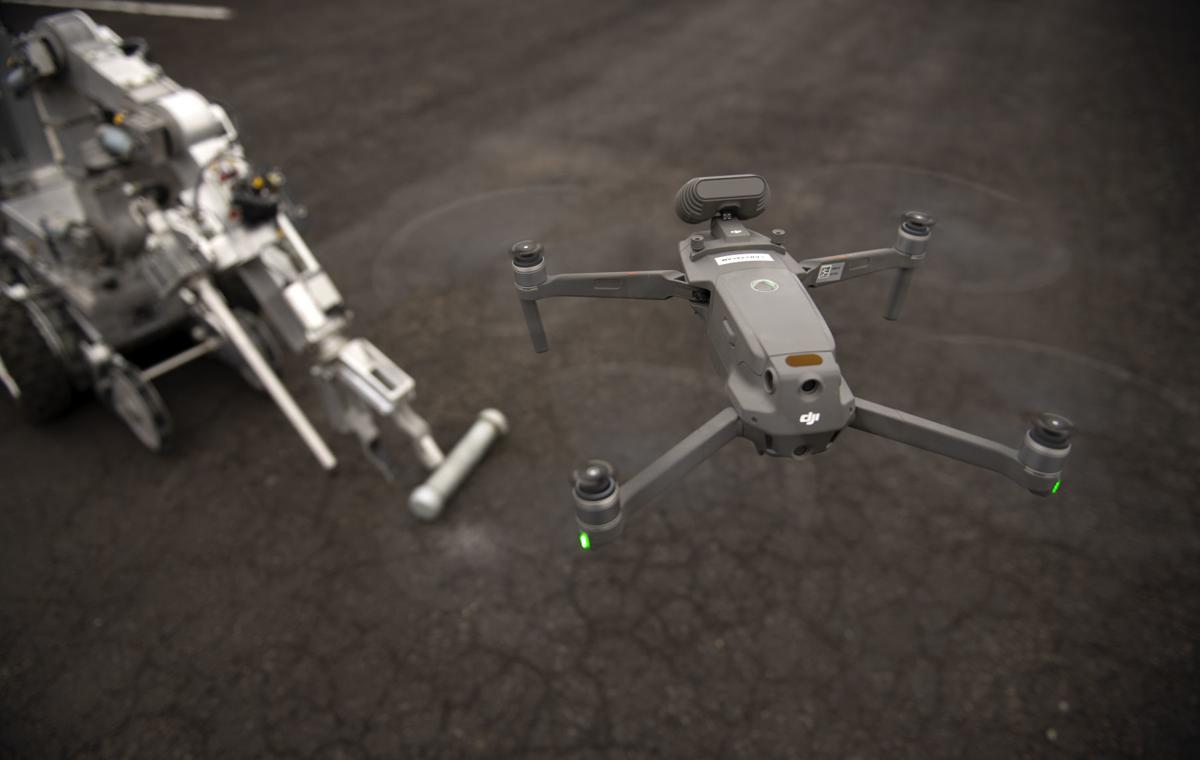 TWIN FALLS — To maintain a safe society, communities depend on peace officers to defend the public and keep the peace. Officers are tasked with responding to emergencies, de-escalating violent situations and placing themselves in the line of fire to protect citizens.
But in today's world, the basic training peace officers receive goes only so far. Modern law enforcement departments rely on an arsenal of high-tech equipment to protect officers, victims and suspects.
In their line of work, self-defense is critical and accurate recording data is essential. Advances in portability and convenience have improved equipment over time and the police force is working with state-of-the-art equipment.
Their utility belts — equipped with a magazine pouch, flashlights, taser, baton, handcuffs, firearm and pepper spray — commonly add 10 pounds to their uniform. While the belts contain daily tools necessary for self-defense and locking down a crime scene, these are only the most basic items used to fight crime.
A long history of body armor
On daily patrol, Magic Valley police officers commonly wear body armor to protect their vital organs in case of violence. Jerome City Police Chief Dan Hall considers the modern style of body armor to be critical protection.
"The decrease in police injuries can be attributed to the use of more body armor," Hall said. And advances in body armor technology are increasing safety for officers in the field.
The use of body armor dates back to the 1500s. When combatants started using gunpowder to afford projectiles greater range, the form of protection developed was, in Hall's words, "Plain ol' armor plate."
Three centuries later, a primitive type of soft body armor was invented. By weaving materials such as cotton or silk tightly together, the effectiveness of the armor increased.
"They layered a lot of (layers) together to get them to work," Hall said.
By the time World War II rolled around, flak jackets were used primarily to stop shell fragments — not bullets — Hall said.
When Delaware chemist Stephanie Kwolek discovered Kevlar in 1965, body armor was reinvented.
Kwolek was seeking a type of fiber to replace steel in automobile tires but, instead, she stumbled across the components of Kevlar and found it to be five times stronger than steel.
The strong, stiff material resembled nylon and soon became the standard material used in protective vests and helmets. It has changed not only the industry but also the statistics.
"Body armor is a valuable and essential piece of equipment," Hall said. "In the early '60s and '70s, (before Kevlar was used) the mortality rate for officers was much higher." 
The pre-Kevlar types of body armor weren't affordable. Although bullet-resistant vests became popular in the 1980s, law enforcement agencies did not customarily supply officers with them.
"The officers could buy their own," Hall said.
Now, agencies provide body armor to all officers as a standard part of their uniforms.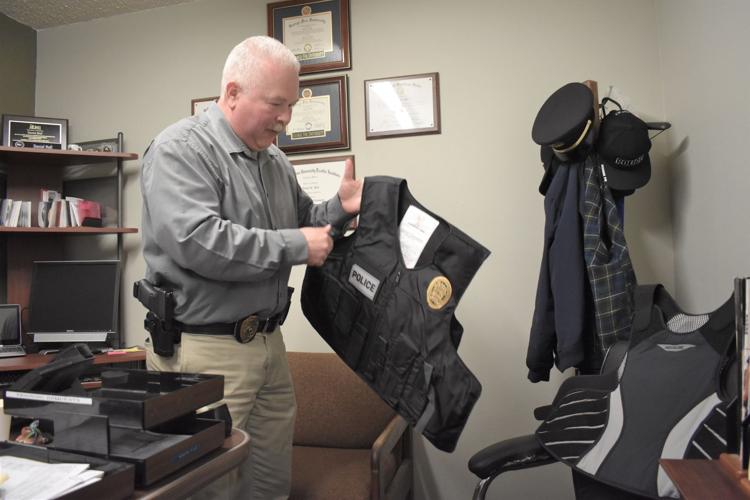 The Idaho State Police use Second Chance body armor, Lt. Robert Rausch said. Investigators use an external carrier, worn over their clothing.
"It has ballistic front and back plates of ceramic or metal," Rausch said. "It protects against heavier rounds."
In Jerome, the trend has moved away from military-style body armor, Hall said.
"We avoid (the military) look as much as we can," he said.
Instead, body armor is designed to blend in with the uniform, and a badge is imprinted on the fabric. The armor is easily removable.
A different style of body armor can be worn under uniforms, but it is not breathable.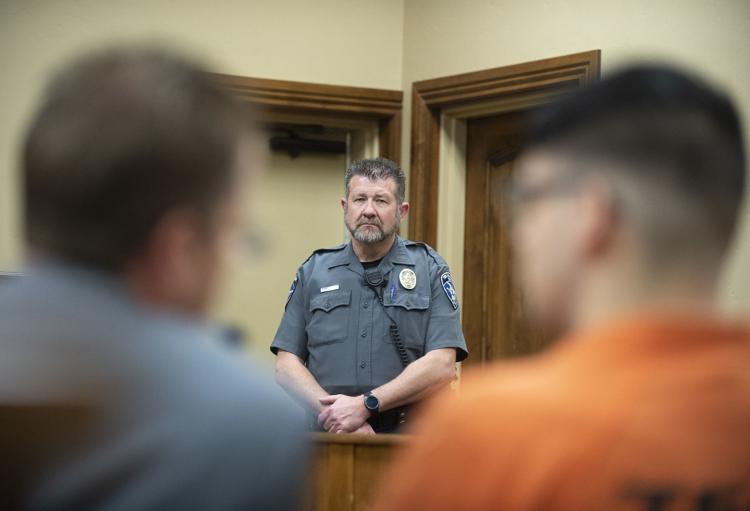 Hall prefers the shirt-based body armor not only for the advantage of proper ventilation but also because gear can be stored in it, instead of on the belt, reducing the load on the hips.
"The load is borne by the shoulders, instead of the back," Hall said.
An office in the patrol car
A Ford Interceptor patrol vehicle serves as an office for Twin Falls police, who operate a Mobile Data Computer system — comprised of a laptop computer, scanner and printer — without ever leaving the driver's seat.
With the system, officers can print citations at the scene, scan driver's licenses or other documents, and enter critical incident notes that can be instantly shared with dispatchers.
In the case of a missing child, for instance, Officer C.J. Wheeler explained that a photo from parents can be scanned in and circulated to other officers quickly.
The system also reduces the dependency on radios and police scanners, which often garble communications.
Wireless capabilities allow dispatchers to efficiently record details on emergency and non-emergency calls — coded red, yellow or green according to urgency — leaving the airwaves open for urgent situations.
"It frees up air space," Twin Falls Police Officer J.P. O'Donnell said.
The officer can use a hot-key function to select a particular dispatch call, another to indicate arrival on the scene, and yet another to announce that they are clear of the area, O'Donnell said.
Law enforcement can also access information on a suspect or individual by checking the National Criminal Information Center or Idaho Law Enforcement Telecommunication System for active warrants, he said. Information can be transmitted to the department's records management division in a matter of seconds.
"It's a great tool to have," Officer Candace Comeau said.
When sensitive matters are involved that would be inappropriate to discuss over the airwaves, officers can message a dispatcher directly or send a message to an administrator seeking further information or clarification.
If an emergency arises at a school or other Twin Falls building, the Mobile Data Computers contain tactical plans and information about those buildings to make responding easier, eliminating the need for officers to arrive at the site and spend valuable time assigning duties.
Each Mobile Data Computer system is hooked up to the vehicle's battery, plus it has an internal battery for backup. The Wi-Fi connection remains active even when the engine isn't running. It disconnects after an extended period of inactivity, such as when the car is parked overnight.
Mobile systems on two wheels
Police motorcycles have a modified version of the system installed with a dual battery to ensure continued power. The screen is attached above the handlebars, and the printer and scanner are stored in a compartment behind the rider's seat.
Sgt. Ryan Howe, who patrols on a department motorcycle, reported drawbacks to that system, however, when he is issuing traffic citations. In that scenario, he has to hook up the printer or the scanner to check the driver's record.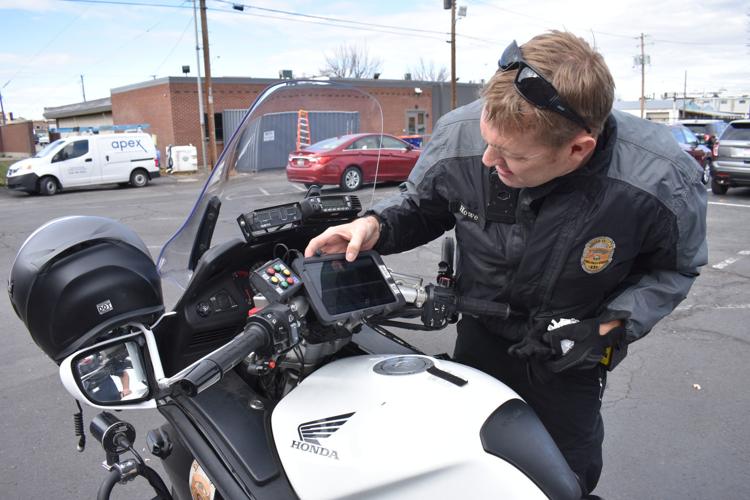 The main screen — similar to a tablet — has a keyboard option, and there is a separate wireless keyboard kept in the storage compartment.
The first priority for trainees while patrolling is to concentrate on the task at hand.
"The last thing we want is for them to be a distracted driver," O'Donnell said.
In the coming year, a new version of the software used for the Mobile Data Computers and dispatchers will allow Twin Falls police to be privy to ongoing calls in other jurisdictions, and enable them to monitor Twin Falls' activities.
"It has a lot of capabilities we're excited about," O'Donnell said.
Among those is the ability to see real-time additions to a record, instead of waiting for the entry to be saved.
The new system — Twin Falls City Communications Center — which handles dispatch services for Twin Falls Police and Fire Departments, will have inter-operability with Southern Idaho Regional Communications, or SIRCOMM.
"In the end, it's about better communications and being more efficient," O'Donnell said.
Recording incidents aids in convictions
Accurate data is essential in fighting crime.
Jerome County Sheriff's Office uses the Watchguard System to capture video and audio from each patrol vehicle. At approximately $5,000 per system, the equipment includes multiple cameras, records activity of arrestees in the back seat, shows when the vehicle's emergency lights are activated, when the siren is sounding or when the brakes are depressed.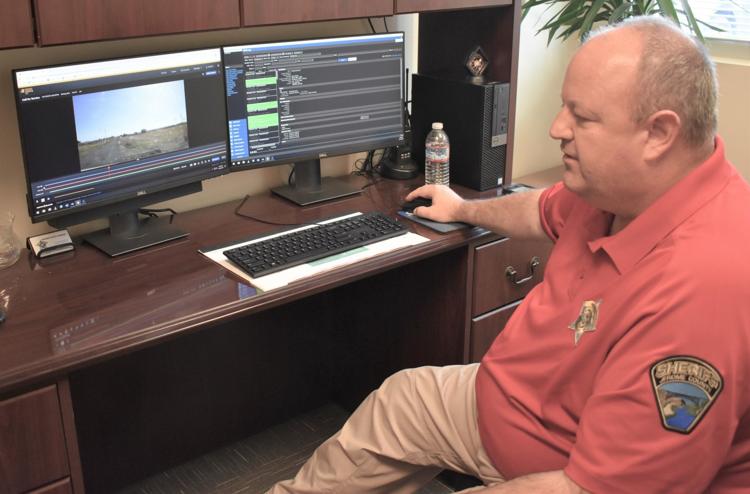 Patrol videos are useful in court cases, Jerome County Sheriff George Oppedyk said, especially in the scenarios where suspects hide contraband when deputies aren't watching.
"It's another way to have eyes on the person in the back seat," Oppedyk said. The cameras offer a panoramic view, in addition to a straight-ahead perspective, he said.
The Jerome County Sheriff's Office selected the Watchguard System based on recommendations from the Idaho State Police District 4 post.
The version of the Watchguard System used by Idaho State Police was older, however, and required transferring files using DVDs or memory sticks, Rausch said.
Since 2015, the Idaho State Police has been using the Arbitrator video system in their patrol vehicles.
"We no longer have to worry about DVDs or sticks," Rausch said.
The same applies to the newer Watchguard System in Jerome County, Oppedyk said. Recording is constant, which doesn't require turning the equipment on and off. When a deputy returns to the office, the files are automatically downloaded via the vehicle antenna into the main server.
"There are no SD cards," Oppedyk said.
Files are coded by type, whether they are associated with a traffic stop, arrest or another incident.
Prosecutors can directly access the recordings, reducing the time it takes to file written requests or copy videos on DVDs. The quality of the recordings is better than photos, Oppedyk said, and stills can be taken directly from the videos.
But law enforcement is divided.
"A lot of people have shifted to body cams," he said.
Body cameras limit the view, however, whereas the Watchguard System provides more data that can be used to verify or dismiss a citizen complaint, Oppedyk said.
For the Idaho State Police, body cameras are only used by those on motorcycle patrol, Rausch said.
But there are limitations to the vehicle video systems too, Rausch pointed out. Like the Arbitrator system, if an officer must walk all the way to the cab of a semi hauling three trailers, audio recording may not be reliable.
"For average, everyday use, it works wonderfully," Rausch said.
A day in the life of a peace officer
For officers in the field, depending solely on skill, intuition and a utility belt may not be enough. High-quality surveillance mechanisms and protective body armor are critical to ongoing safety. 
Citizens, society and fellow officers are depending on the police force to keep the peace. Fewer errors on the ground translate to fewer deaths.
Some police equipment is heavy artillery machinery, including mine-resistant, ambush-protected vehicles known as MRAPs.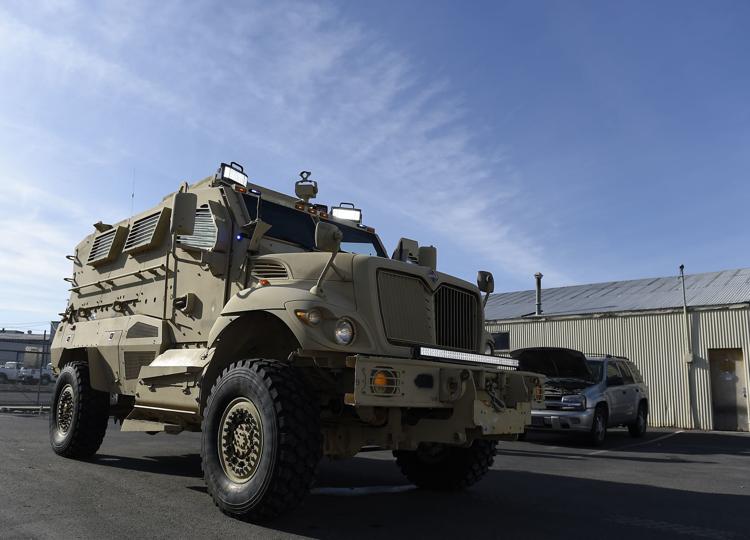 The U.S. developed these vehicles in 2007 in response to an increased IED threat in the Iraq War. The interior of these vehicles contains state-of-the-art operational equipment.
The heavily armored vehicles boast high clearance and their V-shaped hulls are "designed from the ground up to reduce casualties among personnel subjected to mine explosions, improvised explosive device detonations, and small arms fire," according to the Institute for National Strategic Studies.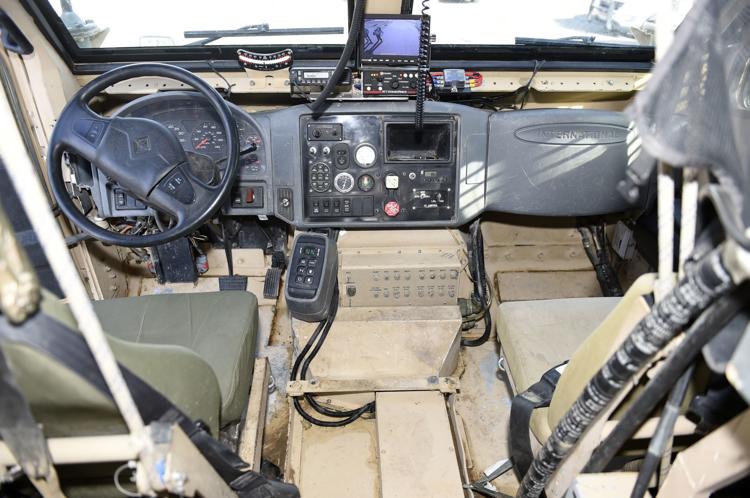 Equipment used by law enforcement is continually being modernized, giving peace officers more of an advantage in the field.
Sign up for our Crime & Courts newsletter
Get the latest in local public safety news with this weekly email.