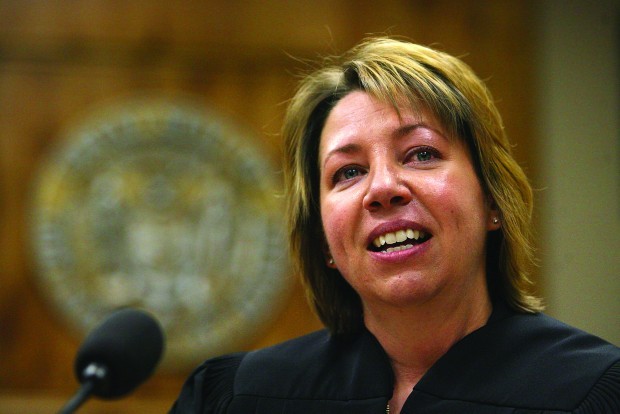 TWIN FALLS • Fifth District Magistrate Judge Nicole Cannon resigned Friday afternoon, 15 months after she succeeded retiring Judge Howard Smyser in Twin Falls County and two months after she was cited for driving under the influence in Boise.
Cannon's resignation was announced in a statement released by 5th District Trial Court Administrator Linda Wright. The resignation was effective immediately.
"I have the utmost respect for my colleagues and the people who helped me serve the citizens of Twin Falls County during my brief time as a magistrate," Cannon, 42, said in the statement.
Cannon's resignation announcement made no reference to her DUI citation, which she has pleaded not guilty to in Ada County 4th District Court. More details about her resignation were not available Friday.
Recruitment for the position will begin Monday, Wright said, with a notice being sent out to all Idaho attorneys.
The 5th District Magistrate Commission selects and evaluates magistrate judges for the district, and will oversee the search for Cannon's successor. The commission met Tuesday in TwinFalls, Wright said, though she couldn't confirm why — its proceedings are kept confidential under state statute and administrative court rules.
Judge Upholds DUI Evidence
Earlier this month, a retired Ada County magistrate judge denied two motions by Cannon to have evidence thrown out in her DUI case.
According to court records, Cannon was cited on April 19 for excessive driving under the influence. According to Idaho statutes, a DUI is considered excessive when the driver's blood-alcohol content measures at least .20 — more than twice the legal limit.
Documents show Cannon's test results were 0.239 and 0.221, nearly three times the legal limit to drive.
In May, Cannon and her attorney, Doug Nelson, tried to have her blood-alcohol test results thrown out and the entire traffic stop deemed unreasonable.
Nelson and Cannon had argued that the traffic stop was illegal, noting that a Boise police officer saw Cannon's vehicle's passenger-side tires cross over the fog line on the right side of the road twice. They cited a case where a judge chose not to make crossing over the fog line unlawful.
"Accordingly, Nicole violated no clear 'rule of the road' with her driving," they wrote in court documents.
As for the blood-alcohol test, Cannon and Nelson argued the officer didn't follow policy — that Cannon wasn't monitored properly for 15 minutes prior to a breath test and the testing machine was not properly calibrated within 24 hours of the test. To ensure accurate results, the machine's manual advises the person being tested should not be allowed to eat, drink or smoke, and that belching, burping or any sort of regurgitation could introduce contamination.
Judge Darla Williamson denied both requests. In her June 7 order upholding the traffic stop, Williamson cited several cases where officers saw drivers driving in unusual ways, like hugging the fog line, driving 15 mph under the speed limit or crossing the center line.
Even though no traffic laws were actually broken, the officer seeing abnormal driving patterns is reason enough for a stop, Williamson concluded. In Cannon's case, the officer's observation of unusual driving coupled with the time of night — about 11 p.m. — made the stop reasonable and allowed the officer to investigate possible criminal behavior, Williamson wrote.
In a June 13 order regarding the blood-alcohol test, Williamson questioned the officer's process but declined to toss out the evidence for now. She found that Cannon was not properly monitored for the mandatory 15 minutes before the breath test, but that the manual for the particular breath-test machine used doesn't require a 15-minute monitoring period for its results to be admissible in court.
According to court documents, the 15-minute wait before Cannon's breath test was restarted twice because she burped. The officer chose not to restart it a third time when Cannon informed him she "gurgled," assuming it wouldn't affect the results.
Cannon's two breath tests were within 0.02 of each other, the acceptable limit for an accurate result. Williamson found the machine was properly calibrated.
Cannon's jury trial is set for Aug. 28.
Cannon, a former Minidoka County prosecutor, became only the second female judge in the history of the 5th Judicial District when she was picked for the job in January 2011.
Her resignation comes shortly after the Magistrate Commission asked for public feedback on her performance to date. All Idaho magistrates are required to complete an 18-month probationary period, which includes at least one appraisal of the judge's performance before the term's end.
As a magistrate judge, Cannon heard misdemeanor cases — among them, charges against Don Garibaldi, a Buhl man who eventually pleaded guilty in connection with starting 2010's Auger Falls Fire. She also handled initial arraignments in larger cases such as that of Damon Azure, accused of shooting and killing his brother earlier this year.
Prior to her appointment as a judge, Cannon spent about 11 years in the Minidoka County Prosecutor's Office, including a year and a half as county prosecutor.
In an interview after she was named to the bench, Cannon said her tenure as judge would emphasize working with "strained resources" — including the use of nontraditional sentences in courts specifically designated to handle mental health, drug and juvenile cases.
In Friday's press statement, Administrative District Judge G. Richard Bevan thanked Cannon for her service, noting her professional dedication and service.
Sign up for our Crime & Courts newsletter
Get the latest in local public safety news with this weekly email.