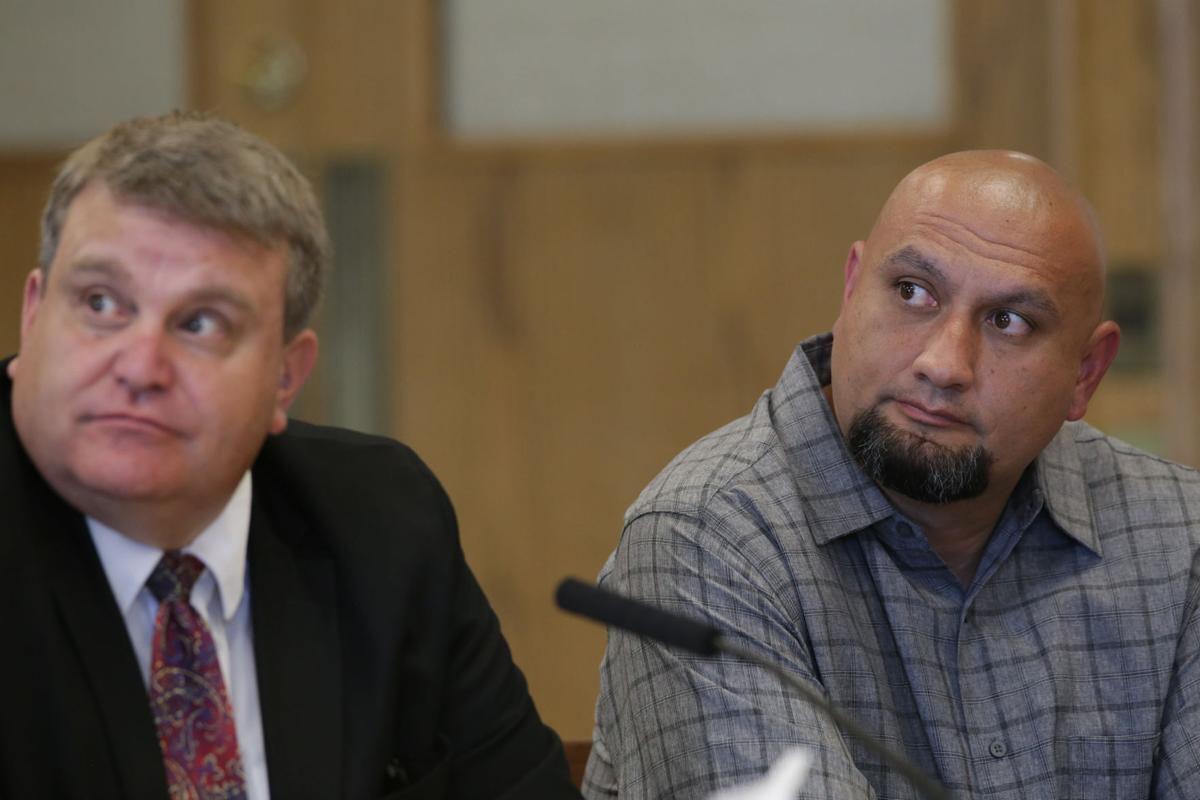 IDAHO FALLS — One of the two insurance organizations that provide liability insurance to the city of Idaho Falls has sued the city claiming the wrongful conviction lawsuit filed by Christopher Tapp is not covered by its contract.
At stake in the suit is which party — Idaho Counties Risk Management Program, Traveler's Insurance Company or the city itself — would have to pay any potential settlement or judgment made against the city and former police officers involved in Tapp's wrongful conviction for the 1996 rape and murder of Angie Dodge. Tapp was incarcerated for 20 years after police said he confessed to being a participant in the murder that shocked Idaho Falls.
Court filings show the dispute between the city and the insurer derailed potential settlement talks which could have prevented the city from racking up expensive legal fees.
In 2019, Brian Leigh Dripps, of Caldwell, was arrested after his DNA was found to match a semen sample recovered from the crime scene. He confessed to raping and murdering Dodge, and said he did so alone. Dripps is facing charges of rape and first-degree murder. His confession is the subject of a motion by his attorneys, who say it should be suppressed after they accused police detectives of not informing him of his rights.
Tapp was released from prison in 2017 after legal experts took up his case and found flaws in how the investigation was conducted. He was exonerated in 2019 after Dripps' arrest and confession.
The Idaho Counties Risk Management Program Underwriters is an organization created by Idaho's local governments in 1985 to provide liability insurance, property insurance and risk management services to Idaho cities. The group argues in a lawsuit filed in October that because the city signed a contract with the program in April 2003, it is not responsible for providing funds for attorneys or a potential payout to Tapp, who was arrested in 1997 and convicted in 1998.
The city responded in an answer filed Dec. 4 that it disputed ICRMP's interpretation of the contract.
The filing also revealed that Idaho Falls had sought to reach a settlement with Tapp and his attorneys after he filed a tort claim in December 2019 informing them he intended to sue after he was falsely imprisoned for Dodge's murder. ICRMP, however, claimed it would not decide whether to provide representation for the city until a claim was filed by Tapp in court.
Traveler's Insurance Company, which had a contract with Idaho Falls when Tapp was arrested, has agreed to provide attorneys for the city's defense, but told the city they wanted ICRMP to assist in any settlement payments to Tapp. As a result, the settlement talks planned between the city and Tapp never occurred.
"On or about September 16, 2020, legal counsel for Christopher Tapp notified defense counsel that a complaint had not been filed because of an understanding that there was interest in pursuing a pre-suit mediation, but that a complaint would be filed in light of the refusal by ICRMP to meaningfully engage in settlement negotiations," the city's answer stated.
Part of the debate over coverage centers on what counts as an "occurrence" to activate the insurance policy.
In a letter sent to Idaho Falls City Attorney Randy Fife, ICRMP argued the entire Tapp case, from his 1997 arrest to his 2019 exoneration and beyond, counts as one "occurrence."
"Related ongoing, or continuing wrongful acts are treated as a single occurrence or claim under the Comprehensive General Liability or Law Enforcement Liability insuring agreements," wrote Scott Oldham, claims manager for ICRMP.
"(Tapp's) claim or occurrence arose in 1997 and 1998 prior to the time the City of Idaho Falls and the individual defendants were insured by ICRMP. For that reason, coverage does not exist under either the Comprehensive General Liability or the Law Enforcement Liability sections of the 2002/2003 policy," Oldham added.
In its answer, Idaho Falls argued its contract with ICRMP does not state an ongoing situation can be limited to one "occurrence." The answer highlights several claims made by Tapp that occurred after the 2002/2003 contract was signed, including the claims against former Idaho Falls Police Chief Steve Roos, which allege Roos did not perform a DNA test in 2009 that may have exonerated Tapp.
The city of Idaho Falls also notes in its answer that ICRMP had previously argued that there may be more than one occurrence in a wrongful imprisonment case in the 2006 case ICRMP vs Northland Insurance Companies. In that case, ICRMP made a similar argument to the one now made by Idaho Falls, and therefore, the city argues, ICRMP is barred from challenging its arguments by judicial estoppel, a rule preventing a party from taking a legal stance opposed to one they have taken in previous court proceedings.
Court records reveal the dispute over ICRMP's responsibility to the city began in January 2020, when the company first informed Idaho Falls it did not believe the case would be covered by the contract. A month later, Traveler's Insurance Company agreed to cover the case, providing the city with legal representation.
In April, the city told ICRMP it was looking into reaching a settlement with Tapp in the hope of saving money on attorney fees. Five days later, ICRMP said it would only make a determination of whether the insurance contract covered the lawsuit, and said it would not participate in pre-suit mediation.
City attorneys asked ICRMP to reconsider its position given the situation.
"I am getting pressure from the coverage counsel for Mr. Tapp to either agree to diligently pursue settlement of this claim including the possibility of mediation with the involvement of both ICRMP and Travelers, or the complaint will be filed and expensive litigation will follow," a May 19 email sent by attorney Alan Bradshaw, on behalf of the city, said, according to court records. "It is the view of the City and I believe the view of Travelers that early settlement discussions present an opportunity to resolve claim for less than a settlement can be achieved if this opportunity is missed."
Tapp's attorneys, at request of the city's attorneys, sent a draft of their complaint against the city in an effort to convince ICRMP to participate in settlement talks. Idaho Falls attorneys allege ICRMP never responded, effectively shutting down settlement discussions before they could begin.
In its counterclaim, the city of Idaho Falls accused ICRMP of breach of contract, arguing the court should require it to help cover expenses related to Tapp's lawsuit. The city also argues it should be rewarded damages due to ICRMP's refusal to participate in settlement talks with Tapp.
A hearing has not been scheduled for the lawsuit. Tapp's attorneys filed a motion to intervene Wednesday, arguing that he should be made a third party in the case because the results of the lawsuit could influence his own case against Idaho Falls.