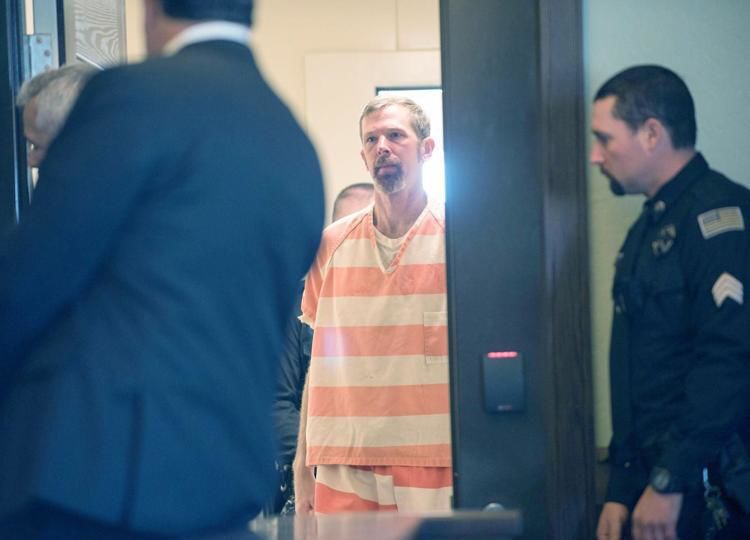 REXBURG — In a discussion of the merits of capital punishment, ethical landmines abound: Should the state be allowed to decide a person deserves to die? Is life imprisonment more or less cruel? When is a crime severe enough to warrant an execution?
For officials in many Idaho counties, however, a more practical concern hangs over the decision of whether to seek the ultimate punishment: how much is it going to cost?
Between increased defense costs and a lengthy appeals process, executing a person costs more than life imprisonment. Much of that cost falls on county prosecutor offices, which will spend hundreds of thousands of more dollars on a death penalty case than if they had sought life imprisonment.
A 2016 review by Susquehanna University found that prosecuting a death penalty case costs an extra $1 million on average compared to life imprisonment. A study by Seattle University reached a similar conclusion for death penalty cases in Washington state.
Those estimates do not include the costs of incarcerating a person while they await execution and go through the appeals process, which can take decades.
Even in cases where the death penalty is pursued and later dropped, the expenses can add up.
According to data obtained by the Post Register via a public records request, Teton County spent $485,377 paying for the defense of Erik Ohlson, who was sentenced to a minimum of 25 years in prison after he murdered Jennifer Nalley, who was pregnant at the time. Nalley was murdered in July 2016. Ohlson pleaded guilty to felony first-degree murder in February 2019 in a plea agreement to take the death penalty off the table.
Teton covered $227,607 of that amount from its own pockets. The remaining $257,770 was covered by the Idaho Capital Defense Fund, a funding program set up by the state of Idaho to help counties cover the cost of defense for death penalty cases.
The breakdown of costs states Defense Attorney James Archibald received $161,955, while Defense Attorney John Thomas received $158,024 for Ohlson's defense. The defense spent $95,815 on experts, including a life mitigation expert who investigates the defendant's life for mitigating factors that can be presented in court, medical expert, and an expert witness. Teton County also spent $47,500 on Ohlson's incarceration over 1,044 days. The Teton County's Sheriff's Office received $4,743 for overtime costs related to the case.
The Idaho Capital Defense Fund typically pays for the first attorney assigned to the case and the expert witnesses. Counties subscribe to the fund, paying $15,000 a year into it.
In 2017, Ada County considered withdrawing from the fund in the hopes of saving money. According to the The Spokesman-Review, the county reversed course after just two days, realizing the move would cost taxpayers money.
Teton County Prosecutor Billie Siddoway said she did not have estimates for how much money was spent by her office prosecuting Ohlson, but said there were several factors driving up the cost.
"We were just working extra hours," Siddoway said.
According to Siddoway, she spent about 30 hours a month working on the case, while maintaining the general caseload expected of the prosecutor's office. During the pretrial phase of the case, that increased to between 40 and 60 hours a week.
Though Ohlson accepted a plea agreement before the case went to trial, Siddoway said if there had been a trial, she had considered hiring local attorneys or contacting the Idaho Bar Association to receive help handling the county's general caseload.
Siddoway also said if the case had gone to trial, the county would have had to pay for her and other prosecuting attorneys to stay in Bingham County, after the judge ordered a change of venue.
"Our entire team would have needed lodging and food," Siddoway said, saying they were prepared to rent a house in Idaho Falls for four weeks. "We have to take everything with us to run the show."
Though Teton County was spared those costs when Ohlson pleaded guilty, Siddoway estimated the county spent between $60,000 and $100,000 more on prosecuting the case as a potential death penalty case, before adding on defense costs.
Because of the attention death penalty cases draw, changes of venue are common. The county seeking the death penalty case also would be responsible for security costs in the courthouse, rather than the county where the hearing takes place.
In 2018, Custer County Prosecutor Justin Oleson told the Post Register the costs associated with the death penalty made it nearly impossible for smaller counties to consider it as an option.
If a plea deal is not reached in such cases and a jury hands down the death sentence, the lengthy appeals process begins. Executing an inmate sentenced to death can take decades. According to the Idaho Department of Correction, Thomas Creech, who was sentenced to death for murdering another inmate, has been on death row since January 1983, or for 37 years.
Sign up for our Crime & Courts newsletter
Get the latest in local public safety news with this weekly email.