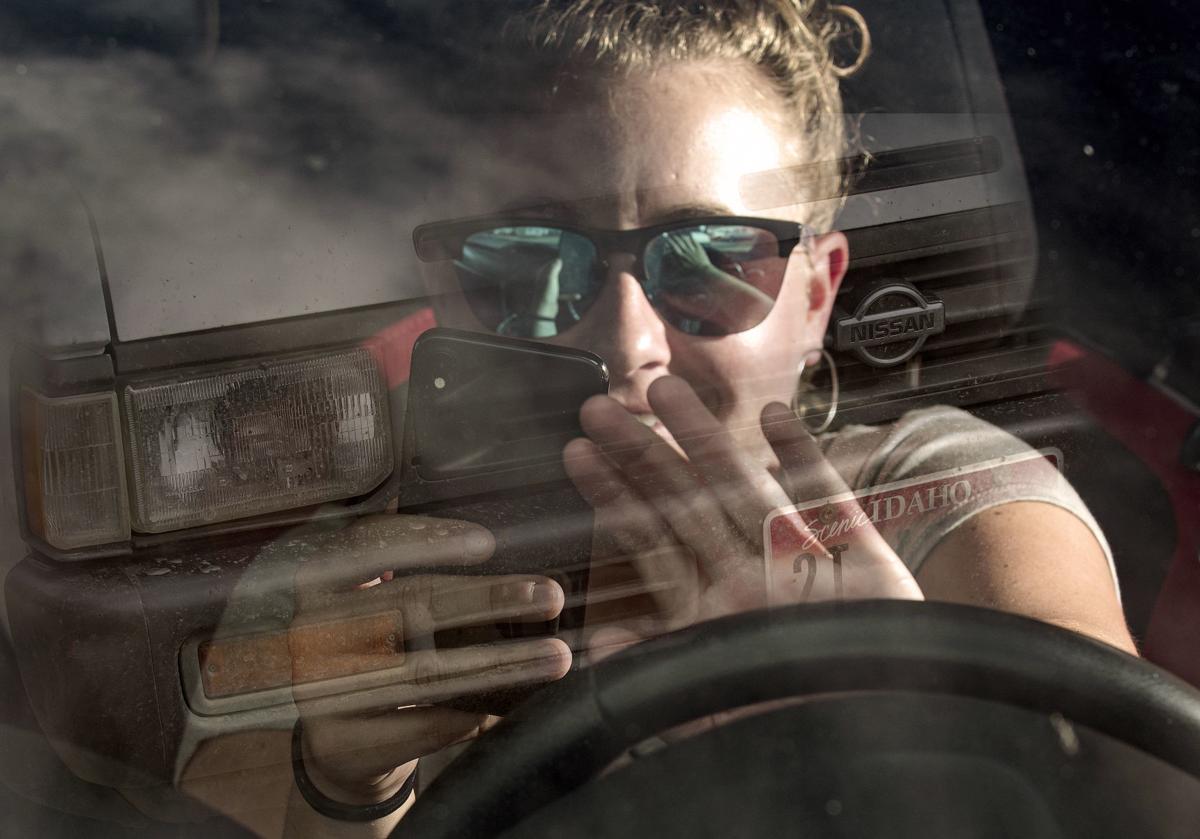 TWIN FALLS — Those holding a cellphone while driving in Idaho can now be pulled over by the police and cited.
Dozens of new laws passed during the 2020 legislative session go info effect Wednesday, including one that bans the use of handheld mobile electronic devices (cellphones, laptops, tablets, etc.) for Idaho drivers. The new law applies to cars idling in traffic but not to those lawfully parked.
A first-time violator will receive an infraction and a fine of $75, with escalating penalties for each subsequent offense. The law includes a six month grace period, during which officers will give out warnings instead of tickets.
Drivers may still use their phones with hands-free calling, one-touch and voice operation modes, and for emergency calls to 911.
Idaho drivers could already receive an infraction for texting and driving, but the law previously did not extend to other forms of distracted driving. Twin Falls Police Department traffic Sgt. Ryan Howe said that law was hard to enforce because people could say they were using their phones for something other than texting.
"The texting law that we have now, there were so many ways out of it," Howe said. "I think that it's safer the way it's going to be on July 1."
The new law overrides the patchwork of hands-free driving laws enforced in counties around the state.
Distracted driving is a factor in one of five crashes in Idaho, according to the Idaho State Police. Distracted driving crashes killed 241 people in Idaho between 2014 and 2018.
"Things can go wrong very quickly when you take your eyes off the road for even a few seconds," Idaho State Police director Col. Kedrick Wills said in a statement. "Anyone who has seen, been involved in, or is tasked with responding to these crashes understands this law addresses safety for every single person who drives on our roadways."
Wills said the power to improve traffic safety lies with individuals.
"ISP will do our part to enforce when necessary, but we're asking every Idaho driver to take it upon yourself and take responsibility for your own safety and the safety of others around you," he said. "Keep your hands on the wheel, your eyes on the road, your mind on driving, and together we'll keep Idaho safe."
Other new laws
A new law that takes effect Wednesday is intended to create transparency in medical bills and rein in predatory medical debt collectors. The Idaho Patient Act ensures patients receive timely notice of who provided medical services and how much is owed before being sued in court. It also limits attorneys fees related to medical debt collection. Vaping retailers are now subject to the same regulations as those selling tobacco, including inspections and compliance checks. The state could also choose to implement permit fees for retailers.
Idaho now has a minimum age to get married — 16 under a new law. The law also limits marriage for 16- and 17-year-olds to someone not more than three years older. Previously, a judge's permission and parent approval was needed for a child younger than 16 to be married. A national study by the group Unchained At Last showed Idaho has the highest rate of child marriage in the country.
People visiting Idaho cities from out of state
without a permit.
Those who raise or hunt an animal to feed their family
to have the meat butchered.
Sign up for our Crime & Courts newsletter
Get the latest in local public safety news with this weekly email.