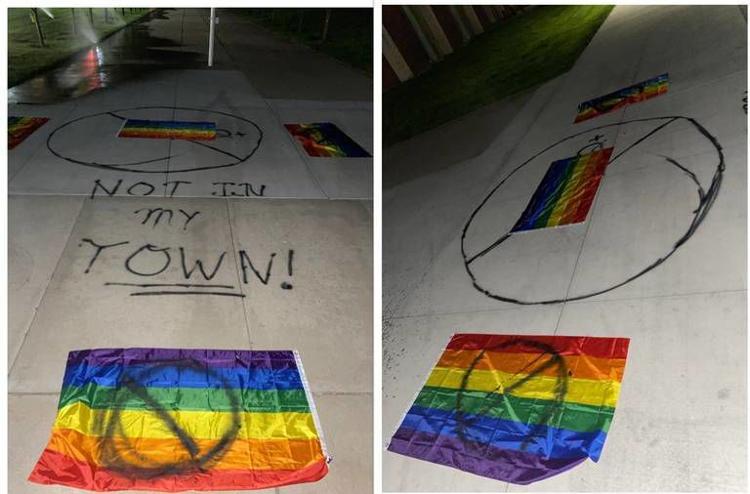 Hate crimes rose in Idaho in 2019 by more than 46%, according to a new report released last month by the Idaho State Police.
There were 38 hate crime incidents reported to Idaho law enforcement agencies across the state in 2019, compared to 26 in 2018. The vast majority of incidents — 19 in total — were logged by the Boise Police Department, according to Crime In Idaho 2019 report compiled by the Uniform Crime Reporting section of the Idaho State Police.
The report defines a hate crime as a criminal offense committed against a person or property which is motivated in whole or in part by the offender's bias against a race, national origin, religion, sexual orientation, mental or physical disability or ethnicity. However, Idaho's Malicious Harassment statute in Idaho Code 18-7902 still doesn't mention gender or sexual orientation
"One hate crime is one too many in our community," said Ron Winegar, deputy chief for the Boise Police Department. "We take every instance of an alleged malicious harassment in our community very seriously and devote significant resources to investigating and resolving those incidents. When the elements of such a crime are able to be proven, we strongly support prosecution of the alleged offender(s), as well as offer our unwavering support to victims."
Overall, 15 incidents were anti-Black, 11 were anti-LGBTQ and five were anti-Hispanic or Latino. Of the reported incidents, 28 involved intimidation or simple assault, seven were aggravated assault, and three involved the destruction of property.
About 15 minor injuries resulted from 2019's reported hate crime incidents, and "personal weapons" were used in some way in 61% of the incidents, according to Idaho State Police data.
Of the 38 incidents, the Idaho State Police reported that 17 of the incidents were "cleared." Offenses are considered to be cleared when at least one offender is arrested for a crime or the reporting agency clears the offense by exceptional means when a physical arrest is not possible.
Hate crimes were reported to law enforcement agencies in seven Idaho counties, including Boise Police Department, Post Falls Police Department, Coeur d'Alene Police Department, Twin Falls Police Department, Weiser Police Department, Idaho County Sheriff's Office, Jerome Police Department, Pocatello Police Department, Spirit Lake Police Department, Chubbuck Police Department, and the Idaho State Police.
"Idaho gathers hate crime information as an additional element and/or characters of the offenses reported by law enforcement," the report says. "... Accurate data collection for hate crime depends heavily on proper training of law enforcement to recognize such incidents and the cooperation and desire of law enforcement communities to report these offenses without the influence of special interest groups, media and politics."
IDAHO HATE CRIME REPORTS ALREADY CLIMBING FOR 2020
The release of this year's report, published annually in July, comes just weeks after police began investigating anti-LGBTQ vandalism at the College of Idaho in Caldwell.
Multiple Pride flags were taken down and vandalized a day after students held a Pride Month celebration on campus, the college reported. Caldwell police are now looking for a person of interest reportedly seen on a surveillance camera in the area, and the incident could be categorized as a possible hate crime.
A new data tool on the Idaho State Police's website tracks weekly hate crimes reported to the state by law enforcement agencies around the state. There were 20 hate crime incidents reported to 12 law enforcement agencies around the state as of July 8.
The 2020 reports are not finalized, according to Idaho State Police, as the reports on the list are updated and verified weekly. This list does not yet include College of Idaho incident, as the database doesn't list any reports filed with the Caldwell Police Department.
The number of hate crimes reported in 2019 still does not match the five-year highs of 2016 and 2017, when 44 and 51 hate crimes were reported statewide, respectively.
Sign up for our Crime & Courts newsletter
Get the latest in local public safety news with this weekly email.