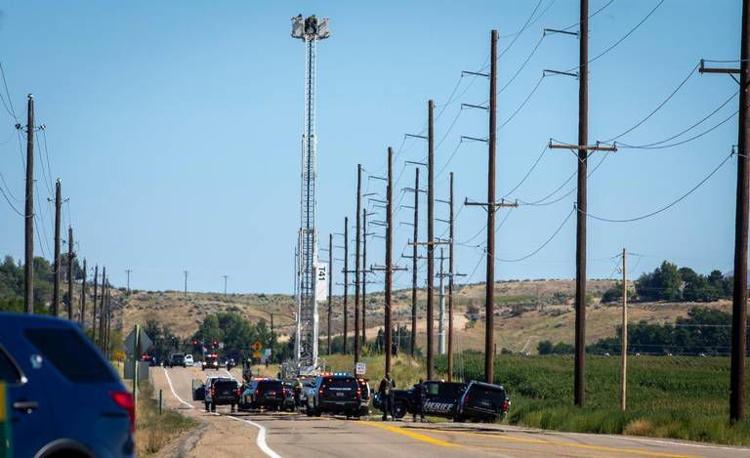 EAGLE — Ada County Sheriff Stephen Bartlett said Thursday that the Eagle police officer shot on-duty Monday is expected to recover and has been released from the hospital.
Brandon Austin has been identified as the officer who was shot twice during an incident near the intersection of Beacon Light Road and Idaho 16, north of Star. The city of Eagle contracts its police force through the Sheriff's Office.
In a statement, Bartlett called the incident "a brutal and unprovoked attack."
Matthew S. Kelly, 21, is accused of shooting Austin when police were trying to stop Kelly on what they said was a stolen motorcycle.
After a short vehicle chase, Kelly got off the motorcycle and the officer tried to get out of his car to follow on foot. Authorities believe Kelly opened fire, shooting into the officer's car, hitting and injuring him. The officer returned fire, but Kelly was not injured.
"Brandon was released from the hospital Wednesday and is now safely at home, surrounded by loved ones," Bartlett said in the statement. "I am so proud of Brandon, who paid a huge price for his dedication to our community. It is no surprise to me the first thoughts and concerns Brandon had after another officer found him injured was to direct the officer to where he last saw the man who attacked him. "
Kelly, of Emmett, remains in custody with bond set at $2 million. He is charged with felony aggravated battery on a law enforcement officer with an enhancement of using a deadly weapon, grand theft and eluding a peace officer. He also was charged with two felony counts of burglary in a separate case from earlier in July.
"When people ask me what the Ada County Sheriff's Office is about, I say everything we do is to help to make our community a safer place to live, work, and play," Bartlett wrote. "Brandon Austin took two bullets as he was doing that Monday morning, without hesitation, as he worked to keep a violent man from hurting anyone else."
Bartlett said his office has received overwhelming support and he thanked the community and his neighboring police departments. He also thanked Saint Alphonsus Regional Medical Center for the medical care received by Austin.
"It's an honor to be able to serve the citizens of Ada County," Bartlett said. "Horrible events, like what happened on Monday, only encourage our resolve to do the best job we can to keep you all as safe as possible. We will not be deterred."
Sign up for our Crime & Courts newsletter
Get the latest in local public safety news with this weekly email.