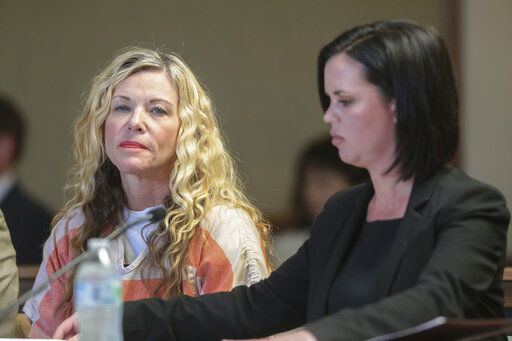 REXBURG — Last Friday, NBC aired its second "Dateline" episode on Lori Vallow and her husband Chad Daybell. In it, several people close to the couple spoke publicly for the first time. Their "Dateline" interviews provide new insights into the couple's beliefs and show a concerning pattern.
Four people in the couple's life — Chad's first wife Tammy Daybell, Lori's fourth husband Charles Vallow, and Lori's two children Tylee and J.J. — are either missing or dead, all under strange and suspicious circumstances. For those not well versed in the background, Charles Vallow and Tammy Daybell are dead and the children have been missing for more than seven months.
Prior to the deaths or disappearances, Lori and Chad told others that they suspected each one had become a zombie.
Friends and family say Lori first started changing after their move to Hawaii. Initially, Lori seemed better than ever on the island.
April Raymond, a friend from Lori's time in Hawaii, described her as "fun to be around, really positive, full of energy, full of life." While living in Kauai, Lori became a fitness instructor and church youth leader.
As time went on, Lori grew more religious. Charles Vallow, who had converted from Catholicism to Mormonism before their marriage, wasn't as invested in his new faith as Lori was, Raymond said.
"He wasn't that strong, dynamic spiritual leader that I think she wanted. She didn't feel like they were on the same spiritual level. … She had this tremendous longing to be with a partner that was at her same level of spiritual understanding," Raymond told "Dateline."
After moving back to Arizona in 2017, Lori kept in touch with Raymond. In early 2019, Raymond got a call from Lori who said she had just landed in Kauai and wanted to stay with Raymond. Raymond said her once-happy friend was "very different," "very disorganized," and "a little manic."
"She was saying Charles had had an affair, and she was leaving him. And it just kind of didn't sit very well with me. Cause, you know, Charles was a friend of mine too. For whatever reason, I felt like he was being portrayed as a villain and in my opinion he wasn't," Raymond said.
Lori began telling Raymond about her new friends from a religious podcast group called Preparing a People. Both Lori and Chad were both a part of that group.
"And when she's describing some of their doctrine and describing some of their beliefs, it was just too much to even get my mind around the things that they believed," Raymond said.
Raymond, who is also Mormon, said it was "very divergent" and "not even close" to Mormonism.
"The Lori that I knew compared to the Lori that I saw and observed after she connected with Chad and this group is night and day," Raymond said.
Eastern Idaho resident Angela Stone is the first person from one of these "divergent" religious groups to publicly talk about the group with Rexburg ties. She worked in Rexburg until this January, according to her LinkedIn account. Stone says she was "groomed" by this group and was once a part of it.
"It's not the Mormonism that 90%, 95%, of the church believes and practices," Stone told "Dateline."
Stone described Chad as "this remarkably well-spoken, kind man who was right in the thick of (the group)." Yet she also heard Chad had some strange beliefs.
"I heard that Chad believed that his wife was supposed to have died in a car accident, and she was now inhabited by a zombie, by an evil spirit, doesn't have control of herself and is detrimental to the work of God," Stone said.
Chad's wife Tammy died in her sleep under suspicious circumstances on Oct. 19.
Lori's niece Melani Pawlowski, in her first media interview, revealed that Lori first met Chad at a Preparing a People event in the fall of 2018.
"He got up, talked about his book," Pawlowski said.
After, Lori spoke with Chad. Chad came to believe that Lori was sent from God and had become a translated being, according to Pawlowski.
Stone explained the group's beliefs regarding translated beings.
"Essentially, (it's) an eternal being who can pass through portals and travel through the world in a different way," Stone said.
Kay Woodcock, Charles Vallow's sister and J.J.'s biological grandmother, told "Dateline" that Lori received an email from Chad with the subject line "Nick Schneider" in January 2019. In the email, Chad said Nick Schneider was the name of the demon he believed had taken over Charles' body.
That same month, Lori referred to Charles by that name.
"Nick is your real name," Lori said, according to the divorce documents, "Nick killed Charles and has taken his identity."
An unnamed friend shared texts that Charles had sent in April 2019 concerning Lori:
"Things have changed so dramatically in the past 6 months."
"Something snapped. It is so unbelievable and scary."
"I'm thankful she doesn't see JJ. … She wants him and for me to disappear. Seriously…"
"It's the freakiest thing I've ever experienced."
"She's with a group of people called 'woke' and 'preparing a people'
"She actually believes I'm not Charles. She says an evil spirit named Nick Schneider murdered me and is using me to 'violate' her."
Three months later, Charles was shot and killed by Lori's brother Alex Cox, who himself died of suspicious circumstances in Arizona in December.
Stone said murder would not be out of the scope acts of which the group is capable.
"If there is a work that you have been commanded by God to bring forth and God asks you to take somebody's life in order to bring forth that work, we know our families are going to be together in heaven after we die, so if it's what God has asked, it's almost like they're Abrahamic sacrifices," Stone said.
After Charles' death, Lori moved her two children to Rexburg. Cox and Melani Pawlowski also moved to Rexburg.
Lori currently faces charges related to the September disappearance of her two minor children, 17-year-old Tylee Ryan and 7-year-old Joshua "J.J." Vallow. She is charged with two felony counts of desertion and nonsupport of dependent children as well as misdemeanors involving resisting or obstructing officers, criminal solicitation to commit a crime, and contempt of court. She and fifth husband, Chad, fled Idaho to Hawaii after lying to police about the children's whereabouts.
Lori was extradited back to Madison County on March 5, where she remains today on a $1 million bond.
Sign up for our Crime & Courts newsletter
Get the latest in local public safety news with this weekly email.