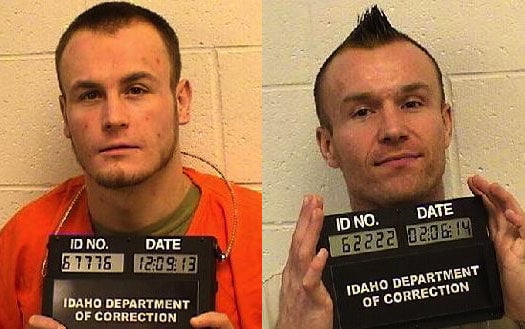 BOISE | Derrick Lewis said he didn't think anything when he walked toward the back of the Torch 2 club on Vista Avenue in Boise early on Oct. 20, 2013. He was looking for a piece from a cellphone headset that he thought might have fallen off several hours earlier.
Lewis, now 46, of Boise, walked past a group of people enjoying themselves on two couches near the disc-jockey booth. A younger man, later identified as Beau E. Hansen, looked his way.
"He turned and looked at me, and immediately the smile left his face and was replaced by a grimace," Lewis testified Tuesday during the opening day of the trial of two men accused of attacking him and leaving him with serious injuries. "He launched himself off the couch like there was an emergency."
Hansen, 31, and Jonathan L. Henery, 29, both of Boise, are charged with committing a federal hate crime based on race and color. Lewis is black, and Hansen and Henery are white. It's the first time in Idaho that suspects were charged under the Matthew Shepard and James Byrd Jr. Hate Crimes Prevention Act, signed into law in 2009.
The law was passed in response to the 1998 killings of Shepard, 21, a University of Wyoming student, and Byrd, a 49-year-old Texan. Shepard, a gay man, was killed because of his sexual orientation. Byrd was targeted because he was black.
Henery and Hansen are accused of yelling racial slurs at Lewis as they attacked him. The defendants' lawyers concede that their clients might be guilty of battery, but nothing more.
"This is a bar fight. It's not a hate crime," Thomas Dominick, the attorney for Henery, said during opening statements.
Mark Ackley, who represents Hansen, also denied that race played any role. He claimed that Lewis provoked the fight by looking at Henery's sister and saying something "degrading" to her.
"It was a free-for-all. It was a ballroom brawl," Ackley said.
Testimony ended for the day just as prosecutors were about to question Lewis about the attack that left him with injuries to his eye that still trouble him today. He will retake the witness stand at 8:30 a.m. Wednesday at the James McClure Federal Building.
Club bouncer Ben Schoelkoph testified that he had kept a close eye on Hansen and Henery, who had come with his wife and sister to celebrate Henery's wedding hours earlier. The bouncer said Henery, unprovoked, had beat him up eight or nine years earlier at a house party, so he was familiar with his reputation as a fighter.
He said he was wary of the man he knew as "Rockem," after the 1960s toy Rock 'Em Sock 'Em Robots, which features two plastic robots trying to knock each other's heads off inside a boxing ring.
He said he also knew that Henery was a member of the gang Severely Violent Criminals, known for its aggression.
The party was at the club for about five hours before Lewis arrived. While some customers complained that Hansen was being obnoxious by pressing them to tip the dancers, there were no physical confrontations until Lewis arrived, Schoelkoph said.
Schoelkoph said he tried to intervene when he saw Hansen talking to Lewis, a club regular, in what appeared to be an aggressive manner. He said Lewis took a step back and Hansen stepped forward to narrow the gap.
Schoelkoph said both Henery and Hansen, along with Henery's wife, yelled racial slurs at Lewis.
After Hansen started beating Lewis, Henery jumped off the couch and joined in, Schoelkoph said. He said he tried pulling both men off Lewis but didn't have much success.
"Every time I got one guy off of him, the other one would come in. I was fighting a losing battle," Schoelkoph said.
Defense attorney Dick Rubin, Idaho's chief public defender, said Henery joined in only to protect his friend, who he said was ganged up on by Lewis and Schoelkoph.
During the fight, a second bouncer and the club's DJ stepped in to help get the defendants off Lewis. Schoelkoph went to the bar to grab a hand-held Taser, which he pressed against Hansen's side to subdue him.
Ackley questioned whether Schoelkoph held a grudge against Henery because of the earlier incident involving the two men and whether he made up the accusations that Henery and Hansen used racial slurs.
He asked Schoelkoph whether it was accurate that, when police asked him the night of the attack whether Henery and Hansen had "dropped an 'N-bomb' on Lewis," he said he didn't know.
"I don't recall saying that," Schoelkoph said.
Ackley played a portion of a police audio recording showing Schoelkoph said that. Questioned by assistant U.S. Attorney Aaron Lucoff, Schoelkoph said that in the aftermath of the confrontation, he didn't remember all of the details of what happened. Later, he recalled more details.
"It's hard to get the facts straight right after an incident like that," Schoelkoph said.
Sign up for our Crime & Courts newsletter
Get the latest in local public safety news with this weekly email.