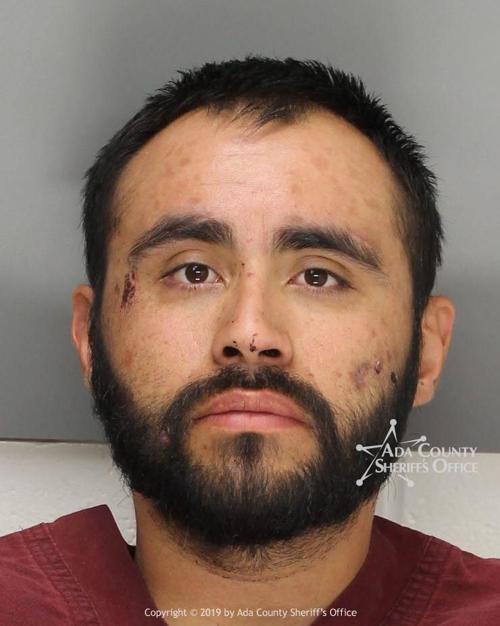 GOODING — A man facing multiple charges after crashing into the Shoshone Police chief's vehicle during a high-speed chase last week remains in the Ada County Jail after undergoing surgery.
Jesus Antonio Reyes of Arizona received serious injuries in the crash, and has undergone surgeries from which he is recovering, according to Lt. Robert Rausch of the Idaho State Police.
Ada County is a jail facility with an in-house infirmary, where prisoners can be confined during medical treatment, Rausch said.
Reyes faces felony charges of aggravated assault, grand theft by receiving, possessing or disposing of stolen property, fleeing or attempting to elude a police officer in a motor vehicle and malicious injury to property.
He also has a criminal record in Arizona, including a December 2018 arrest after a high-speed chase in Mesa, where he was a passenger in the car, according to the Maricopa County Sheriff's Office.
Reyes was arrested on Oct. 16 after the black Honda Civic he was driving fled a traffic stop on U.S. Highway 93 near milepost 45, Rausch said.
The stop was initiated after Reyes left a gas station in Hollister without paying.
Reyes drove into Twin Falls, then a Jerome City police officer tried to stop the car on U.S. 93 near milepost 50.
The chase continued onto Interstate 84, with speeds reaching more than 120 mph, Shoshone Police reported.
Chief Austin Smith of the Shoshone Police positioned his vehicle blocking traffic and, when Reyes veered into the median, the car lost control and struck Smith's vehicle.
Smith was not in the vehicle at the time.
Reyes was first taken to North Canyon Medical Center, then transferred to Saint Alphonsus Regional Medical Center in Boise. From there, he was moved to the Ada County Jail after a Gooding County judge issued a warrant for his arrest, Rausch said.
Reyes will be moved to the Gooding County Jail when he is sufficiently recovered to appear in court, Rausch added.
No date has been set for that move.
Sign up for our Crime & Courts newsletter
Get the latest in local public safety news with this weekly email.