April crime report: Fake abduction, naked man, "potatoes" as meth, cleaning lady impersonator
Did you miss any of the crime and court news from April? Here's a collection of the crime reports, notable arrests and important court hearings from the month to make sure you know what's going on. 
April crime report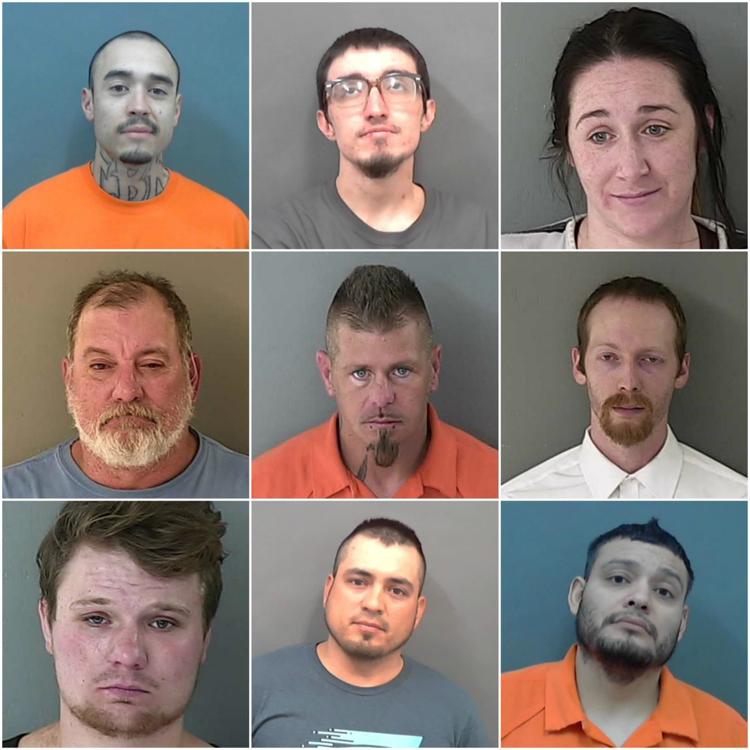 Police: Rupert man ran large-scale drug operation on farm and used "potatoes" as a code word for meth
RUPERT — Police say a Rupert man had a large-scale meth operation and in text messages to buyers used the word "potato" as a code word for his wares.
Jesus A. Diaz Rubio, 29, was arrested by the Mini-Cassia Drug Task Force on Tuesday after a drug bust in the Jackson area in Cassia County. He is charged with one count felony drug trafficking.
According to court records, the task force was told about a "large-scale" methamphetamine operation taking place on a farm through a deal with a police informant.
The informant told police he would pick up 296 grams of methamphetamine that would be buried next to a crossroads sign and he would leave $2,000 in cash wrapped in tin foil to pay off a previous drug debt.
Rubio would send text messages saying he would leave "10 potatoes" at the location for pickup, which officers said was a coded message meaning 10 ounces of meth.
Police found the drugs buried in plastic baggies about two-inches from the surface of the ground underneath a piece of a Coca-Cola cardboard carton. The money was wrapped in tin foil and placed in the hole and covered with the same cardboard.
Police said Rubio sent another text message to the informant that said, "Let me know when you get the potatoes so I can get the money."
As the task force watched a single-cab white Chevrolet pickup approached the intersection and Rubio got out and went over to the drop location. As police followed his vehicle, Rubio started driving faster and drove to a mobile home at 1185 E. 400 N.
Officers reported finding $9,000 in cash on Rubio, but none of the money matched the serial numbers of the money that was left in the hole. The money was also not found in the pickup, but a Coke box with a piece missing was found behind the seats.
Officers noticed it was 30 degrees outside and Rubio's driver's side window was open. It had been snowing, so police retraced the route he had taken. They found the piece of cardboard that was buried at the signpost and found the tinfoil with money inside it about five feet from the road, where police say, Rubio threw it from the pickup.
Police say Rubio admitted to placing the methamphetamine in the hole on his way to work and picking up the money and throwing it out the window. A preliminary hearing is scheduled for April 27 in Cassia County Magistrate Court.
Police: Woman broke into house, pretended to be cleaning lady
TWIN FALLS — Police say a Jerome woman broke into a house, attempted to break down the bedroom door and pretended to be a cleaning lady when officers arrived.
Nina Plaster, 33, was arraigned Tuesday on charges of unlawful entry and malicious injury to property.
According to a police affidavit, sheriff's deputies responded to an alarm call in Buhl on the morning of Feb. 14, where they found a man and woman carrying a caddy filled with cleaning supplies.
The woman, Plaster, said that she was the cleaning lady and was there to clean the house, according to police. She said the man, Saul Garcia, was her ride.
When police called the owner of the house, the owner said that Plaster was not her cleaning lady and that she did not have permission to be in the house, although she mentioned that her real housekeeper might know somebody named Nina.
The housekeeper told police that Plaster had lost her driver's license while she was helping her clean the house a month earlier.
She said she had gone back to the house several weeks earlier to look for Plaster's driver's license, but couldn't find it.
The police affidavit noted that the house's security system had been tampered with around the time that Plaster first visited the house to help the real housekeeper clean.
When officers walked through the house they found that the door to the master bedroom was "severely damaged," according to the affidavit. One of the locks had been drilled out from the outside, and it appeared that someone had tried to kick the door down.
Plaster has been jailed on a $1,000 bond.
A preliminary hearing is scheduled for Apr. 27.
Naked Burley man opens door to check weather, mail carrier complains
BURLEY — A mail carrier called police April 5 after spotting a naked man standing in the doorway at a Burley residence.
The call came in at 10:16 a.m. in the 1300 block of Hansen Avenue after a woman mail carrier saw a naked man holding a piece of cardboard up to his chest, according to the Cassia County Sheriff's report.
The woman said the man was "a skinny white male with glasses and poufy grey hair."
When deputies arrived at the residence they spoke with a man who admitted that he had opened his front door while he was naked to check the weather before he got in the shower. The man said he had a towel on his shoulders but his lower half was not covered.
He said he saw the mail carrier walk by and notice him.
The mail carrier said the man was inside his house and just stood there and did not try to contact her in any way.
The man allowed officers to search his residence because he is on felony probation, but no contraband was found.
The man was not charged with a crime but he was warned that if it happened again, he could be charged and that he should notify his probation officer about the incident.
Police: Chase through Walmart parking lot ends with car going up in flames
TWIN FALLS — Police say a Twin Falls man drunkenly sped through the Walmart parking lot and drove the wrong way down Cheney Drive before his car caught on fire.
Robin Olszynski, 46, was arraigned Tuesday on a charge of eluding a police officer, a felony.
According to a police affidavit, officers were called to Walmart on Feb. 11 to investigate a man in a car who was reportedly coughing, drooling, and slurring his speech.
After Olszynski "fell flat on the ground" during a sobriety test, police asked him if he wanted to sit in his car with the door open while he talked to them, according to the affidavit.
Once he was in the car, Olszynski grabbed his keys, put them in the ignition, and drove off through the parking lot at an estimated 50 miles per hour, police said.
He hit a stop sign before turning onto Cheney Drive, where he drove the wrong way down the street and drove over the median multiple times, according to the affidavit.
Police said Olszynski then turned into a field south of Burger King, where the front end of his car caught on fire.
Olszynski was charged on Feb. 12 with driving under the influence, reckless driving, and resisting or obstructing an officer, all misdemeanors.
He pleaded guilty to driving under the influence and resisting or obstructing an officer in magistrate court Monday.
He was released Tuesday on his own recognizance. A preliminary hearing for the felony charge is scheduled for May 4.
Heyburn girls admit making up attempted abduction story
HEYBURN — Heyburn police said two girls admitted they made up a story about a man who tried to abduct them on April 14.
Heyburn Police Chief Dan Bristol said the two girls, ages 10 and 11, were called to the police station after initial interviews because their stories contained inconsistencies.
"During the interview the girls admitted they made the story up," Bristol said. "No charges were filed. The parents said they were going to take care of it, and we figured that would probably be worse."
Bristol said it is a crime to falsely file a police report.
"We wanted to get to the bottom of it if it didn't really happen because we didn't want people out there worrying about it," Bristol said. "I didn't want people feeling paranoid every time a silver car drives by."
The girls reported that a man in a silver car tried to abduct them, but there were discrepancies in the two girls' stories.
Police: Buhl woman threw knife at son during argument
BUHL — Police say a Buhl woman threw a knife at her adult son and threatened to kill him during an argument.
Tracy Lynn Allred, 47, was arraigned Wednesday on charges of aggravated assault with a deadly weapon, battery, and resisting/obstructing an officer.
According to a police affidavit, officers were called to Allred's house Tuesday night. Her adult son, Jeffrey, told them his mother had punched him in the face, thrown a knife at him and slashed a tire on his truck after he got angry with her about a phone conversation he overheard.
Jeffrey said that when the two started arguing, his mother hit him and said she was going to kill him, and he shoved her away. As he was leaving the house, his mother threw a 14-inch kitchen knife out the front door at him, Jeffrey said. The knife did not hit him.
Jeffrey told police that he picked up the knife and put it in the back of his pickup truck; Tracy allegedly went back inside and came out with another knife, which she used to slash a tire on Jeffrey's truck.
When questioned by police, Tracy said that she slapped her son in the face and the two "shoved each other around" before Jeffrey left, according to the affidavit. She admitted to throwing the knife, but said it was not close to Jeffrey, police said.
Tracy told officers that she slashed her son's tire because he "came back after her," according to the affidavit.
Aggravated assault is a felony; battery and resisting or obstructing an officer are misdemeanors.
Allred was jailed on a $30,000 bond. A preliminary hearing is scheduled for May 4.
Man charged with murder, attempted murder and kidnapping in Minidoka shooting
RUPERT — A Rupert man is accused of shooting another man in the town of Minidoka April 28 and also of shooting the man's daughter in the hand and threatening to kill her.
Rafael Gil Vargas, 43, of Minidoka, later died at the hospital.
Denis O. Lopez-Serrano, 22, of Rupert, is charged with first-degree murder, attempted murder and two counts of first-degree kidnapping. He is set to be arraigned on the charges Monday in Minidoka County Magistrate Court.
Police say Lopez-Serrano lured the mother of his child, Nallely Vargas Juarez, 19, of Minidoka, saying he wanted her to pick up the child, but then fatally shot the woman's father and shot her in the hand, according to court records.
Vargas Juarez told police she got a text from Lopez-Serrano saying she needed to come get her child, so she headed to Rupert from Minidoka. But then he sent another text saying he would keep the child, so she turned back toward Minidoka.
Before she got to Sears Street, Vargas Juarez told police, Lopez-Serrano and his friend stopped their car by pulling in front of them head-on. She said Lopez-Serrano got out of his friend's vehicle and approached the car, pulling a handgun from his waistband and threatening them by pointing his gun at her and telling her to get out of the car.
Her father told her to call the police. Then, she said, Lopez-Serrano hit the car window with the gun breaking the window and then shot Vargas and shot Vargas Juarez in the hand.
Lopez-Serrano told her to get in the back seat of the car.
The woman said he drove them east of Minidoka where he told her he was going to dump her father's body and then kill her. Lopez-Serrano's friend followed them, she said.
She heard him ask the friend what he should do, to which the friend replied, "It's up to you. You did this."
Lopez-Serrano made her agree not to tell police that he shot them, court records said. Vargas Juarez said she could still hear her father breathing, so she agreed. Lopez-Serrano then took her phone and shot it, she said. Detectives later reported recovering the phone, which was in five pieces, and the gun.
Lopez-Serrano told the woman his friend would kill her and her family if she said anything to police, court records said. Lopez-Serrano's friend told detectives he heard and saw Lopez-Serrano shoot them both.
Afterward, Lopez-Serrano put the semi-automatic gun between the driver's seat and the center console of his friend's vehicle, court records said.
Minidoka County Sheriff Eric Snar declined to say whether the child was in either car during the shooting.
The Minidoka County Sheriff's Office said in a press release they began investigating the case at about 10 p.m. Saturday.
Vargas was flown to Portneuf Medical Center in Pocatello, where he died of his injuries.
Vargas Juarez underwent surgery to repair the injury to her hand and was released Sunday.
The sheriff's office said the case remains under investigation.
Twin Falls tiki bar burglarized, reward of year's worth of finger steaks offered for information
TWIN FALLS — A tiki bar in Twin Falls was burglarized over the weekend, its owners say. Now they're asking the public to help police find the culprit.
According to owner Debbie Urrutia, someone broke into The Cove on Addison Avenue in the time between the restaurant closed Saturday night and re-opened Monday morning.
A significant amount of inventory was stolen, including multiple laptops, a television, music equipment and "a lot of liquor and wine," Urrutia said.
The burglar also took a handmade gourd basket with The Cove's logo on it. The basket was a gift from Urrutia's sister twelve years ago, when Urrutia and her husband bought the restaurant.
"It was definitely one of a kind," Urrutia said. "It was a special business-warming gift."
The Twin Falls Police Department is investigating the break-in. In the meantime, The Cove is offering a reward to the person who comes forward with information that helps solve the case: free finger steaks for a year, with some limitations.
"Somebody's got to know something," Urrutia said. "And with as much attention as there's been on this, I think somebody knows something and they'll come forward. I hope."
Police are asking anybody with information to call dispatch at (208) 735-4357.
Former Minico athlete charged with child sex crimes
RUPERT — Former Minico High School athlete Lauriano "Larry" Vega Jr. was arrested at his school in Heyburn April 5 on felony charges of child sex crimes.
According to court records, at the time of Vega's arrest, he was being monitored by a GPS ankle bracelet because of similar charges pending in juvenile court. The new charges stem from incidents that court records say occurred from March 27 to 30.
Vega, 18, is a senior and formerly played football and basketball at Minico.
He is charged with two counts of child sexual abuse on suspicion of soliciting minors under the age of 16 to participate in sex acts and a count of misdemeanor battery.
Police said a 13-year-old and a 14-year-old said Vega made unwanted sexual advances toward them. The officer said he was familiar with Vega from a recent sex abuse case that he helped investigate.
According to court documents, the battery charge stems from unwanted touching of an 18-year-old woman. She was with the teen girls on March 27, and said she and Vega began flirting. She told police that when she went outside, Vega approached her and without provocation, he grabbed her around the waist and forcibly kissed her. She said she briefly kissed him back but when she realized what was happening she backed away from him and he attempted to kiss her again. Vega asked if she wanted to have sex with him and when she said no, he told her he'd never been told no before, court records said.
The 14-year-old girl told police she was playing cards at a table at a business on March 30 when Vega sat beside her. The girl said she told Vega her age, but he propositioned her for a sex act and rubbed and grabbed her thighs underneath the table, court records said. She said when she moved away from him, Vega would move close to her again. When she stood up to leave, she told police, Vega grabbed at her buttocks but missed and grabbed the back of her thigh. The girl said when they all went outside the business to a fire pit, Vega grabbed her buttocks when she walked by him.
Police spoke to the 13-year-old girl at school, and she said Vega had also propositioned her for a sex act on March 30.
Police reviewed Vega's GPS monitor, which showed he was at or near the business at the times and dates the girls said he was there.
After he was arrested, police said Vega admitted to police that he kissed the woman, and said he shouldn't have done it. He denied propositioning the two minors for sex and denied touching the 14-year-old.
Minico athletic director and boys basketball coach Ty Shippen said he had no knowledge of any abuse charges made against Vega before Vega was arrested in December on previous charges. Former Minico football coach Tim Perrigot also said the arrest was the first time he heard about Vega's charges.
Vega was the 4A Great Basin Conference Football Player of the Year in 2017.
Police: Twin Falls man shot at occupied pickup truck
TWIN FALLS — A Twin Falls man has been charged with a felony after police say he shot at a pickup truck he encountered on the road.
Willie Sarratt, 50, was taken into custody Saturday after firing several shots at an occupied truck pulled off to the side of the road around 2600 East 3500 North. He was arraigned Monday on a count of discharging a firearm at an occupied vehicle.
Court documents do not suggest that Sarratt and his target, Vernon Massey, knew each other before the encounter.
A police report said Massey told officers he was chasing his girlfriend in his truck after the two got into an argument. Eventually, Massey and his girlfriend both pulled off to the side of the road.
At that point, Sarratt drove up from the opposite direction and pulled up next to the two cars, blocking them in. Massey told police that when he saw Sarratt get out of his car, Massey attempted to pull around him and drive away.
As Massey was driving away, Sarratt shot at the back of Massey's truck, hitting it several times, Massey said.
Sarratt left the scene before police arrived, but later told officers that he was trying to prevent Massey from running him over and trying to stop him from chasing his girlfriend. But the police affidavit points out that the shots were to the back of Massey's truck, not the front. He also told police he was trying to shoot out the rear driver side tire.
Bond for Sarratt has been set at $25,000. A preliminary hearing is scheduled for April 13.
Man who beat his friend with shovel and dumbbell sentenced to 15 years in prison
TWIN FALLS — An eastern Idaho man who beat a friend with a shovel and dumbbell weight in 2013 will serve at least five years behind bars.
James Marquez, formerly of Twin Falls, was sentenced to 15 years in prison for aggravated battery after a lengthy and emotional sentencing hearing Friday. Five of those years will be fixed, and the other 10 indeterminate.
Marquez pleaded guilty in November to aggravated battery for his role in an incident on Jan. 23, 2013, when he beat Michael Flynn with a dumbbell weight and shovel during a dispute at his then-home in Twin Falls. Flynn suffered severe internal injuries from the beating and was placed in a three-day medical coma as a result.
On the night of the incident, Twin Falls police responded to Marquez's home on Arrow Wood Court, where they found Flynn wounded and covered in blood. Flynn told police that he and Marquez had gotten into a fight after Flynn tried to break up a domestic dispute between Marquez and Marquez's wife.
Questioning and arguments at Friday's sentencing hearing largely revolved around Marquez's character and the nature of the dispute between Marquez and his wife.
She testified that the argument was just that, and that her husband was a "great man" who was not violent with her that night or any other night; another friend of the couple's who was at the house that night previously told police that Marquez was "screaming" at his wife and "tossing her around."
Prosecuting attorney Kiel Willmore requested the maximum sentence for the aggravated battery charge: 15 years fixed in prison. The defense asked Wilper to grant Marquez probation but impose a period of incarceration in the county jail; the suspended sentence would be 3 years fixed and 5 years indeterminate.
In a statement to the court, Marquez said he was "ready to move on" from the incident.
"I'm not a monster that people try to paint me out to be," Marquez said. "I'm a loving husband and a great dad to my kids."
In explaining his sentencing decision, Wilper said he had taken into consideration that "some aspects of [Marquez's] character certainly are good."
"I'm not sentencing Mr. Marquez as though he is a career criminal or irredeemably bad," Wilper said.
However, he continued, "I think that a lesser sentence would depreciate the seriousness of the crime."
Marquez was taken into custody immediately after the hearing.
Police: A Burley man threw a machete at a woman from a car
BURLEY — A Burley man accused of throwing a machete out a car window at a woman has been charged with felony aggravated assault.
Jordan Isaiah Vega, 21, is also charged with felony destruction, alteration or concealment of evidence.
The Cassia County Sheriff's Office responded to the 1600 block of Overland Avenue after receiving a 911 call saying Vega was "acting psychotic" and had thrown a knife out of a car at a woman who was crouched against a building, according to court records.
An officer said the woman seemed "shaken up" and in fear of Vega, and her sentences were sporadic and hard to follow. The woman said Vega kept contacting her and harassing her about giving him a ride.
The woman said she had got out of the car and was crouched by a business on East 16th Street when Vega tossed the knife, which was black from the handle to the blade, toward her from the car.
She said she got back in the car and asked Vega where he wanted her to take him and he said all he wanted was to go with her. She told him no and got back out of the car.
Officers found Vega on the front porch of a house where he immediately told them he hadn't done anything wrong and that he was not in possession of a weapon or a machete.
Vega denied knowing anything about the knife, but during questioning, asked an officer to promise not to arrest him if he told them where the machete was. The officer said that was not possible.
A deputy found the machete in some tall grass near the route where Vega had walked to the house.
Witnesses told police they hadn't seen the events transpire but said they saw a man matching Vega's description fleeing through the alley with a large object held to the center of his chest that could have been a machete.
Boise couple arrested in Twin Falls ISP marijuana trafficking sting
TWIN FALLS — A Boise couple has been charged with marijuana trafficking after police confiscated $30,000 worth of drugs in a sting operation. 
Sarah Rankin, 42, and Stephen Anthony Rodriguez, 55, were arraigned Monday and jailed on bonds of $50,000 and $75,000, respectively. 
Idaho State Police arrested the pair on Friday night after staging a deal over the phone through a confidential informant, according to a police affidavit. Rankin and Rodriguez met the informant in the Sportsman's Warehouse parking lot in Twin Falls. 
Officers found bags containing about 26 pounds of marijuana in Rankin and Rodriguez's car, the affidavit said. Rodriguez had previously told the informant that the marijuana would cost $1,200 per pound, or $30,000 total for 25 pounds. 
Preliminary hearings for both Rankin and Rodriguez are scheduled for April 27.
Twin Falls man arrested on child porn charges after placing ad on Craigslist
TWIN FALLS — Police say a Twin Falls man admitted to possessing child pornography after the FBI flagged a suspicious advertisement he posted on Craigslist.
Brady Thompson, 29, was arraigned Wednesday on two counts of sexual exploitation of a child. Twin Falls police began investigating Thompson after they were contacted by an FBI agent last year, according to court documents.
Police said the FBI agent came across a Craigslist ad seeking a woman interested in "things like incest, young, and control" in February 2017. The agent responded to the ad pretending to be a woman who wanted to let her 11-year-old daughter be used for sexual purposes.
When the FBI traced the Craigslist ad back to Thompson, the Twin Falls Police Department agreed to take over the case. An officer reached out to Thompson, who admitted he had been in contact with a woman and her young daughter, according to a police affidavit.
At first, Thompson told police that he "didn't think" he had any child porn on his phone because he had deleted any photos or videos he might have had; the next day, he said he did have photos, videos, and emails showing children as young as 4 months old in sexual acts, according to the affidavit.
Police said they found a total of 16 photos of children who appeared to be younger than 12 years old on Thompson's email account.
A preliminary hearing is scheduled for April 18.
Police: Twin Falls man burglarized car, pulled a knife on car owner
TWIN FALLS — Police say a Twin Falls man broke into a car and pulled a knife on the owner when he tried to stop the theft.
Casey Grant Jones, 20, was arraigned Tuesday on charges of burglary and aggravated assault and jailed on a $50,000 bond.
The owner of the car, Timothy Cook, told police that he was stepping outside to have a cigarette at Russell Square Apartments when he noticed two men pulling things out of his car.
Cook said that when he confronted the men, one of them ran away, a police affidavit said. He managed to grab Jones, however, and told him to sit on the curb while he called the police.
When Jones tried to stand back up, Cook grabbed him again and attempted to make him sit down; Jones then pulled a knife out of his pocket and swung his arm at Cook to cut him, Cook said.
"If you get any closer, I am going to stab you," Jones said, according to Cook.
Jones then ran away, Cook said in the police report.
When police arrived at Russell Square Apartments, they found Jones behind a building, according to the affidavit. He started to run, and officers tackled him.
Police found two folding knives in Jones's pockets, as well as a plastic bag full of jewelry.
Cook told police that nothing had been stolen out of his car.
A preliminary hearing is scheduled for April 27.
Heyburn man charged after police said he shot a man during an argument
RUPERT — A Heyburn has been charged with felony aggravated battery and unlawful possession of a weapon by a convicted felon after police said he shot a man in November during an argument.
George Lorenzo Sanchez, 34, was arrested March 28 after a warrant was issued for his arrest.
Police were dispatched to 95 N. 500 W. at 3 a.m. on Nov. 4 in response to a call regarding a suspicious man outside a residence, court records said.
When police arrived, they found a male outside the home that had been shot in the hand and in the groin area. He was taken to Minidoka Memorial Hospital and then flown to another hospital.
A search warrant was issued for the man's home, and police interviewed three people who were there.
A woman there told police the man who was shot was in the living room with Sanchez. She heard them arguing and then heard a gunshot, a police report said.
Both men at the residence said they heard the shot, and one of them said the injured man ran past him and out of the house.
The injured man later told police that he was sitting on a couch and Sanchez was "talking to him like a punk," so he asked him why he was talking to him like that.
The man said Sanchez stood up and shot him and he got up and ran out of the house.
Sanchez has a 2007 conviction for drug trafficking in Idaho and was charged with the unlawful possession of a weapon by a convicted felon charge, court records said.
A preliminary hearing in the case is for Wednesday in Minidoka County Magistrate Court.
Police: Jerome man arrested for heroin trafficking tried to grab cop's gun during traffic stop
TWIN FALLS — Police say a Jerome man tried to steal a police officer's gun early Tuesday during a traffic stop gone wrong in downtown Twin Falls.
Travis Lee Presgraves, 38, was arraigned April 3 on a slew of charges, including trafficking in heroin, felony possession of a controlled substance, unlawful possession of a weapon by a convicted felon, possession of paraphernalia with intent to deliver, removing a firearm from a law enforcement officer and two counts of resisting or obstructing an officer.
Police stopped Presgraves in downtown Twin Falls around 12:30 a.m. April 3, suspecting that he might be driving drunk. Presgraves hadn't been drinking, but he wasn't able to produce valid proof of auto insurance.
While the officer was writing up a citation, he noticed that Presgraves seemed overly talkative and nervous, according to a police affidavit.
A K9 sniff of Presgraves's car resulted in police finding more than 13 grams of heroin, methamphetamine, glass pipes, a handgun, and nearly $8,000 in bundled cash.
When the two officers on the scene tried to arrest Presgraves, they said he pulled away and attempted to grab a gun that belonged to one of the officers.
The struggle ended when one of the officers pointed a stun gun at Presgraves.
He has been jailed on a $500,000 bond. A preliminary hearing is scheduled for Apr. 13.
Rupert man fired shots into an occupied vehicle, police say
RUPET— A Rupert man is charged with aggravated assault and unlawful discharge of a weapon at an occupied vehicle after police said he fired shots at a pickup truck.
Brian Gregoro Rodriguez, 26, was arrested after police responded to a call on March 24 regarding shots fired at 377 S. 200 W. at a mobile home park, according to court records.
A witness at the mobile home park saw a red car pull up behind a pickup that had pulled into a driveway and three to four men got out of the car.
The witness said the men began arguing, and one man, later identified as Rodriguez, pulled out a black handgun and started shooting at the truck.
The witness said another man from the red car pulled out what looked like a snub-nose pistol.
One man got into the truck with a woman who was driving, and the men got back into the car, which headed north on 200 South before turning around.
The witness said the car parked at one of the mobile homes and was still there when police arrived.
Police said one of the witnesses to the events was emotional and crying and said she was afraid for her grandchildren and the other people living in the mobile home park.
Police knocked on the door where the car was parked, but nobody answered the door. The home had blankets on all the windows, police said.
A search warrant was issued for the home to look for evidence of the shooting. Inside, police reported finding several guns, some hidden in a vent, and ammunition.
One of the guns, police said, matched the description given by the witness.
A man at the residence told police he had "grabbed a gun to help defend Brian," during the incident. Police say Rodriguez admitted that the guns at the home belong to him.
On March 28, police found the pickup truck and the woman who owns it, who was driving during the shooting incident.
The truck had bullet holes in the windshield, left corner of the vehicle and the right headlight had been replaced.
The woman said she still had the headlight that had been shot and police took it as evidence.
A preliminary hearing is set in the case at 1:30 p.m. April 4 in Minidoka County Magistrate Court.
One suspect pleads guilty in December burglary and attack; two others will go to trial
TWIN FALLS — One of three suspects in a December burglary and assault has admitted his role in the attack.
Cesar Gonzalez-Ramos, 21, pleaded guilty on Friday to burglary and aiding and abetting aggravated assault, both felonies.
Gonzalez-Ramos, Jose Agustin and Gaudencio Sandoval-Carbajal are accused of breaking into the apartment of a Twin Falls woman on Dec. 9, where police say they attempted to strangle her.
The woman told police the three men kicked down her door, choked her and threatened to kill her and her daughter if she called law enforcement.
Gonzalez-Ramos was stopped by police and taken into custody the next day. He told officers he and the other two men had gone over to the woman's apartment after after she messaged Agustin over Facebook asking him to return a Bluetooth speaker that belonged to her.
In exchange for Gonzalez-Ramos's guilty plea, prosecutors agreed to dismiss two charges of conspiracy to commit burglary and marijuana possession and not to seek an enhanced penalty.
The state also agreed to drop a separate case in which Gonzalez-Ramos was accused of lewd conduct with a child younger than sixteen.
The other two men suspected in the attack have pleaded not guilty. A jury trial for Agustin is scheduled for May 23, and a trial for Sandoval-Carbajal is set for June 5.