TWIN FALLS — As Idahoans shelter in place and practice social distancing, one segment of the population finds itself in cramped quarters: jail inmates.
The crowded conditions existed before the pandemic and were bad enough that two Magic Valley counties, Twin Falls and Gooding, tried and failed to pass bonds last year to expand their jail.
And now as health officials suggest people stay 6 feet apart, county jails are packing in more people than they have space for.
Twin Falls County has about 270 inmates in a jail built for 194.
The jail is checking those who are coming in to serve time for a high fever and turning away any with symptoms. But a study by researchers in Singapore estimated that about 10% of new infections may come from people who carry the virus but have not had symptoms.
Jail representatives said staff is working to maintain hygiene protocols and follow guidelines from the Centers for Disease Control and Prevention, but that most who are currently incarcerated can't be released.
"We've been talking with judges, public defenders and the sheriff to get some released," said Capt. Doug Hughes, the Twin Falls County Jail administrator. "Only 17 are misdemeanors serving a short amount of time, but some can't be let go because they haven't showed up (to court) the last three times. When 44% of inmates are felons there's not a lot of people you can cut back to the community."
Things are a lot quieter in Gooding County where the public is blocked from entry at its courthouse and potential inmates are also being screened prior to being admitted to the jail. Calls to police are on the decline and the Gooding County Sheriff's Office is changing its policing to stop the virus from entering the jail by citing and releasing as often as it can and issuing summons and warrants for a later date.
"I hate to say it, but unless you're an absolute threat to society you're not going to go to jail," Gooding County Sheriff Shaun Gough said. "That's a bad way to do business, but we can't afford it right now."
Most jails around the state are citing and releasing for misdemeanors, assessing the risks of releasing people arrested for felonies and are screening for illness before letting anyone in, the Idaho Sheriff's Association said. There is no universal plan for the state's jails for handling the pandemic.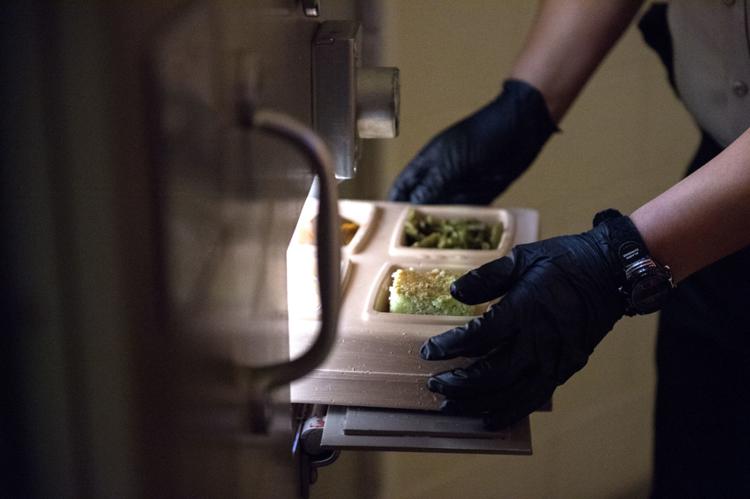 "Every sheriff has to make his own decisions for what he's going to do in his jail," Bingham County Sheriff Craig Rowland said on behalf of the Idaho Sheriff's Association.
Jails around the country have become a hotbed for the spread of the virus, something the CDC warns on its website citing close quarters and new inmates arriving from many locations as issues that could endanger inmates and prison staff. Rikers Island in New York City, the city at the epicenter of U.S. coronavirus cases, is believed to have the highest infection rate in the country with some estimates suggesting almost 6% of inmates are infected compared to 0.51% of people in New York City.
Salt Lake County in Utah announced Tuesday that six of its 1,564 inmates and seven jail staffers have tested positive for the virus, the Salt Lake Tribune reported. And jail officials are waiting for test results for five more inmates.
Such cases alarm inmate rights activists.
"The consensus among health professionals is that the transmission of COVID-19 in jails could be catastrophic if major changes aren't made," said Ritchie Eppink, legal director of the American Civil Liberties Union of Idaho.
Gough said that he doesn't know what steps his jail would take if someone began showing symptoms other than to quarantine them. Jails around the Magic Valley all have similar plans and say there are places to do so safely, but advocates say that without significant changes to policing an outbreak will come to an Idaho jail and that hospitals may not be able to sustain it.
"We haven't heard of a plan from a jail ... for what they're going to do if inmates get sick other than send them to the hospital," Eppink said. "But that could overload the health system. We already have overloaded hospitals that may not be able to handle people being moved out of jails for care."
The Gooding County Sheriff's Office is also trying to work with the South Central Public Health District to get locations of people who have tested positive to help officers take precautions if called to the home of an infected person, but it is being met with opposition due to concerns about violating federal laws that protect patient data and identity.
Many police departments around the state are using personal protective equipment like gloves and masks, but as with arrest policy it varies by county.
"Everybody seems to be operating by different rules right now," Gough said. "But we're hoping we can come together on this."
States such as California and Washington are expediting the release of inmates and have comprehensive plans for its policing tactics going forward. The ACLU is calling for the state to take the lead on these plans as opposed to the locally-driven approach the state has taken on the virus.
"Other than changes in the amount of calls (to police), we're still seeing arrests for failure to appear and marijuana," Eppink said. "We shouldn't be putting people into a possible death sentence for minor offenses."
Megan Taros is a Times-News reporter and Report for America corps member covering the Magic Valley's Hispanic community and Jerome County. You can support her work by donating to Report for America at http://bit.ly/supportRFA.
Concerned about COVID-19?
Sign up now to get the most recent coronavirus headlines and other important local and national news sent to your email inbox daily.