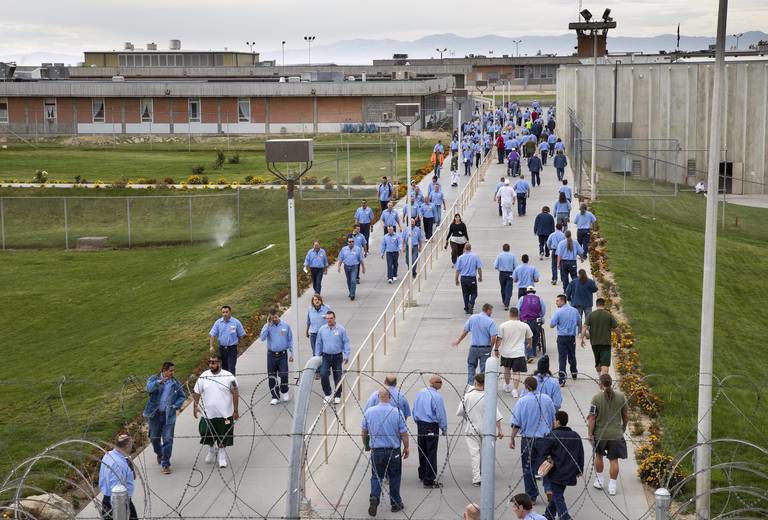 BOISE — When Josh Tewalt took the helm as state prison director one year ago, the state had about 8,650 inmates in its custody.
"I sit in front of you today with 9,450 people in custody, so there is a pretty significant growth curve that we are experiencing in our system," Tewalt told the Idaho Legislature's budget-setting committee on Tuesday.
The state prison system, comprising six facilities around the state, has about 7,750 inmate beds, which means the state does not have room for about 20% of its inmates.
So where are these inmates being housed?
The state has sent 651 of them to prison in Texas. The remaining 877, almost 10% of all state-sentenced inmates, are spread around the state at county jails. This practice is leading to overcrowding at some county jails and causing headaches for state prison officials and county sheriffs.
Brad Little's proposed budget could bring relief
Relief to state prisons and county jails is on the way and could come "almost immediately" under Gov. Brad Little's proposed budget for Idaho Department of Correction, Tewalt told the committee.
Already in the pipeline are 306 new beds which will be available this year — 146 beds in an unused building being converted to permanent housing in the prison complex south of Boise and 160 beds at a new Twin Falls community re-entry center.
But finding quick solutions to the "overflow of our system" is going to cost money.
Little is requesting $42.8 million to go toward county and out-of-state inmate placement. This amount is a 56% increase over the $27.4 million the Legislature appropriated last year to handle IDOC's inmate overflow.
The bulk of that increase will go to providing immediate relief by moving more Idaho inmates out of state.
"We have our emergency valve, which is the out-of-state contract," Tewalt said. "Later this month the board is going to take action on executing a contract for additional placement out of state."
Details on the contract including cost and location will not be announced until the contract is finalized.
The Idaho Board of Correction, which oversees the state prison system, is taking a different approach to this new contract, he explained.
"It is important that we learn some lessons from the past because it is easy to say we are going to have minimal expectations and we want minimal costs," Tewalt told the committee. "But it costs us more when that is what we get."
A HISTORY OF OVERCROWDING
In 2012, the state sent 130 of its inmates to Colorado to relieve crowding. It later sent another 100 to the same facility.
By March 2016, the state had brought all 230 inmates home, saying that was not the best plan for inmates, their families, IDOC or its budget.
But two years later, the state was once again sending its inmates out of state due to overcrowding.
The state now houses 651 inmates in Eagle Pass, Texas, and proposes to send another 500 out of state as soon as it can get a contract approved and signed.
"The board has insisted, and the governor as well, that we take a much more thoughtful approach to how we address this out-of-state placement and the contract we hope to execute," Tewalt said.
The first priority is to ensure the new contract provides "robust medical services," he said.
The second priority is to ensure no negative outcomes.
"We want to make sure that opportunities are there for education, for recidivism reduction measures, for treatment and other opportunities that are commensurate with the opportunities that are afforded within our own system," he said.
Tewalt says he is not enthusiastic about sending Idaho's inmates to another state.
"I am pretty candid about the fact that out-of-state placement is not something we prefer, it is simply the best of our worst alternatives," he said.
When the inmates are moved under the new contract, the state will be able to draw down the numbers of inmates housed by Idaho counties.
"That relief is going to be significant," Tewalt said. "Once the contract is executed, we hope to be able to provide that pretty quickly."
A LEGAL BATTLE WITH ADA COUNTY
The state needs that relief to come pretty quickly because it is in the midst of a legal battle with Ada County.
In December, the Ada County Sheriff's Office asked a judge to hold IDOC in contempt for failing to remove state inmates from the county jail quickly.
Sheriff Steve Bartlett said county taxpayers are footing the bill for inmates who have been sentenced to prison but continue to be held at the Ada facility, which is designed to hold low-level offenders or people waiting for trial or sentencing.
Bartlett wants the judge to enforce a decades-old court order that requires IDOC to remove inmates from the Ada County Jail within seven days of learning that they belong in state custody. The court put a similar order in place in Kootenai County, requiring IDOC to remove its inmates within 14 days.
Ada County says about one-third of inmates in its jail should be in prison.
On Tuesday, while Tewalt was pitching IDOC's budget, the Ada County jail had 1,063 inmates. The jail's maximum capacity is 1,116, but best practices call for no more than 85% occupancy.
Of those inmates in the Ada County Jail on Tuesday, 395 are IDOC inmates, more than 35% of the total population.
About 160 of those IDOC inmates "are strictly being warehoused in our jail" because IDOC has nowhere to put them, Ada County Sheriff's Office spokesman Patrick Orr said.
"Take those away, and we would immediately be under the 85% operational capacity jails should be at or under for maximum safety," he said.
IDOC also wants to change how much its pays per day for each state inmate housed in a county jail, Tewalt said,
Under the current formula, the state pays $57.50 per day per inmate for the first seven days and $77.50 per day for every day thereafter, Tewalt told the committee, noting that this tiered system is "a significant pain to implement."
"A single daily flat rate is the way to go," Tewalt said. IDOC is proposing a single daily rate of $60 for fiscal year 2021 and $65 for fiscal year 2022.
"We believe that number is appropriate," he said. "Our placement in county jails does not yield much beyond the bed and meals."
DRUG DECRIMINALIZATION LEGISLATION INTRODUCED
Sen. Grant Burgoyne on Tuesday introduced drug decriminalization legislation that would decriminalize the unlawful use of controlled substances in private spaces and repeal the current prohibition on civil commitments for drug abuse.
He said in a press release that he introduced the bill to shift the focus from punishment for drug crimes to treatment.
"I have heard from many of my constituents that there are too many people in Idaho prisons," Burgoyne said. "Idaho has a drug addiction problem and we cannot arrest our way out of it. To be clear, I am not asking that we legalize drug use, but we should consider decriminalization."
The bill would still restrict being under the influence in a public place, drug trafficking and driving under the influence. It does not "excuse crimes that might be associated, arise from or co-occur with illegal drug use," the press release stated.
Sign up for our Crime & Courts newsletter
Get the latest in local public safety news with this weekly email.