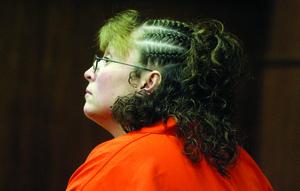 A former nurse convicted eight years ago of a heinous murder in Twin Falls County was ordered on Monday to pay back the state of Idaho for her victims' expenses.
Vicki Arlene Jensen, 39, was locked up for life after admitting to killing Aleta Diane Ray on Sept. 9, 1999, in what prosecutors and judges have called one of the county's most horrific murders.
At the time of the killing, Jensen's husband, Vern Jensen, had left her and was living with Ray and Ray's 3-year-old daughter. Jensen and two young accomplices - her niece Autumn Pauls, now 24, and Pauls' friend Matthew W. Pearson, now 27 - wore disguises and fooled Ray into letting them into her home. Ray's 3-year-old daughter watched as they held a gun to Ray's head and administered a deadly injection of meth and insulin.
All were convicted of first-degree murder.
But only Jensen has tried to get out of paying $22,500 back to the state for Ray's funeral expenses along with restitution to her daughter, said Twin Falls County Prosecutor Grant Loebs.
"Pay as much as you can, for as long as you can," Loebs told Jensen Monday in 5th District Court in Twin Falls. "This is an issue of principle."
But Jensen sees paying back the restitution for her victims as an impingement on her rights.
She argued firmly against Loebs, then tried to interrupt the judge, and didn't acknowledge Ray's family, including her young daughter, who was sitting behind Jensen Monday in the courtroom.
Jensen says she'll never be able to pay off her debt - while making only 20 cents per hour working in prison. She also says her restitution paperwork was filed late, so she shouldn't be ordered to pay.
"I shouldn't have my rights violated," Jensen said firmly on Monday in court. "That's not my fault, Mr. Loebs, you didn't order restitution in a timely manner."
Loebs conceded Monday he filed paperwork late, but 5th District Judge Randy Stoker agreed that Jensen will need to pay anyway.
"I think if I had been required to pay restitution at my sentencing, I would have been more compliant," Jensen said Monday.
Jensen's concern for her own health also prompted her opposition of paying restitution. She told the court that the Idaho Department of Correction makes inmates pay a small fee to see doctors, dentists, as well as to buy eyeglasses.
She said IDOC has been garnishing about 50 percent of her prison account, originally without her knowledge.
Stoker noted Monday the delay in ordering Jensen to pay was to her benefit. Jensen's in prison for life, but her accomplices could go up for parole: Pearson is eligible in 2015; Pauls in 2012.
Loebs told the court on Monday that Pauls and Pearson haven't objected to paying their part of the restitution.
Pauls this month filed paperwork with U.S. District Court in Idaho to reverse her sentence. She says because she was just a minor at the time of her arrest, she was scared into pleading guilty, according to court records.
Loebs said the murder was the most horrendous he's dealt with, and "that's not an idle statement," he told the court.
Get local news delivered to your inbox!
Subscribe to our Daily Headlines newsletter.