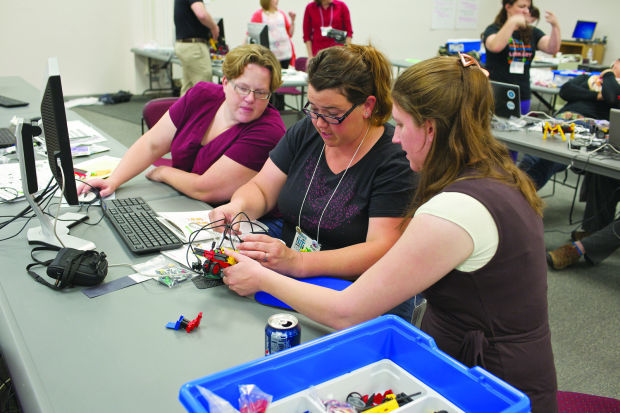 The public libraries in Buhl, Gooding, Jerome, and Twin Falls are expanding their capabilities thanks to the Idaho Commission for Libraries' "Make It at the Library" project. Buhl Public Library's Amanda Hatfield and Kara Davidson, Jerome Public Library's Allison Morgan and Edie Waite, Gooding Public Library's Suzy Stokes, and Twin Falls Public Library's Erica Littlefield and Adam Day attended a robotics workshop that ICfL held in Boise May 19-20 to provide participating libraries with materials and training to implement fishertechnik robotics programs in their communities.
The "Make It at the Library" project is designed to create makerspaces in libraries throughout the Gem State that offer creative, STEAM-based programming for tweens and teens that encourage the use of new technologies and tools. STEAM education is similar to STEM learning but also recognizes the importance of the arts.
In its second year, ICfL's "Make It at the Library" project is made possible through funding from the Institute of Museum and Library Services.
The Idaho Commission for Libraries assists libraries to build the capacity to better serve their clientele through support of statewide databases and online resources, continuing education, consulting, programming, early literacy skills, and building library community. To learn more about the ICfL, visit Libraries.Idaho.Gov.