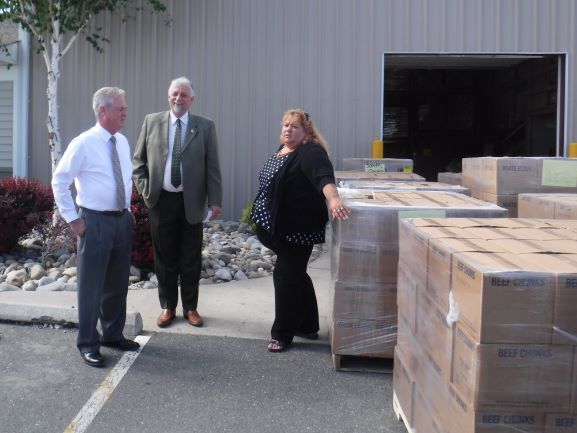 Ray Parrish, Twin Falls public affairs representative of The Church of Jesus Christ of Latter-day Saints, recently assisted in coordinating a food donation of over 40,000 pounds, valued at $45,000, for South Central Community Action Partnership's (SCCAP) food program.
Church leaders Wayne Goodworth, Salt Lake regional manager, and Dr. James Coombs, regional welfare president, along with several other church members met with SCCAP's staff to unload 25 pallets of food which will be provided to low-income families throughout the Magic Valley.
The church has been engaged with providing community food pantries with both inventory and volunteers since the middle of March across the country, shipping semi-loads to 31 states. Each truck carries approximately 40,000 pounds of food commodities, which equals about one week of food for 1,400 people. The total number of deliveries thus far has exceeded 180 trucks delivering approximately 7,200,000 pounds of food.
Most of the commodities come from the church's main distribution center in Salt Lake City, but they have also partnered with Gossner Foods in Logan, Utah, to convert 5.2 million lbs. of surplus milk into 504,000 pounds of cheese, which have been part of these deliveries.
The Church of Jesus Christ of Latter-day Saints partnered with SCCAP's USDA Food program in distributing these commodities to food pantries throughout the Magic Valley. SCCAP is a distribution hub for pantries in Kimberly, Hagerman, Jerome, Gooding, and the Mini-Cassia areas as well as Twin Falls. Ken Robinette, CEO of SCCAP, stated this generous food donation is greatly appreciated and will be very beneficial especially with the COVID-19 crisis.
In just the last few months there has been a huge demand on food from economically disadvantaged families. If you or your family is struggling financially, check with our offices in Twin Falls or Burley to see if you qualify for assistance. You can find more information on the services SCCAP offers at www.sccap-id.org or call 208-733-9351.
If you would like to donate time, SCCAP has need for volunteers from the community to assemble food boxes and assist clients on Mondays, Tuesdays, Wednesdays and Thursdays at its Twin Falls office, 550 South Washington St. People interested in volunteering may go to Justserve.org and sign up for any day that fits their schedules. Volunteers are needed each day from 8 a.m. to 11 a.m. and 1 p.m. to 4 p.m.
Opportunities are also available in communities where there are food pantries being serviced by SCCAP. Just go to Justserve.org and find an opportunity in your community.
Be the first to know
Get local news delivered to your inbox!