TWIN FALLS — The first few weeks on a new job can be tough.
For female law enforcement officers, those days are filled with new experiences and the chance to practice interacting with the community they serve.
"There's a lot to learn," said Liz Guzman, who started June 24 with the Twin Falls Police Department.
Guzman takes on her new role as other Magic Valley law enforcement agencies are trying to recruit more women to join their predominantly male forces. The Jerome Police Department, for instance, has extended offers to two female officers who may start soon.
With Twin Falls being a 50/50 balance of male and female residents, Police Chief Craig Kingsbury sees the need for additional female officers in the city.
"A good police department should mirror the demographics of the community," Kingsbury said. "We're trying real hard to recruit more females to join our ranks."
The seven females in the Twin Falls department comprise less than 10% of its 77 officers.
Guzman, 23, grew up in Twin Falls and graduated from Canyon Ridge High School. She's a recent graduate of Boise State University with a bachelor's degree in criminal justice.
While she waits to attend the police academy, Guzman is receiving internal training with the Twin Falls Police Department. So far, she's learned about body cameras and handled some records.
"There's a lot of things to put in the computer," she said.
Guzman decided to pursue a career in law enforcement after meeting other officers and going on ride-alongs. She sees being a police officer as a way to help the community and make a difference.
"The big key for me is to try to mentor people in the community," she said.
Patrol Officer Candace Comeau, who has served in Twin Falls for three years and is also a field training officer, is an unofficial mentor to Guzman.
"I look up to her," Guzman said of Comeau. "It's nice to see another female my age."
Guzman also noted that talking with another female officer is reassuring, adding that sometimes it's difficult for a female officer to speak with a male officer.
"Girls and guys do things differently," Guzman said.
Kingsbury hopes the women now serving on the force set an example for others to apply.
"There are only two female police chiefs in Idaho," he said. There is one female county sheriff, as well.
Kingsbury says any of the female Twin Falls officers could someday fill his shoes.
Comeau, for example, is seen by her colleagues as a "top-rated cop," according to Kingsbury. She's a people person who is respected within the law enforcement community.
She works on a shift with 12 men and enjoys the challenges.
"We work with the same group every shift, and it becomes like a mini-family," she said.
Comeau likes that Twin Falls is so busy.
"It makes the day go by faster," she said, even though no two calls are ever the same.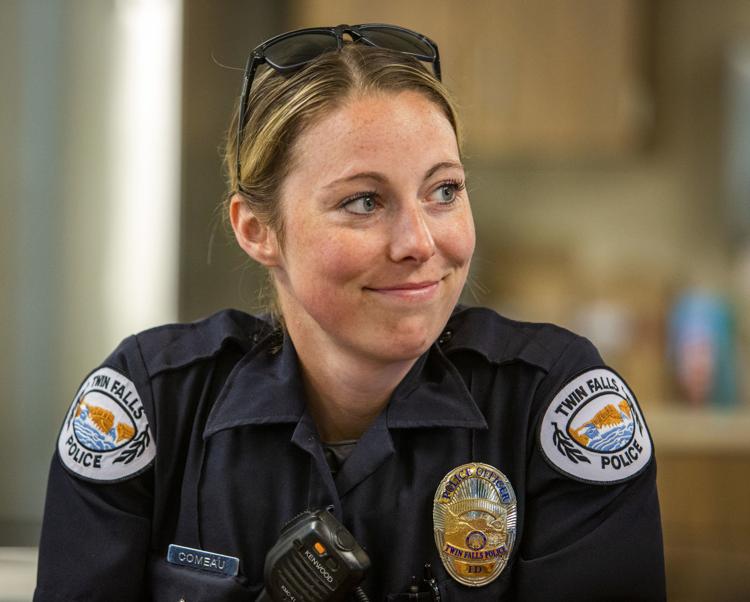 Comeau said she encounters those who don't think she's able to do the job.
"I've gotten over trying to prove myself," she said. She does her job to the best of her ability but, when necessary, she's not afraid to ask for help.
Woe to any suspect who might believe, because of Comeau's small stature, that she can't handle an arrest.
"Some people look at me and think, 'She's small and she's a girl,'" Comeau said.
"Big things come in small packages," Twin Falls Police spokesman J.P. O'Donnell said.
Guzman related how a man presumed that because she was becoming a police officer, she would always have a male partner on her shift.
That won't be the case once she completes her training.
She'll be an additional asset due to her Hispanic background. She is bilingual and will be able to speak with Hispanic victims without needing a translator.
"The Hispanic population has a different perspective on life," Guzman said. She grew up seeing people keeping very much to themselves. Over time, she discovered what she'd been taught was wrong, and that has broadened her horizons.
"For us, gender, race, ethnicity — none of that matters in the Twin Falls Police Department," Kingsbury said.
The Twin Falls County Sheriff's Office boasts about a dozen women in their ranks.
Shelly Stokesberry has been on the force for 12 years, but she assumed a new position as a range patrol deputy on June 3.
"I patrol the mountains and desert areas all through the county," Stokesberry said.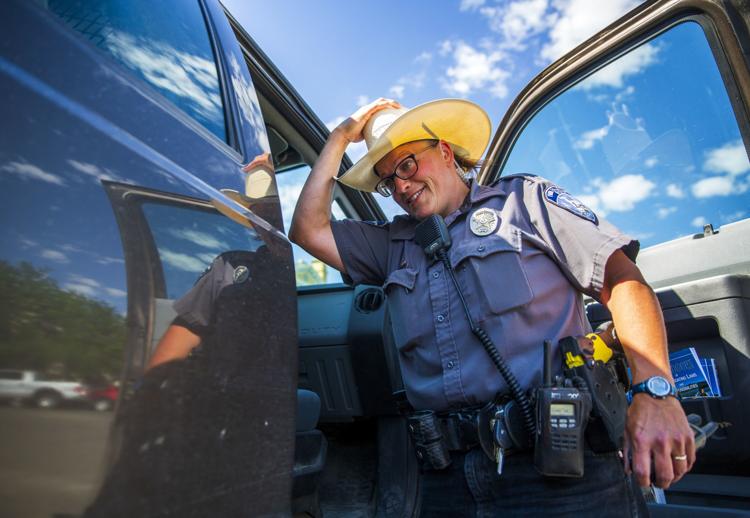 She grew up in Buhl and attended Castleford schools. She is one of 11 female deputies among a total of 85 in the sheriff's office, and seven reserves, and only the second female to be a range patrol deputy.
She is alone in her Ford F-250 four-wheel-drive king cab pickup most of the time. Still, she applied for the position because she loves being in the mountains.
"It's stuff I do on my day off," Stokesberry said.
Previously, she spent six years as a deputy in the jail, then six years as a patrol deputy. She even served on the SWAT team for a couple of years.
"I've done almost everything," she said.
She joined the sheriff's office when her job in a lab was eliminated after the owner's death. A neighbor suggested she apply.
"The jail's a great place to start," Stokesberry said.
Transferring to the position of patrol deputy allowed her to get out and about.
"I get to see good people, the kind citizens," she said.
As one of three range patrol officers in the department, Stokesberry has "all the fun toys." That includes various tools in her pickup, such as a special GPS unit for locations where roads might not have actual names. There are a jack, a winch, sledgehammer and ropes, which can be used as lassos.
Calls for livestock on the loose happen pretty much every day, Stokesberry said.
"It's what we do," she said with a laugh.
The tools come in handy for many situations. On her second day at the new job, Stokesberry responded to a call involving vehicles stuck in the South Hills. The lieutenant's vehicle also got stuck.
"I had to use every tool to get them out," she said.
Other options for her patrols are a four-wheeler and a motorcycle.
A box of snow gear on the pickup's back seat hasn't yet been put into storage. When the weather turns colder, Stokesberry can sometimes be found on a snowmobile.
Stokesberry's not concerned about being alone in the wilderness, but when she's around people she has discovered her greatest tool is her mouth.
"You learn to talk to people," she said. When someone she encounters is angry or upset, by speaking calmly it's possible to de-escalate and change the situation.
"That speaks a lot to Shelly," said Lori Stewart, Twin Falls County Sheriff's Office spokeswoman. "There's nothing regular about 'Stokes.'"
In Jerome, Police Chief Dan Hall reported that conditional offers have been given to two female candidates.
"If all goes well, both will be hired in July and start attending the academy in August," Hall said.
That would bring Jerome's total of female officers to three, with an authorized total of 19 officers in the department.
"In recent years, we have seen more female applicants than in the past," Hall said. An ongoing concern, however, has been finding qualified applicants overall.
"We have a great need for Hispanic bilingual officers and it has been especially hard to recruit qualified people who meet that criteria," he said.
For the Kimberly-Hansen Police Department, "We simply recruit the best person for any opening we may have," said Chief Jeff Perry. Of the nine employees in the department, the lone female is a civilian records clerk. "We have had female officers in the past," he said.
"We currently have one female school resource officer sergeant," Gooding Police Chief Dave Fisher said. Another female officer candidate is attending the police academy. A woman also serves as a community service officer. There are a total of 10 positions in the department.
"In a department our size, we do not generally have a choice in the gender of an officer when filling openings due to the number of qualified applicants," Fisher said, yet he views female officers as a decided asset. "At times, their presence may be needed for searches of female prisoners and their presence will facilitate a better cooperation with victims and suspects who are female or small children."
"Female officers fill a unique role in the deployment of officers in the field," Fisher said.