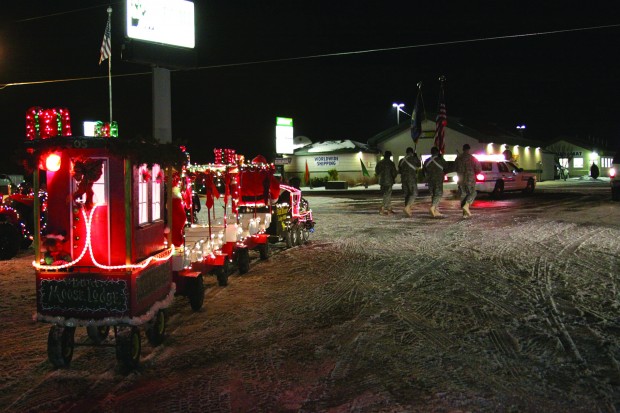 The parking lot spanning from the Valley Country Store to Buhl's chamber of commerce office transformed Saturday night into a bustling hub of chatty teens, revving ATVs and flickering lights.
Meanwhile, residents and out-of-towners alike took to the streets in hopes of getting the best vantage point for taking in the city's annual Nightlight Parade, this year themed, "Dreams of Christmas Past and Hopes of Christmas to Be."
Even Santa Claus was present in the menagerie, taking time to mingle with other parade entrants before the big event got underway.
It was the first time Dave Bingham, of Jerome, had played the part of every kids' wintertime hero.
"I enjoy being around people," said Bingham, a member of the Magic Valley ATV Riders, which had 33 decked-out ATVs in the parade.
Bingham's significant other, Cherie Chambers, dressed as an elf and patted Bingham's slightly protruding middle, explaining he was perfect for the role.
You have free articles remaining.
"He's already a jolly old boy," Chambers giggled.
Some entrants, like Castleford resident Niall Irish, participate every year.
This year Irish brought out his 1941 Ford Sedan. Just minutes before the parade convoy left the lot, Irish double-checked the holly wreaths wrapped around each tire and straightened out a string of lights around the front window.
"It's become a personal tradition. Each year I throw out $50 worth of candy canes to the kids. Their happiness is what makes it so much fun," Irish said.
Buhl Middle School Builder's Club advisor Anita Svancara said at least a dozen students would be riding on the club's float. A lot of time and effort was invested by the club to illustrate the parade's theme. On half of the float students created a nativity theme. The other side was decorated like a typical living room, complete with a fireplace.
After making and sending Christmas cards to soldiers abroad and organizing a canned food and coat drive at the school the parade was a well-deserved, enjoyable event, Svancara said.
"These kids have really been busy and this is the fun activity of the season," Svancara said.