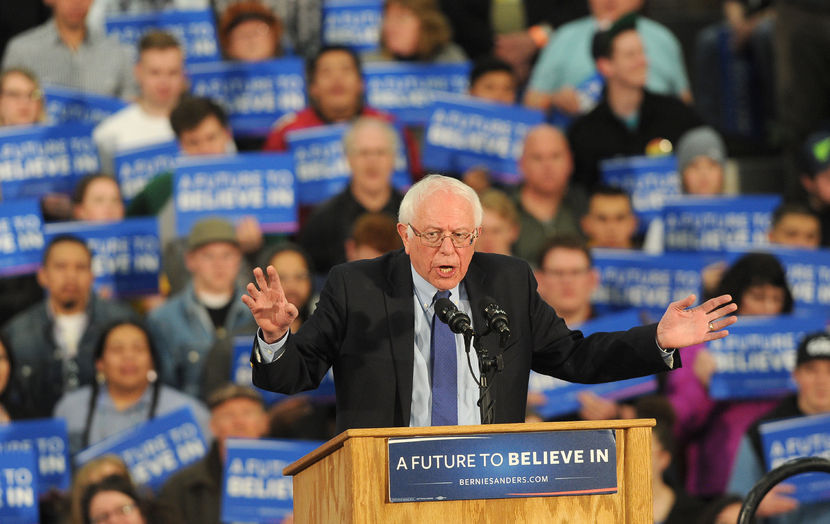 Hillary Clinton sees a role for nuclear power and the Idaho National Laboratory in her clean energy future but Bernie Sanders wants to end nuclear power and provide funds to transition workers into other jobs.
Both Bernie Sanders and Hillary Clinton have ambitious plans to shift the nation's economy away from fossil fuels to clean energy to combat the global warming caused by their burning.
But as the two Democratic presidential candidates campaign and compete in Idaho in the days before the Tuesday caucus, the largest contrast is their views of the role nuclear power will play in the clean-energy future.
Little polling has been in the state, but the last poll in February by Dan Jones and Associates for Idaho Politics Weekly showed Sanders with a tiny 47-45 percent lead, within the margin of error. That was a rise of 12 points for the Vermont senator from a poll earlier this year.
"It was very close," said Dan Jones, the Salt Lake City, Utah, pollster. "My guess is it is still close."
Sanders was picking up votes from independents, the poll showed, who can vote in the caucuses if they did not vote in the March 8 Republican primary.
But Clinton gained momentum nationwide last week with victories in Florida, Ohio and Illinois, leading some analysts and even President Obama to suggest Clinton is on her way to capturing the nomination.
As of Friday she led Sanders in the delegate count, 1,614 to 856, and needs 2,383 to clinch the nomination.
Idaho will select 27 delegates. Sanders visited Idaho Falls Friday and has a rally set for Monday morning at the Taco Bell Arena at Boise State, where Obama drew 15,000 people in February 2008 on his way to defeating Clinton here.
Clinton has not announced an Idaho visit, although two-time Olympic medalist Michelle Kwan headlined an event for her Boise Thursday.
Climate Change, INL and Clean Energy
Sanders has made climate change action one of the central platforms of his campaign, helping to energize many of his youthful supporters.
He has called for ending leases for coal, oil and gas on public lands and in the Arctic, which could affect leasing for gas drilling in Southwest Idaho.
Sanders also has called for a tax on carbon and an end to subsidies for the oil and gas industry. But his biggest contrast with Clinton is on nuclear energy, the central mission at the Idaho National Laboratory headquartered in Idaho Falls, which employs thousands of Idahoans.
"Transitioning toward a completely nuclear-free clean-energy system for electricity, heating and transportation is not only possible and affordable, it will create millions of good jobs, clean up our air and water, and decrease our dependence on foreign oil," Sanders said on his website.
Clinton Policy Director Jake Sullivan said the former secretary of state sees it differently.
"She believes nuclear energy has an important role to play in our clean-energy future," Sullivan said. "With that in mind, the Idaho National Laboratory would be an important institution to promote our clean-energy policy."
Sanders introduced a bill to spend $41 million on clean energy and transition workers out of the fossil fuel and nuclear industries, said spokesman Karthik Ganapathy.
"He believes we can run an economy entirely on clean, safe energy," Ganapathy said. "He's aware of the risks of nuclear energy."
Clinton shifted early in the campaign to agree with Sanders on an eventual ban on oil, gas and coal leasing on public lands, an issue important in many western states, although less so here.
Alta Mesa Idaho has leased oil and gas on lands managed by the Bureau of Land Management in Southwest Idaho, and other companies did expensive exploration in eastern Idaho in the 1980s.
Sanders has called for an end to the practice of horizontal fracturing, also known as fracking, which triggered a U.S. oil and gas boom over the past decade but raised issues about protecting water quality and triggering earthquakes in some areas.
But Clinton has said the federal government doesn't have the power to stop fracking on private land, where most of it has occurred.
Alta Mesa, the only company that has drilled for gas in Idaho, has not used fracking and has said it has no plans to do so because the company is drilling in sandstone, not shale.
Texas Sen. Ted Cruz, who won the Idaho GOP primary, said he would transfer federal lands to the states and even private individuals. Donald Trump, who lost here, opposes a transfer, but most pundits said the issue had little impact on the Idaho outcome.
The idea of a transfer has caught among Republican legislators in Utah, Idaho and elsewhere, who argue that states would better manage, protect and profit from the resources and recreation the public lands offer.
But for Democrats, preserving public lands under federal management is a central theme.
Both Sanders and Clinton have said they will do more to protect public lands in the next four years.
Clinton said she would invest billions in programs to expand renewable energy — solar, wind, geothermal — by tenfold on public lands and to expand spending through the Land and Water Conservation Fund, Sullivan said.
A major focus is to improve access for hunters, anglers and recreationists by working with landowners whose property blocks entry to millions of acres of public land, Sullivan said.
"We can create tens of thousands of new jobs in Idaho and somewhere around $6 billion (in Idaho) in new economic activity," he said.
Sanders says preserving public lands helps prevent climate change and limit the impacts of floods, hurricanes and other extreme weather that result from a more erratic climate.
"Bernie is committed to ensuring that Americans have access to urban, suburban and rural recreational green space that are vital to our national heritage and our country's tradition of recreation and conservation," his campaign said on his website.
Overall, both candidates say they will work with local residents, states, ranchers, businesses and others on conservation initiatives and programs.
"Secretary Clinton has and will be putting details out to promote the collaborative stewardship of our land and wildlife working with farmers to fisherman to city councils, hunters and ranchers," Sullivan said.
On restoring salmon in the Columbia and Snake Rivers, Sullivan said Clinton is not endorsing removal of the four lower Snake Dams, an issue he has discussed with her.
Many scientists recommend breaching the dams to return the river to natural conditions to help depleted runs of salmon and steelhead survive.
"She sees the Snake and the Columbia rivers as linchpins for the economy of the whole Northwest," Sullivan said. "What she would want to do is work with local voices, local communities to strike the right balance."
She's not pushing a formal collaborative process immediately, as her husband did to resolve the debate in the 1990s over the Northern Spotted Owl and the timber industry.
"She would use the convening power of her team to get the process going," Sullivan said.
Ganapathy said Sanders has not taken a position on Columbia and Snake dams and salmon.