TWIN FALLS — Imagine a Twin Falls where startup food businesses take their ideas for salad dressings and snacks and turn them into a reality. Where new yogurt products developed in Idaho create demand, which results in more production centers and more innovation.
That's what Chobani CEO and founder Hamdi Ulukaya envisions for the city that's home to his largest yogurt factory.
"This place is going to be like a Silicon Valley of food innovation," he said.
And he's already working to make that happen. Ulukaya's comments followed a groundbreaking ceremony Thursday for a new building at Chobani's Twin Falls site. The 70,000 square-foot structure will encompass a startup incubator for Idaho food businesses, the Chobani's global research and development team and offices for many more of its 1,000-plus employees.
"We're welcoming all entrepreneurs, all across Idaho," Ulukaya said. "And I'm hoping that this will be a good educational center for our kids, especially our elementary school kids, high school kids."
The innovation and community center is set to open next summer.
The building also represents another multimillion-dollar investment in Twin Falls, further solidifying Chobani's presence in the city as a business that's here to stay. The valuation for the new building is more than $14 million.
It's designed with employees in mind. The building will include "wellness rooms" for new mothers and a 2,000 square-foot fitness center.
And Chobani's new building will send a message of openness, with some 30,000 square-feet of glass and a large gathering space for town halls and celebrations. A visitor's entrance will welcome guests to learn more about the company.
"There's nothing to hide, and a lot to see," Ulukaya said.
The 4,000 square-feet of "smart glass" windows will enhance natural light, but darken as needed to reduce heat. A skylight at the center of the building will cut the company's needs for electric lighting.
"This is epic for Idaho," Gov. C.L. "Butch" Otter said. "That office building says something very definite. The trailer houses move off, the permanency is in place."
Chobani opened its initial, $450 million facility in December 2012 on a 200-acre site off of Kimberly Road in Twin Falls. It now employs more than 1,000 people in its plant that's nearly a million square-feet.
The global research and development team has been in trailers on site since moving from upstate New York to Twin Falls in 2013. The new offices are part of a $100 million expansion Chobani announced in March 2016, and will pave the way for more hiring down the road.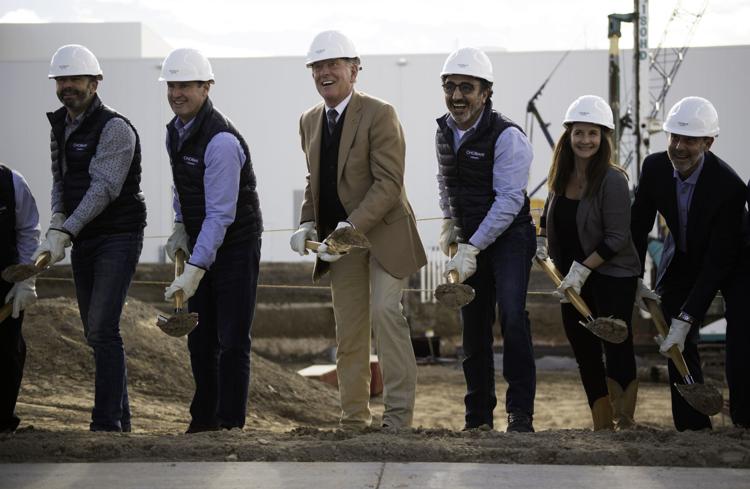 Chobani has been a big player in Twin Falls, arriving on scene just as unemployment was pushing 10 percent, Mayor Shawn Barigar said. People were ready to work, and the city had an incredible business climate.
"We were moving at the speed of business — even a little faster at times," Barigar said. "And we were excited to be a part of that."
But what was most important was the shared values between the city and Chobani, he said. Throughout the company's history in the community, Otter said, Ulukaya has demonstrated trust, commitment to excellence and love.
"You showed us you care," Otter said. "You care about the community. From the bottom of Idaho's heart, thank you."
Working together, Chobani and Twin Falls have helped to "reinvent rural," Barigar said.
Ulukaya said when Chobani broke ground on the Twin Falls factory, much of the design was still being figured out. He was getting ready to launch a brand-new product, the Flip, with no idea how it would take off.
He doesn't regret his decision to choose Idaho.
"I found a goldmine in this community," Ulukaya said. "The goldmine is the human spirit. Invest in that."