SOUTH HILLS — She munches on tender aspen leaves at the edge of the clearing. When the biologists approach, the moose runs a few dozen yards away, pauses to stare at them, then continues grazing on succulent saplings among the conifer stumps.
Moose are a common sight in the South Hills. For U.S. Forest Service District Wildlife Biologist Scott Soletti, seeing ungulates foraging in treated habitat is one sign that the shared stewardship and collaborative management approach for Idaho's public lands is working.
The Forest Service, with the help of several other agencies like Idaho Fish and Game and the Rocky Mountain Elk Foundation, will be doubling the number of treated acres in Idaho in the coming decades. That means thousands of acres of fires and juniper removal in the South Hills.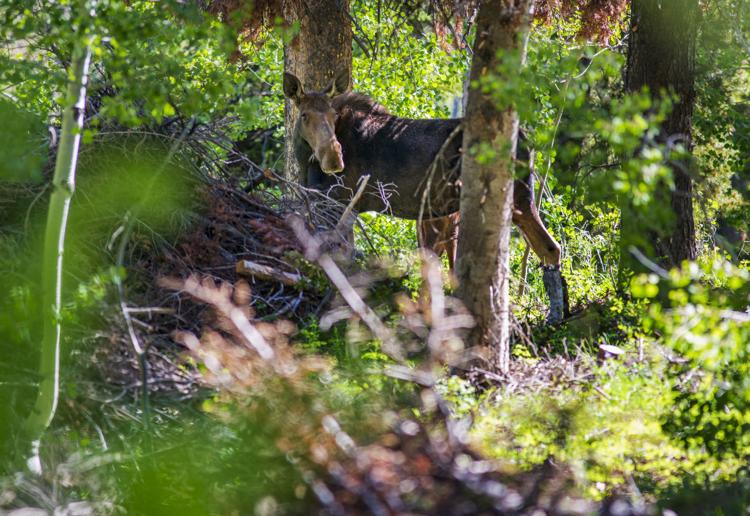 In the eastern South Hills, the service expects to treat 23,000 acres in the Goose Creek area, starting with about 3,000 acres this year. There the goal will be to slow juniper encroachment in order to improve sage grouse habitat.
The Black Hills (an area visible from Deadline Ridge in the Rock Creek area) burn in the South Hills will cover between 15,000 and 20,000 acres. The Albion mountains will see between 5,000 and 6,000 acres of aspen restoration overall. There will be prescribed burns in the Sublett Range, too.
"Coming up, people will see some bigger projects happening in the South Hills," Soletti said. "We're trying to get away from what we call postage stamp projects, to projects that are at a meaningful scale."
Soletti believes that ramping up the pace and scale of these projects is critical for keeping the South Hills healthy, especially during a time when wildfires burn bigger and hotter than ever.
"We're trying to get ahead of it," Soletti said about preventing debilitating wildfires. "(We're trying to) be proactive rather than reactive."
Delicious aspens
Brandon Tycz stands on the site of the Rock Creek controlled burn and sees an elk and mule deer paradise. The Idaho Fish and Game Regional Habitat Biologist grumbles that he didn't draw an elk tag here, in this prime feeding area, this year.
"When you open up the canopy, you get groceries," Tycz explains.
Two and a half years ago, a helitorch — effectively a helicopter-mounted flamethrower — spewed flames over this spot, leaving Rock Creek charred black. Today the understory isn't so dense. The land is lush green, ringing with the songs of Brewer's sparrows and yellow warblers; sprinkled with yellow and purple wildflowers.
That copse over there, full of aspens shivering in the breeze, is perfect fawning habitat, Tycz says. This young patch of snowberries makes for a good resting place. All of the new, green shrubs and flowers are good eating. Soletti notes that the Rock Creek burn was essentially the first step in the Forrest Service and collaborators' new treatment approach.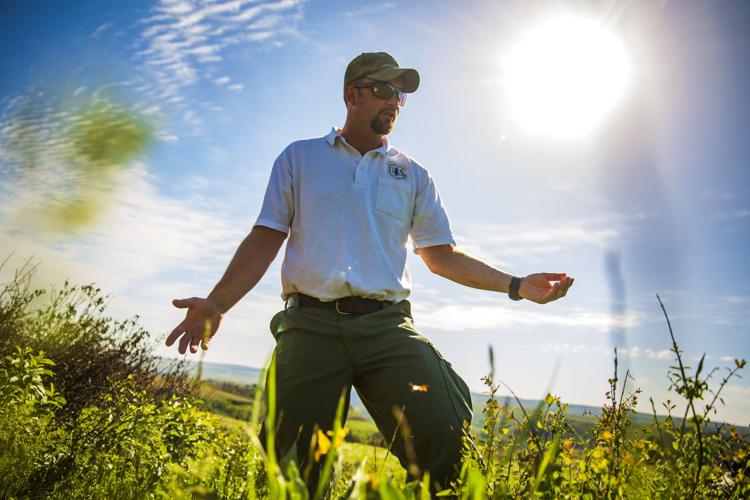 According to Tycz, mule deer and elk populations are healthy in the South Hills, and controlled burns help. Ungulate numbers are so healthy Fish and Game has even increased the number of hunting tags in many cases.
Burns aren't all about big game, though. Controlled burns like the 1,200 acre one at Rock Creek can help agencies fend off invasive species, like cheatgrass, because they allow managers to aim for a diverse landscape. Soletti likes to see these areas of mixed severity, mosaics of habitat with both aspens and conifers. It's possible to achieve mixed severity with controlled burns; in the wake of raging wildfires these diverse areas are more rare.
A landscape mosaic helps fend off the proliferation of monocultures, and can keep cheatgrass at bay. That means more opportunities for native species and wildlife, Soletti said. As Tycz's explains, when a fire comes back through the Rock Creek area, invasives should still have a hard time working their way in due to the amount of diversity present. A new fire would just mean more groceries for ungulates, he said.
Controlled burns also reduce the amount of fuel available for natural fires, so when a lightning strike or stray spark gets a blaze started, it won't decimate the landscape to nearly the same degree it would have.
A century of fire suppression in the South Hills has increased fuel loading on the landscape, which makes controlled burns especially important.
"For a long time it was, 'Fires are bad,'" Soletti explained. "That was the thought."
Today, wildlife and wildfire ecologists know that prescribed burns can be an invaluable tool for maintaining healthy ecosystems. As climate change makes fires in the West increasingly severe, fighting fires before they start becomes increasingly important.
"We do realize that there are some short-term impacts, but we think there are some pretty good long-term benefits," Soletti said. "We're trying to get ahead of it, be proactive rather than reactive."
Fires for ice cream
It still smells smoky here. Little clouds of ash poof out when Soletti's boots hit the soft ground. His footprints aren't the first to have reached this sooty patch in the middle of the woods. He points to dozens of elk tracks in the black dirt, and aspen seedlings springing up through the ash.
"It's really good food," Soletti says of the shoots. "It's ice cream."
The Forest Service led a burn here last fall. Freshly burned habitats, like this one in the Bear Hollow area of the South Hills, are ungulate feed troughs, and, judging from the woodpecker taps and house wren songs, birds like it too. Soletti explains that even though this area, full of leafless, black trees and practically smoking, looks messy, it will soon be one of the healthiest patches of forest in the South Hills.
"The land's a lot more resilient than we might think," Soletti said.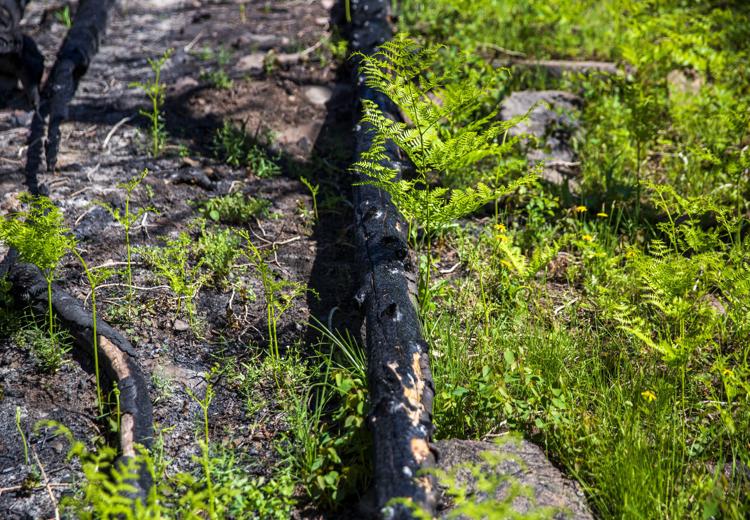 Some critics say that government agencies shouldn't meddle in natural processes. They argue that the landscape would be best left alone by humans. Soletti pointed out that these forests have been managed by humans for thousands of years, and at this point, walking away wouldn't be the right move.
"We've been managing land since we've been here," Soletti said. "Even before Europeans were here, Native Americans would come and they would do prescribed fires."
While it may be painful for some to see large swaths of the South Hills burnt to cinders, it's all part of a plan to make the land better, Soletti said. Fires now will lead to a healthier future.
"We do realize that there are some short-term impacts," he said. "But we think there are some pretty good long-term benefits."
Get local news delivered to your inbox!
Subscribe to our Daily Headlines newsletter.