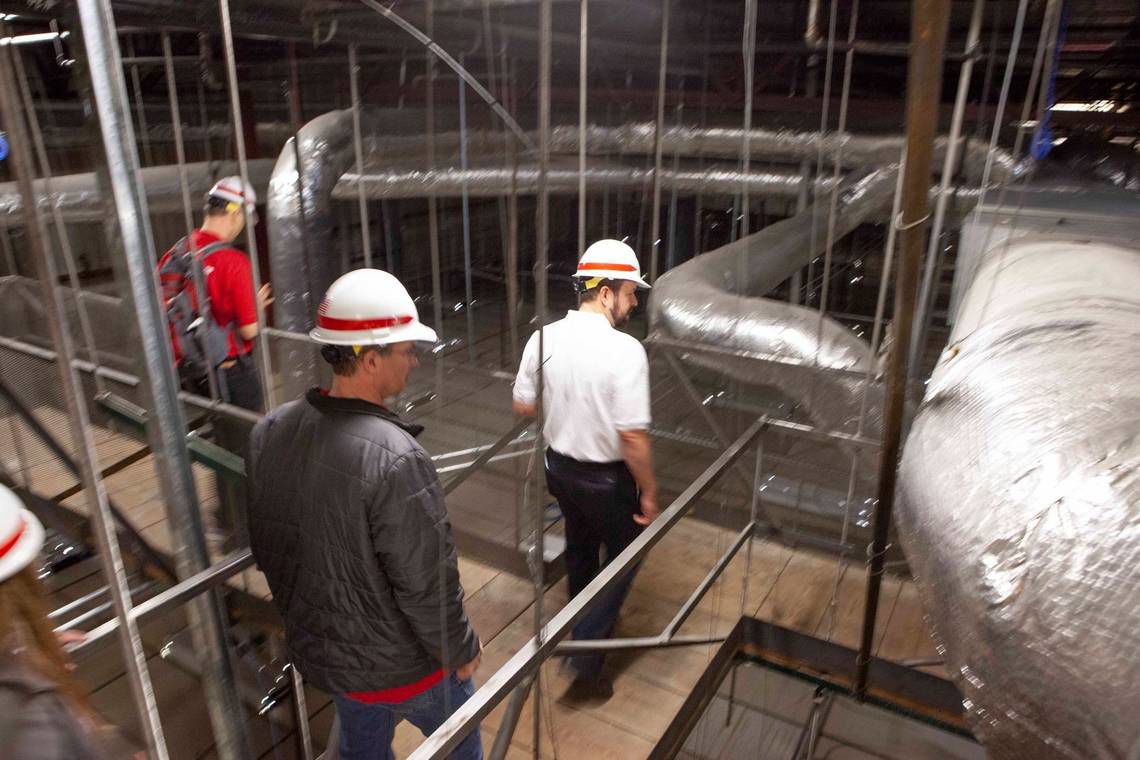 BOISE — They may retrofit hospital conference rooms to hold patients. They may set up tents at Idaho IceWorld. They may pull retired doctors back into the workforce.
State and hospital leaders are racing to put together "surge plans" as they prepare for an influx of COVID-19 patients that is expected to put an unprecedented strain on the health care system.
As the number of cases grows, the need for more hospital beds becomes increasingly urgent. Depending on when the virus peaks — and how many people need to be admitted — Idaho could be woefully unprepared. A study by the Harvard Global Health Institute predicts that for every bed in an intensive care unit in Idaho, up to 14 patients may need it during a coronavirus outbreak.
The Institute for Health Metrics and Evaluation at the University of Washington estimates Idaho's cases of COVID-19 will peak around April 26. If the U.S. ends up with 100,000 to 240,000 deaths, as federal health officials predict, Idaho's proportionate share would be about 550 to 1,300.
As of midday Thursday, Idaho had recorded 669 cases of the new coronavirus and nine deaths. Forty-nine of those people required hospitalization, and seven required admission to intensive care.
Before the coronavirus, it was not uncommon for hospitals to operate near capacity. St. Luke's regularly often has 95% of its available beds full, said spokeswoman Anita Kissee.
"We're now looking within our facilities for how we can maximize our space for in-patient care," said Lisa Bisterfeldt, St. Luke's emergency management specialist, by phone. "Additionally, while we're responding to COVID, we're continuing to respond to the public as well, so we don't know on a day-to-day basis how many faces we're going to see."
LOCATING ALTERNATE HOSPITAL SPACE
Increasing hospital capacity is about more than just space. Hospitals are combating possible staffing shortages, as doctors and nurses become infected. And hospitals are competing with each other to supply their employees with personal protective equipment like face masks and gloves.
Boise-area hospitals are collaborating with each other, as well as state and federal agencies, to make plans for the unpredictable arc of the pandemic.
Just last week, the Army Corps of Engineers and the Federal Emergency Management Agency arrived in Boise to help the state's Office of Emergency Management scale up its hospital space.
"The team is looking to find facilities the can house anybody who needs medical care that is not suffering from COVID-19 so they can free up room at the actual hospitals for COVID-19 patients, if they have them," said Matthew Cole, a spokesman for the Army Corps of Engineers' Walla Walla District, by phone.
Their efforts parallel surge plans in New York City, where the Army Corps is setting up nearly 3,000 beds at the the Javits Convention Center, and New Orleans, where state officials are preparing to put more than 1,100 beds into the Ernest N. Morial Convention Center.
In an email to the Statesman, Janice Witherspoon, spokeswoman for the Idaho Office of Emergency Management, said Idaho officials have been communicating with states "much further along in their COVID-19 fight" and "are working to lean forward in our planning efforts as much as possible."
ARENAS, BOISE STATE SPACES TAPPED
The team has been looking for large facilities that can quickly be ready in an emergency. One place they contacted? Boise State University, said Greg Hahn, the university's associate vice president for communications.
For years, Boise State has participated in regional emergency planning efforts. President Marlene Tromp is "extremely committed to being as responsive to the community as possible," Hahn wrote in an email. He said he could not provide details, such as whether ExtraMile Arena might be readied for patients.
The Ford Idaho Center in Nampa could be used. Andrew Luther, the center's general manager, said he regularly communicates with Southwest District Health about how the arena could be used in an emergency.
"I haven't received any indication of what might happen at the Ford Idaho Center yet," Luther said. "We're ready to go, if called upon."
Downtown Boise's CenturyLink Arena has not been approached, said John Cunningham, CEO of Block 22, LLC, which owns the arena.
There may be a need for non-hospital spaces, too.
The city of Boise has been scoping out possible sites to isolate first responders or homeless people who fall ill but might not require hospitalization. Sites include Idaho IceWorld off the Gowen Road interchange on Interstate 84 and the Fort Boise Community Center, 700 Robbins Road.
In an interview, Mayor Lauren McLean said those locations are "on the table as a place where we could do shelter, and where we could add more beds if we needed to."
For now, the hospitals are focused on finding extra bed space on their campuses, where it is easiest to transport patients and staff. St. Luke's and Saint Al's have canceled all elective surgeries to conserve resources and free space.
As the number of cases increases, St. Luke's Medical System says it is ready to carry out a three-step plan to convert spaces across its campuses to hold patients.
First, a hospital would increase the number of its beds to the maximum it is licensed to operate. Areas such as pre- and post-operation rooms and medical imaging centers would house them.
Second, as a hospital reaches its maximum number of licensed beds, the hospital would ask the Centers for Medicare and Medicaid Services for a waiver to exceed that number. For beds, St. Luke's would begin to transition areas like the new Boise surgery center downtown at 333 N. 1st Street — which contains beds and IV poles — to serve patients.
Third, as a hospital begins to exceed the number of beds allowed by a waiver, administrators would start using conference rooms and office spaces for medical care. If necessary, they would work with local authorities to set up hospital spaces in convention centers or hotels. St. Luke's also own medical tents that could be used if no alternative sites are available.
St. Luke's said it had no estimate of how many additional beds it could add with all its capacity measures in place.
A spokesman from Saint Alphonsus did not respond to a request for comment.
BOLSTERING STAFF NUMBERS AMID PANDEMIC
Hospitals are also scrambling to increase the ranks of health care workers they are needing as cases surge. That comes even as some local hospital systems have cut workers' salaries, including furloughs, as was announced by officials at the Saint Alphonsus Health System on Wednesday.
Even before the coronavirus pandemic, Idaho faced a shortage of doctors. The Gem State has just 192 active physicians per 100,000 people, the 49th lowest ratio in the country.
St. Luke's put out a call to retired health care workers, asking them to volunteer in the hospitals.
Following in the footsteps of New York City hospitals, they're also making preparations to recruit health care workers from all over the country to come to Idaho. That means they're working to expedite licensure requirements so that out-of-state nurses and physicians can practice in Idaho.
The hospitals also need specialized staff, like respiratory therapists, to operate complicated machinery like ventilators. As of May 2018, Idaho had 680 respiratory therapists and 620 nurse anesthetists, according to the federal Bureau of Labor Statistics. (In March, a Boise anesthesia company laid off more than 50 nurse anesthetists, citing projected revenue shortfalls as hospitals cancelled elective surgeries, the Statesman previously reported.)
"With every bed that we create within our health system, we have to ensure that there's the appropriate staff to provide care to our patients," said Bisterfeldt, who manages St. Luke's emergency responses.
The biggest challenge for the hospitals? Knowing the unknowable — that is, when the pandemic will reach its peak in Idaho.
"Unfortunately we don't have a lot of data to be able to make really significant predictions at this time," Bisterfeldt said. "That's the importance of surge planning: so that when this does happen, we can be ready to respond."
Concerned about COVID-19?
Sign up now to get the most recent coronavirus headlines and other important local and national news sent to your email inbox daily.