The Magic Valley is no stranger to devastating wildfires. With blazes burning bigger than ever, federal agencies are ramping up their prevention and suppression efforts, and a new Bureau of Land Management plan could lead to new fuel breaks — blocks or strips of vegetation that have been altered to slow progress or control a fire — in the area.
The Great Basin Fuel Breaks Environmental Impact Statement proposes building thousands of miles of fuel breaks in Idaho, Nevada, Utah, Oregon and Washington. Under the preferred alternative, the BLM would construct 11,000 miles of such barriers.
The current EIS does not specify where or how many miles fuel breaks will be built in the Magic Valley. BLM officials said that instead of identifying specific locations, the current programmatic EIS aims to streamline the environmental analysis process so that individual field offices do not have to repeatedly perform their own habitat studies.
How fuel breaks function
Fuel breaks are fire resistant strips of land that can slow the progress of wildfires. For this EIS, the widest fuel breaks would max out at 500 feet, including treatments on either side of a road.
There are three main kinds of fuel breaks. One involves clearing the land along either side of a road or right of way and planting species that are especially good at retaining moisture. These green fuel breaks usually require minimal ongoing maintenance. Other fuel breaks rely on consistent mowing, which helps reduce fuel loading. Those two types would be most common, but a third type would mean that 5% of the fuel breaks would involve clearing vegetation to the dirt, leaving behind an empty, brown zone.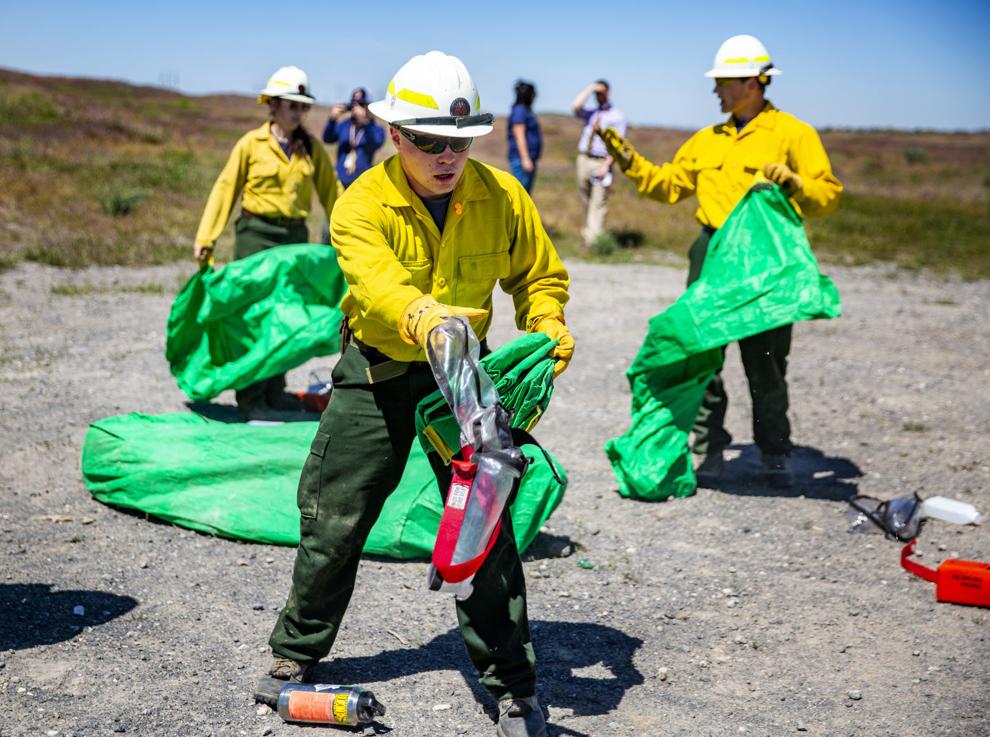 Agencies can build fuel breaks by mechanically removing vegetation, grazing livestock in problematic areas, spraying herbicides or prescribing burns, and costs vary widely from as little as $5 an acre on up to $175.
With 138 miles of fuel breaks, the Jarbidge BLM field office has the most in the Magic Valley, although there are also fuel breaks in the Shoshone and Burley field office regions. The Jarbidge area is especially fire-prone, BLM Twin Falls District Public Affairs Specialist Heather Tiel-Nelson explained. The area was hit hard by the 650,000-acre Murphy Complex fire in 2007.
Fuel breaks aren't an impenetrable defense.
"We don't claim that fuel breaks stop wildfires in their tracks," BLM Idaho Deputy Director of Communications Jennifer Jones said. "They're intended to reduce the intensity and rate of the fire so firefighters can get in there."
Fuel breaks are about 80% effective at slowing fires down, and 85% change wildfire behavior, BLM officials said.
Not without risk
Some conservation groups have expressed concerns about the effectiveness and long-term sustainability of fuel breaks. The Idaho Conservation League approves of fuel breaks in general, but worries that if the BLM loses funding in the future, unmaintained fuel breaks could cause more harm than good.
"It's by no fault of the BLM, but it's hard to guarantee funding for any project," ICL Conservation Fellow Randy Fox said. "We're just very concerned about getting into something that we can't get out of and creating a bigger mess."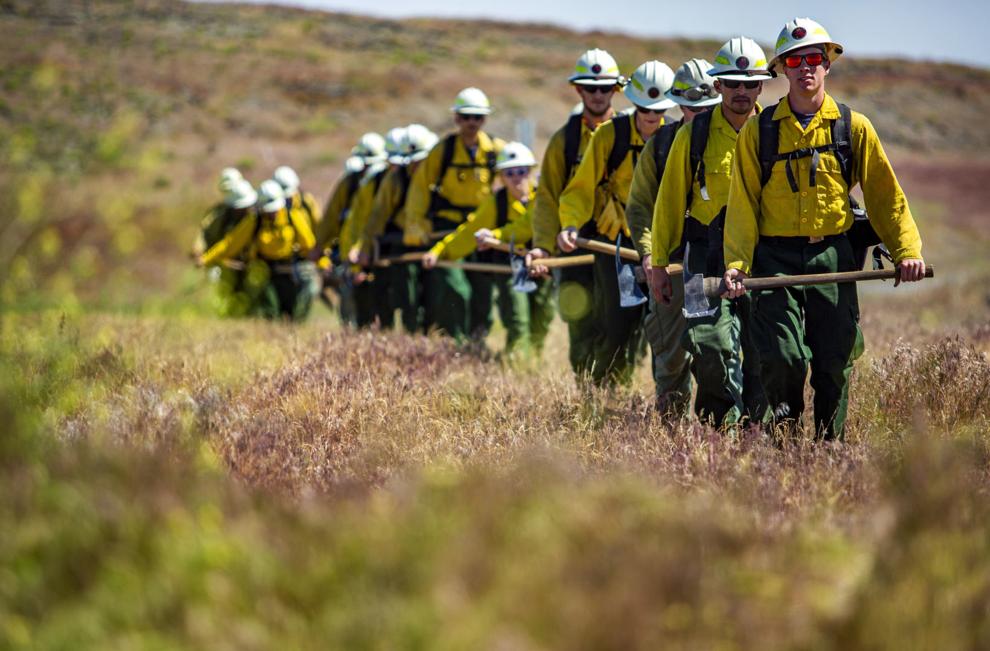 Many areas in Idaho are already dominated by invasive cheatgrass, which is especially susceptible to fire. Clearing and disturbing existing habitat could pave the way for more cheatgrass and other invasive species to creep in if the BLM doesn't monitor fuel breaks, Fox explained.
Some fuel breaks have already been invaded by cheatgrass, he added.
"I think you can see that pretty nicely along Interstate 84 actually," he said.
BLM Great Basin Fuel Breaks Project Manager Marlo Draper said that the BLM plans its fuel breaks with long-term sustainability in mind.
"We can maintain our successful fuel breaks," Draper said.
The ICL also worries that disturbing additional habitat could potentially have negative impacts on native fauna.
"We're also concerned about greater fragmentation of the wildlife habitat, particularly for the greater sage-grouse," Fox said.
BLM officials said that fuel breaks stand to benefit sage-grouse more than adversely affect them.
"The much bigger risk to sage-grouse habitat is the wildfire itself," Draper said.
Draper believes it's important for the BLM to take action now, as wildfires grow more severe.
"We lose thousands of acres to invasive annual grasses every year," she said. "We can't continue to sit back and just watch."
The BLM will hold a public meeting on the EIS at the Twin Falls District Office at 5 p.m. on Tuesday. Public comments on the EIS are due Aug. 5.