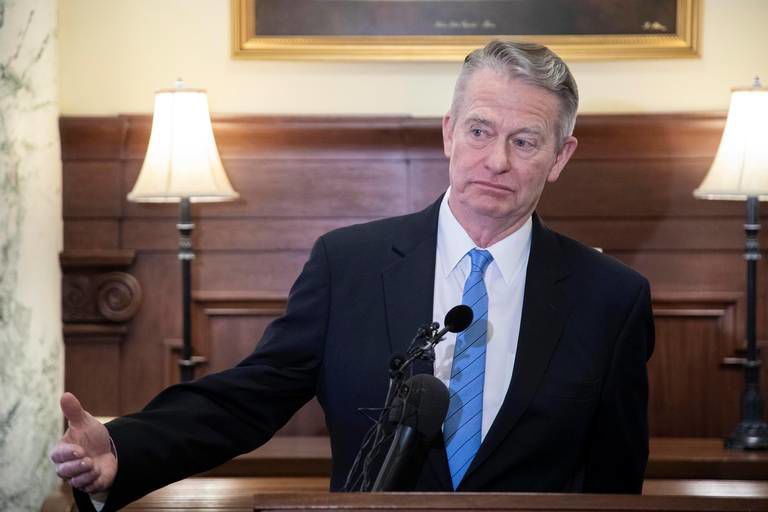 BOISE — State officials issued a mandatory shelter-in-place order for Blaine County Thursday after 11 more residents and one person from another state tested positive for COVID-19 in the county, bringing the total number of positive tests there to 17.
Earlier in the day, health officials said one of the previously announced cases in Blaine County is the first "community spread" case in the state — the patient had not traveled out of state and had no known contact with other confirmed COVID-19 cases.
There are now 23 confirmed cases in Idaho of COVID-19, the illness caused by the novel coronavirus.
"Our number one priority is to slow the spread of the virus in that community and outside of it," Gov. Brad Little said at a press conference to announce the restrictions for Blaine County. "We are still working on the details, and residents will still have essential services available to them, such as access to grocery stores and, of course, health care."
"Shelter in place means all individuals must stay at home unless they need to perform essential activities or go to work to provide essential business and government services," the county said in a statement.
People can still go to grocery stores, pick up food at restaurants and participate in outdoor recreation if they stay 6 feet away from other people.
The order prohibits most gatherings outside of homes but allows grocery stores, gas stations, banks, laundromats, dry cleaners and child care providers to stay open.
"Business activities ... may continue, but should be conducted from home as much as possible. As before, this is not a time to hoard supplies from local stores or online suppliers," the county said.
South Central Public Health District reported the 12 new positive Blaine County tests Thursday afternoon. Two of them are health care workers. One patient was a non-resident who has returned to their home state. Since that state is taking over the investigation, the tally on the district's website shows 16 confirmed cases.
The new cases include six men: one in his 30s, four in their 40s, and one in his 50s. The other six are women: one under 20 years old, two in their 30s, two in their 50s, and one in her 70s.
They join five previously announced cases in Blaine County.
The most recent of those, a man in his 40s who had mild symptoms and is recovering well at home, was the first community spread case in the state.
The other Blaine County cases are a woman over the age of 80 who is recovering well in a hospital isolation unit, a woman over the age of 50 who is recovering at home under isolation and was not hospitalized, a woman over the age of 70 who was hospitalized and recovering, and a woman over the age of 50 who is recovering from mild symptoms that did not require hospitalization. She was the second patient with a positive test in the state.
"It no longer matters where it started, this virus is now in our community," said Logan Hudson, the district's public health division administrator, in a statement after the community spread case was announced. "It is important that we take precautions to slow the spread and protect the most vulnerable among us. We urge residents to follow public health recommendations to stay home as much as possible to help protect themselves and their communities."
To slow the spread of the virus, the health district asks everyone to take the following recommended actions:
Work or engage in schooling from home whenever possible.
Avoid social gatherings in groups of more than 10 people.
Avoid eating or drinking at bars, restaurants and food courts where social distancing is not achievable; instead use drive-thru, pickup or delivery options.
Avoid discretionary travel, shopping trips and social visits.
Cancel visits to nursing homes, retirement and long-term care facilities unless to provide critical assistance.
South Central Public Health District is running two hotlines for information about COVID-19. One in English at 208-737-1138, and one in Spanish, at 208-737-5965. These hotlines are running from 8:30 a.m. to 5:30 p.m., Monday through Friday, and 10 a.m. to 2 p.m. on Saturday.
Complete coverage: What Idahoans need to know about the coronavirus
Looking for local information on the Coronavirus? We've got you covered.
Concerned about COVID-19?
Sign up now to get the most recent coronavirus headlines and other important local and national news sent to your email inbox daily.