KIMBERLY — The five of them are spread out over a green ridge in the southern South Hills, each bent over a shrub roughly belly button high. They hold battered tennis rackets — one of the rackets is so old it's made of wood — and calmly whack their way around their antelope bitterbrush. With each stroke, they knock dozens of Tic Tac-sized brown seeds off the plant and into a canvas net.
"If it sounds like rain, you're doing it right," Idaho Fish and Game Regional Wildlife Habitat Manager Mark Fleming says.
These biologists and wildlife technicians are beating bushes in the South Hills to help deer and other ungulates. They're collecting the seeds of a plant that can be an integral part of ungulate diets.
Mule deer and pronghorn love bitterbrush. This exact spot along Indian Springs Road, full of bitterbrush plants, is an important mule deer wintering range.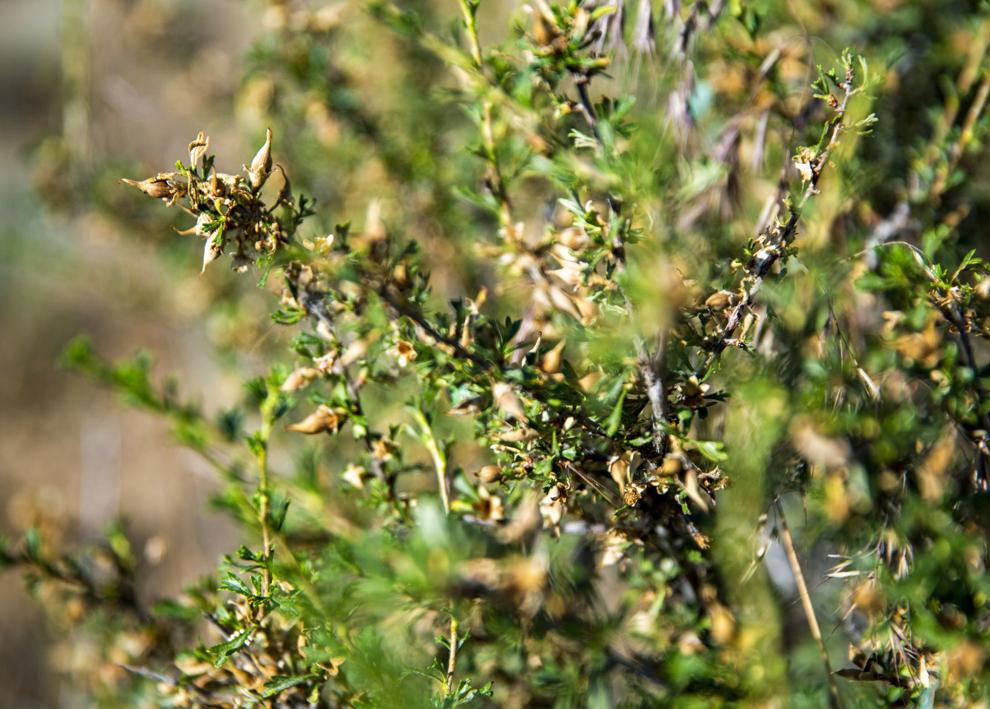 Today's seeds will become tomorrow's seedlings and help state and federal agencies jumpstart the recovery process in areas decimated by fire.
"We're trying to rehab (burn areas)," Idaho Fish and Game Regional Habitat Biologist Brandon Tycz said, "give them the best jump that we can."
A head start
A week ago, hitting these antelope bitterbrush wouldn't have done much. After a wet spring, this year's seeds needed until mid-July to dry out. Once the seeds are dry, you have to act fast.
"When it's ready to go, if it's a windy day, all of that could fall to the ground," Tycz said.
But Friday, gentle taps knocked the seeds loose from their branches.
Bitterbrush is a common shrub in southern Idaho. From a distance you might mistake it for sagebrush, but up close it's a bit less organized, spikier, like a sagebrush that had a bad hair day. In bloom it has yellow flowers. It's a member of the rose family. Out of their husks, the seeds look just like apple seeds.
Fish and Game collects and plants bitterbrush because, if you have hooves, you probably find it delicious.
"We do this because it's main forage for deer, especially in winter," Tycz said.
Planting and reseeding is expensive. Fish and Game works with federal agencies including the Bureau of Land Management and U.S. Forest Service to fund planting efforts.
To make the whole process more effective, Fish and Game collects seeds near where they'll be planted. Those plants have genes well-suited to their habitat, so they'll probably have the best shot.
"These seeds have evolved here," Fleming said. "They've adapted to this climate, the environment they're trying to survive in … These are the ones that have made it over thousands of years."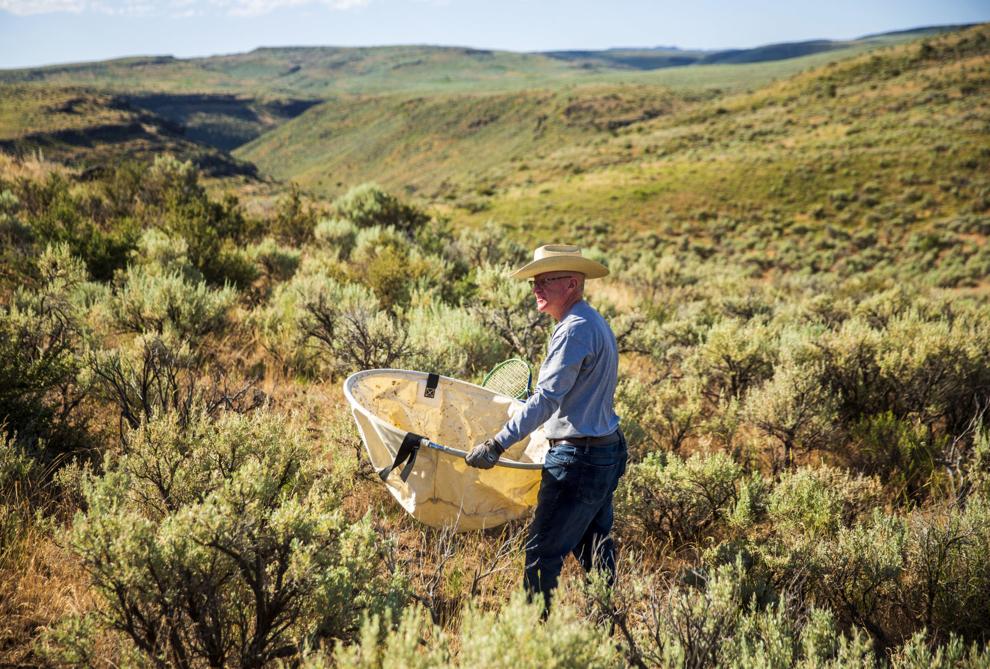 Bitterbrush at high elevations get more water, so by targeting bitterbrush living in this low area in the South Hills, Fish and Game biologists know the seedlings should be more drought resistant.
With wildfires wiping out thousands of acres in the West every year, it can seem a daunting task to plant seedlings in burn areas. Fish and Game and its collaborators plant about 30,000 bitterbrush and sagebrush seedlings annually (sagebrush seeds won't be ready for collecting until late fall). Those 30,000 can cover between 50 and 100 acres.
Of those 30,000, Fish and Game hopes at least 30% will survive.
It might only take today to gather enough seeds for the next year or two. Two pounds should come out to about 30,000 seeds.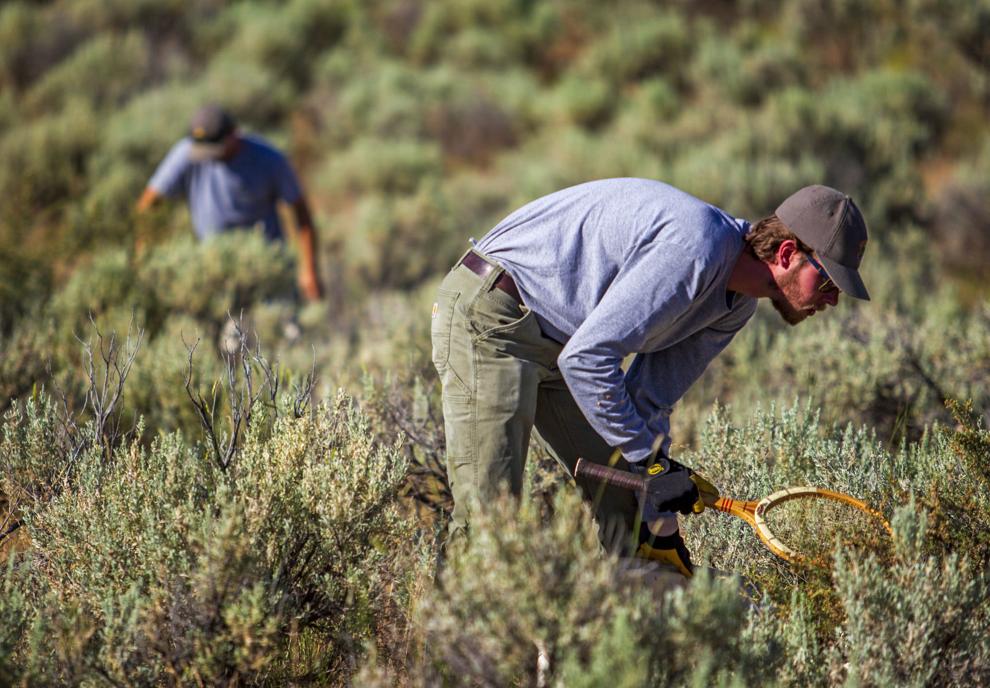 Specific habitats determine the planting approach. If an area's accessible enough, a tractor can drill seeds directly into the ground. You can seed burned land by plane in some places.
These seeds are bound for a nursery. There they'll go into a freezer so they can germinate. They'll sprout in the spring of 2020, and after that they'll have a year in the greenhouse before school kids and volunteers will plant them at a burn site, one by one, in the spring of 2021.
Fish and Game workers don't seem to mind taking up tennis rackets.
"It's oddly rewarding," Idaho Fish and Game Regional Wildlife Biologist Sierra Robatcek said.
Planting bitterbrush, bit by bit, can play a big role in helping ensure ungulates have something to eat in the winter. And while planting seedlings might seem a small response to a massive fire, the efforts can have a real impact. Fleming estimates that in his 20 years with Magic Valley region Fish and Game volunteers have planted about a million seedlings.
"Over time that adds up on the landscape," he said.
PHOTOS: Idaho Fish and Game gather Bitterbrush seeds
Idaho Fish and Game collect Bitterbrush seeds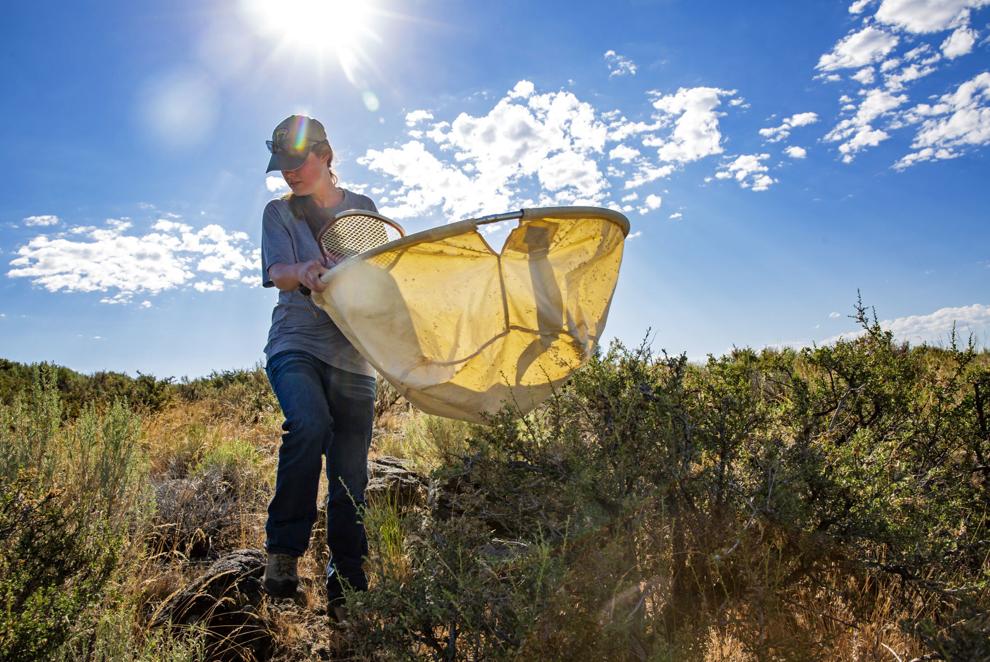 Idaho Fish and Game collect Bitterbrush seeds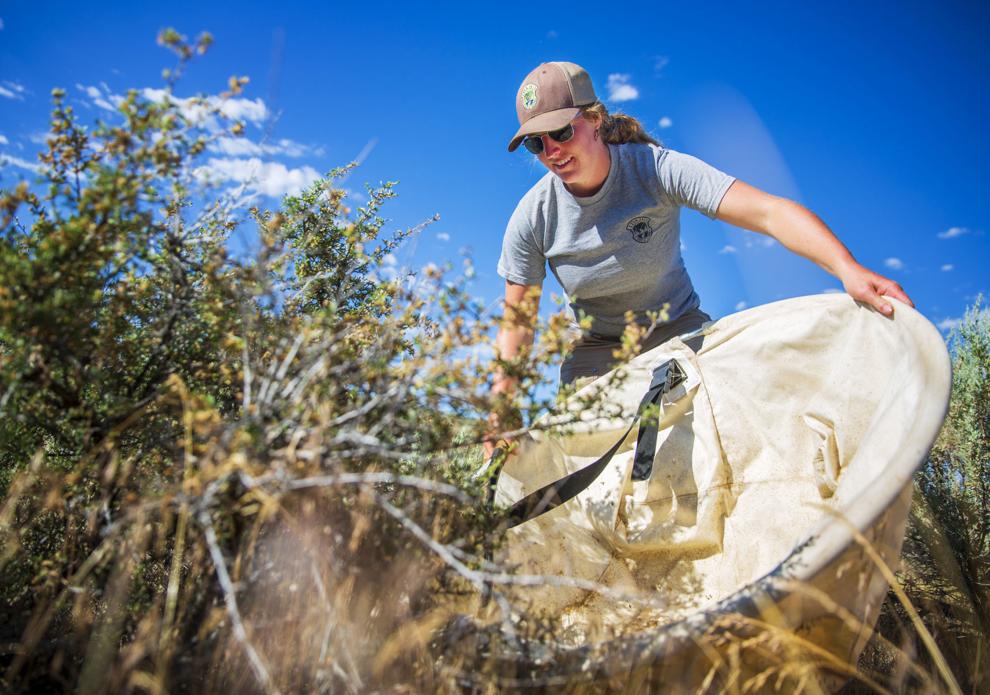 Idaho Fish and Game collect Bitterbrush seeds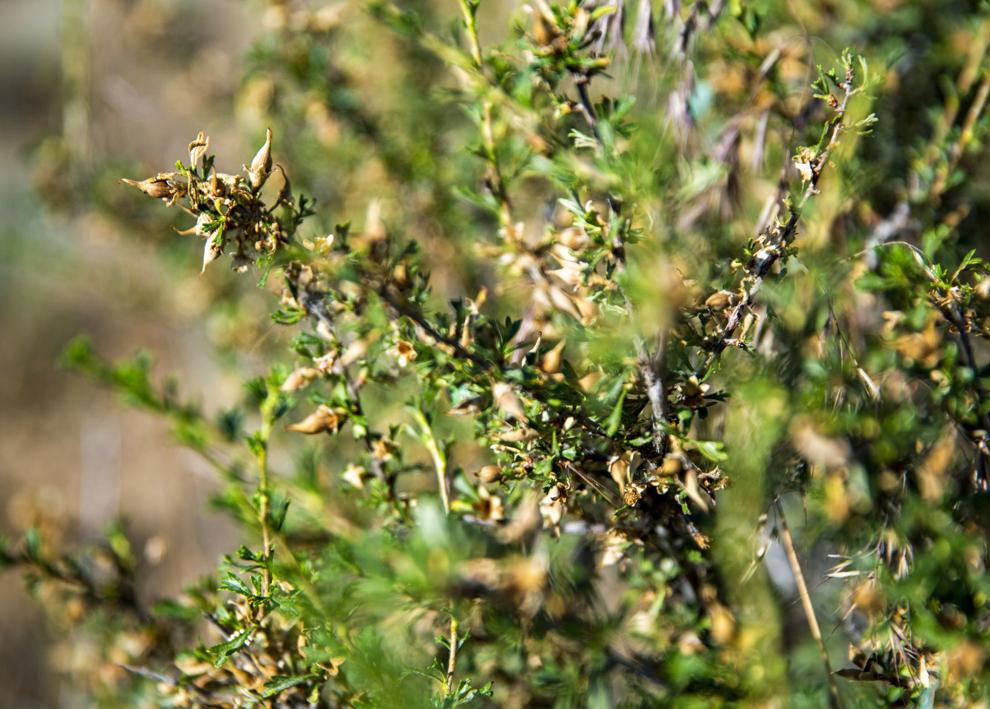 Idaho Fish and Game collect Bitterbrush seeds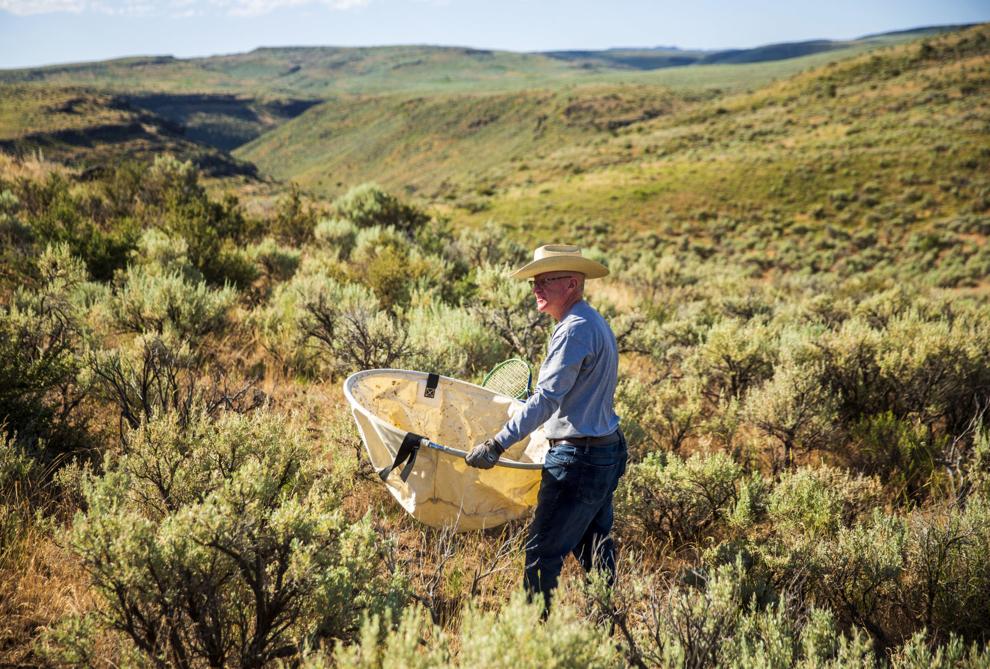 Idaho Fish and Game collect Bitterbrush seeds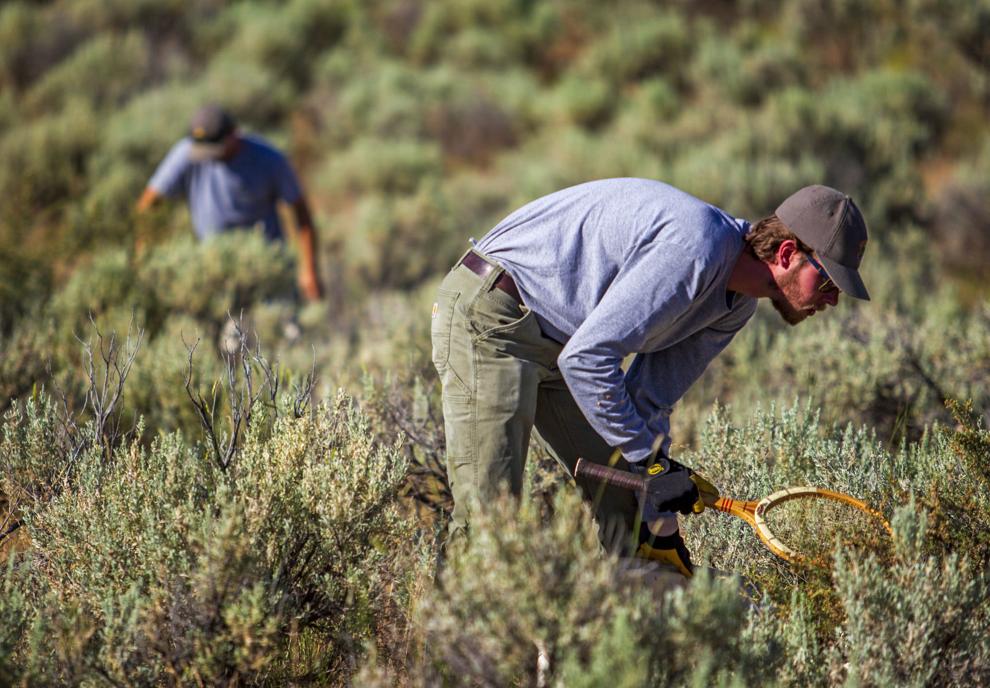 Idaho Fish and Game collect Bitterbrush seeds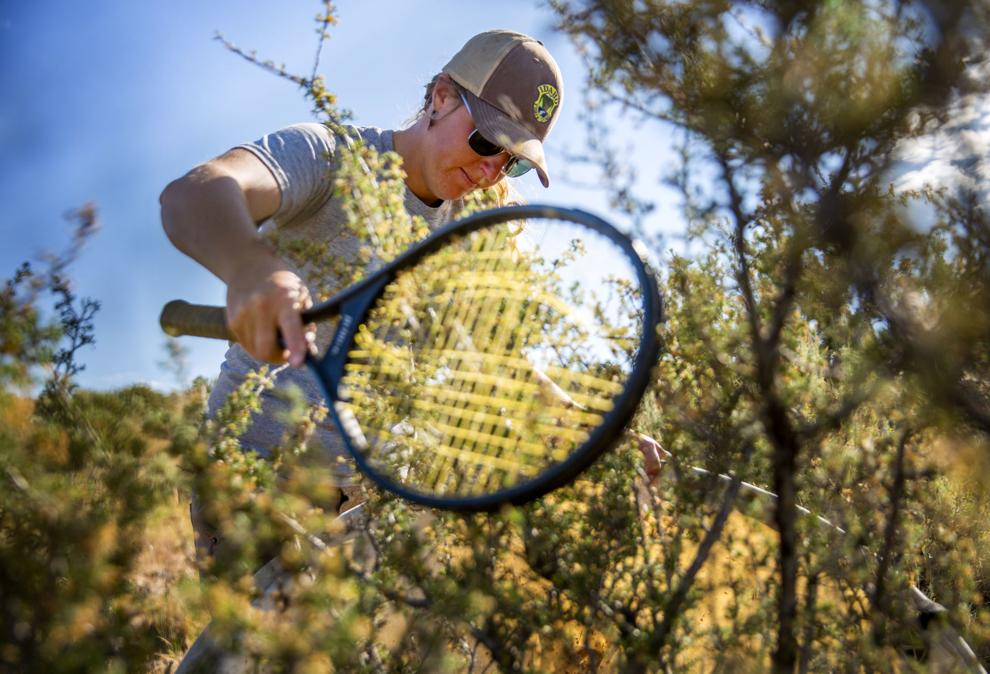 Idaho Fish and Game collect Bitterbrush seeds