Accustomed to drought, south-central Idaho was overwhelmed this winter by simply too much water.
Snowstorms cloaked the mountains and valleys. The saturated ground froze, buckling asphalt. Then sudden runoff in February and March wrecked more roads and left people scrambling to save their homes and properties from destruction.
By early spring, much of the water had receded, but irrigation districts, road workers, ranchers, homeowners and local governments were still grappling with the effects.
A. Fish farmer's silver lining
Weighed down by heavy snow, a failing bird netting structure could have spelled disaster for First Ascent Fish Farm in Buhl this winter.
The long metal pole supporting the netting over the hatchery was bent near the top, and its gravel base was partially washed out by snowmelt from the nearby roof.
"This winter has created an opportunity to review construction," owner Don Campbell said March 9, as he discussed redesign possibilities with his production manager.
The bird netting has protected his young tilapia from aerial predators for six years, but the design error for the supporting poles wasn't apparent until after this winter, Campbell said. When wind changed direction, snow packed over the netting. Warmer weather made the snow heavy, and the netting sagged, bending the poles.
"My goal is for my staff to learn,"Campbell said, "and most understand you do your best, and sometimes it fails."
The damage was relatively minor for First Ascent, he said, but the weather caused other farms to lose fish.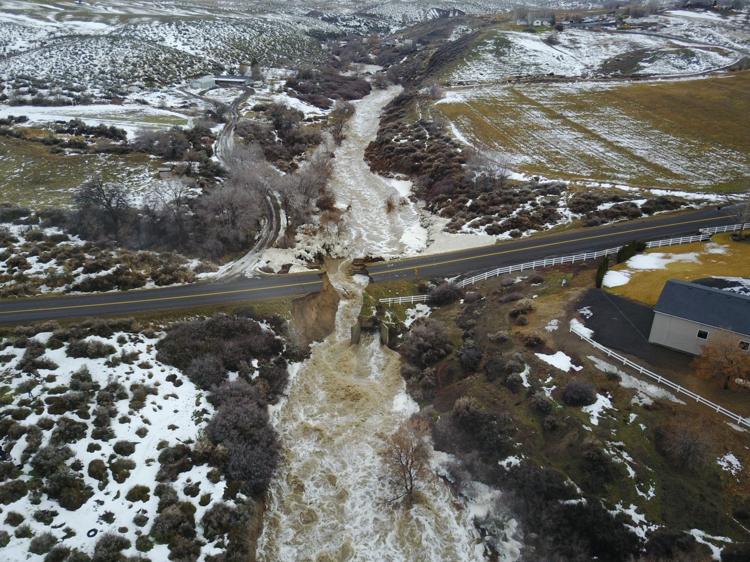 B. Coping with River Road split
Fifteen minutes after Jesse Flint drove River Road over swollen Deep Creek, the concrete box culvert washed out — taking a 25-foot section of road with it.
It was Feb. 9, and the manager of Mountain States Plants got the message on his cellphone not long after the dramatic collapse. It had already been a rough winter at the greenhouses, as cold weather delayed plant growth and snow affected access.
"We had almost entire days when we were just trying to push snow off to the side," Flint said.
Fortunately, approaching from the southeast on River Road wasn't the only route to his workplace, but it took a while for weekly delivery trucks to figure out the alternative. Instead of taking a Jerome exit from Interstate 84 and using Bob Barton Road, they take the interstate to Wendell and drive U.S. 30 to River Road.
Drivers who didn't get the message about the road sometimes had no cellphone service and had a tight area in which to turn around.
"At first, it was quite a pain," Flint said.
The new route adds about 10 minutes of travel to reach Mountain States Plants, which supplies to warehouses and to stores such as Fred Meyer. That's a daily delay for the employee who lives just on the other side of the missing culvert.
For the greenhouses, it's been mostly an inconvenience. But it's a major concern for Buhl Highway District, struggling to decide how to fix the Deep Creek crossing.
"Right now we're looking at funding," Director John Zamora said in early April. "It's a money issue."
It will take about 8,000 tons of building material to fix the 50-foot wide roadway.
"If we put it back to the original, the estimates are around $140,000," Zamora said.
But the concrete culvert has washed out before, he said, most recently in 1979. So the highway district in early April was leaning toward one of these alternatives: installing an overflow pipe, with a cost of about $250,000, or building a $600,000 bridge over the creek and leaving the natural channel to run its course.
Compounding the issue: the $400,000 in other fresh winter damage along 70 miles of the Buhl Highway District's roads.
The district was considering deferring other construction so it could build a better Deep Creek crossing.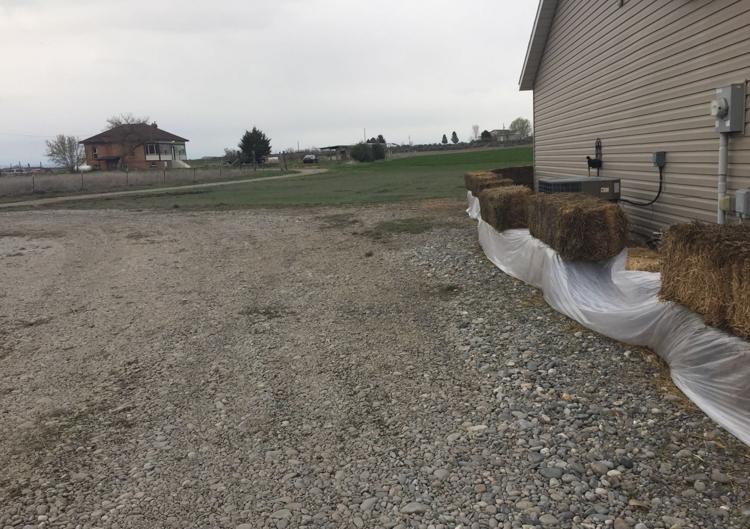 C. Newlyweds displaced
Newlyweds Eduardo and Shaleana Vega got an unexpected test of their marriage ties when their house on River Bend Drive flooded March 31.
The young Gooding couple had purchased the house by the Big Wood River in April 2016 — shortly before their June wedding. They'd been told the house wasn't in a flood zone.
But in March, as Magic Reservoir spilled into the Big Wood River, Gooding County properties near the river were put under a flood advisory. The Vegas received the warning just days before floodwater poured thigh-deep into their crawlspace.
"I got up at 2 in the morning (March 31) to check the river, and it was pretty full," 21-year-old Eduardo recalled.
By 10 a.m. that day, a neighbor reached out to the Vegas at work, warning them about the encroaching river. But it was too late to prevent the damage.
"It's kind of made us stronger and realize that we're grateful for our family and friends," said Shaleana, 22.
Concerned about electrical hazards in the crawlspace, the Vegas turned off the power and moved in with Shaleana's parents, who live near their workplace. After the water receded, they reconnected the power to fan-dry the house.
But the danger hadn't passed. And this time, the Vegas were determined to be prepared for another flood.
As of April 17, they were still staying with Shaleana's parents and had moved their furniture onto pallets. Friends donated straw bales and hay bales that, combined with sandbags and plastic, created a barrier around their house.
The Vegas feared that a new round of flooding expected in late April could be even worse.
"A lot of people have said we're supposed to be getting more water," Eduardo said. "It's kind of like a waiting game."
Meanwhile, they also were struggling to get answers about the damage in the crawlspace and the garage.
"We're trying to get a bunch of feedback from different contractors," Shaleana said.
As of mid-April, she'd heard conflicting reports. The Vegas know they will have to replace the ventilation pipes and spray for mold. It's also likely they will have to pump their septic tank, get their well tested and replace some insulation and drywall, Eduardo said. And the driveway will need more gravel.
"It's been hard on us because this is our first house me and my wife bought together," he said.
The couple set up a donation account at Zions Bank, and a GoFundMe account under the name "Vega House Flood."
"It's a crappy situation," Shaleana said. "But we have great help and good resources around us."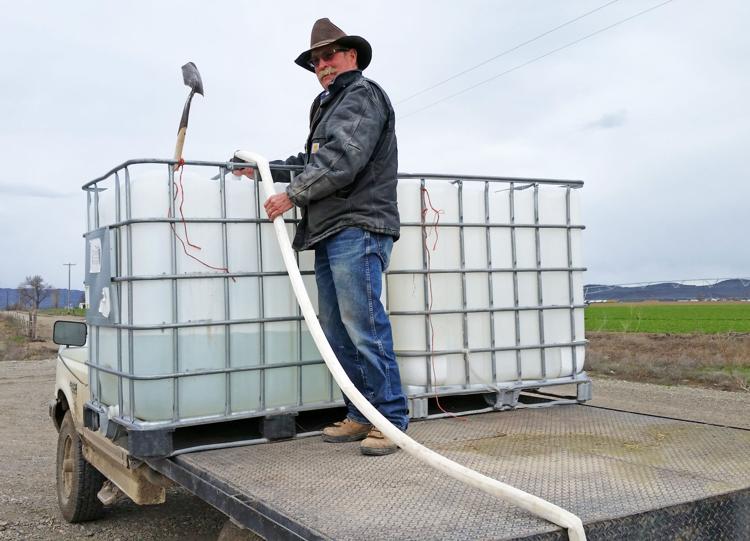 D. Not a drop to drink
Every day in early April, it took Chris Tschannen and her husband, Dean, about two hours to haul 2,000 gallons of water to their ranch.
By then, they were well-practiced. It was Feb. 15 when they discovered the contamination in their well northwest of Shoshone. Residents of Lincoln County reported smelly, murky water in their homes following a winter of unprecedented snowmelt, a suspected fissure in the bedrock and a dairy's illegal pumping of wastewater into the Milner-Gooding Canal.
The Tschannens' daily water delivery was a necessity for their beef cattle and for an elderly couple renting a trailer there.
The water in the trailer's kitchen sink "was green and nasty and smelled horrible," Tschannen recalled.
The well tested positive for high levels of E. coli, making water on the ranch unusable even for showering.
"It's been tough," said tenant Edna Hellwinkel, 85, whose son lives nearby and warned her of the contamination. "We had to depend on my son or Dean to bring us water."
Initially the Tschannens brought safe water from a nearby dairy, but later they were driving about a mile to Shoshone Fire Station No. 2.
But Hellwinkel and her 88-year-old partner, Marvin Bartels, still couldn't turn on faucets for showering and washing dishes.
"At our age, you just don't jump up and do something different," Hellwinkel said.
Still, they managed. The couple got water into their travel trailer and used that bathroom for showering — then dashed back through the cold to the house.
Hellwinkel recalled melting snow at one point to wash her pots and pans, as using paper plates had added to the amount of garbage they'd have to haul out.
"People don't realize how inconvenient it is when you can't turn on the faucet and get water," she said.
After about a month, the Tschannens bypassed the well and connected the house's water system to pods, refilling them with water hauled from the fire station.
But bottled water was still a necessity for drinking and cooking. Tschannen said the well at her house tested positive for coliform bacteria, so she and her husband were also drinking bottled water.
"Until the water's all clear out here, I don't think anyone feels safe drinking it," she said April 6.
The water at the trailer couldn't easily be tested while the pods were hooked up to the house, but Tschannen planned to watch how neighbors' wells were doing. Even once the danger passes, she plans to continue having her wells tested from now on, probably two or three times a year.
By early April, well water had improved considerably but was not yet safe. The city of Shoshone continued to provide potable water and water for livestock out of its own wells. The county purchased bottled water to supply residents.
"We've got people coming in and out of the station all day long," Casey Kelley, Shoshone City and Rural Fire Protection District chief, said April 4. "We've gone through almost 60,000 gallons of water up to now."
Gallery: Flooding, big-snow aftermath
South-central Idaho was overwhelmed this winter by simply too much water. By early spring, much of the water had receded, but irrigation districts, road workers, ranchers, homeowners and local governments were still grappling with the effects.
E. Dead or orphaned calves
Cattle calving on the range in February had a hard time amid snow and ice.
"The condition was such there was no place to get out of the weather," said Marty Bennett, who breeds Angus cattle about five miles east of Dietrich. "I don't think there's a rancher out here that wasn't impacted."
Calves born in those conditions can die or suffer health consequences afterward, and Bennett estimated he lost twice the usual number of newborns. Although he hadn't counted the bodies, he figured it may have been close to 10 percent of his February births. Other ranchers could have lost closer to 15 percent, he said.
In a cattle market where prices are down, they'll have to tighten their belts to absorb the additional revenue loss.
"This year we're going to kind of get by with what we have," Bennett said of his own operations. "We're not going to make any new improvements."
He was able to rescue some of the calves found while searching the fields in the wee hours of the morning. The calves were brought into the barn to recuperate. In a few cases, the mother either could not be found or later abandoned her young.
"We got four to five of those little orphans left," Bennett said April 5.
His employees would have to bottle-feed them twice a day for at least four to six weeks.
Other calves that survived still had complications from the cold. Bennett, who is also a veterinarian, figures he used two to three times more medication this winter to treat his herd for lameness, swollen feet and illness spread by crowding in deep snow.
"Mother Nature," he said, "is sometimes relentless, unforgiving."
F. The walkers win
Dr. James Irwin picked his way up the steep grade on the north wall of the Snake River Canyon, stooping now and then to collect shards of broken beer bottles, smashed cans and foam cups. Behind him walked his friend Carl Nellis.
As he reached the top of Yingst Road on March 29, Irwin panted to catch his breath. The rim of his hat obscured what the casual observer might miss: no hair. Irwin had diffuse large B-cell lymphoma, with underlying follicular lymphoma, and was undergoing chemotherapy.
He doesn't walk Yingst Road as often as he did before, but he says walking it is a kind of physical therapy.
"You don't stop just for a little pain," Irwin said.
Neither was he hindered by the fact that, in places, the road had been washed out. In fact, he, Nellis and some other pedestrians want to keep it that way.
"This is absolutely a great walking trail," Irwin said.
Yingst Road, across the Snake River from Auger Falls Heritage Park, descends into the canyon just west of Jerome Country Club. It was gated off to vehicles in March after February floodwater from the canyon rim overwhelmed a culvert and took the road along with it as it rushed into the river.
Jerome County leases the road right of way, within the boundaries of its recreation and public-purposes lease of Bureau of Land Management land. The upper portion of the road, some of which is relatively undamaged, belongs to a state agency.
Yingst Road is traveled by hunters and joggers but also has been used as an access route for nearby businesses such as the golf course. BLM employees believe that Idaho Transportation Department developed Yingst Road while it was constructing Interstate 84, BLM spokeswoman Heather Tiel-Nelson said.
According to the 20-year right of way grant which expires in 2020, it is Jerome County's responsibility to maintain Yingst Road — though access may be restricted for public safety.
And that's exactly what Jerome County commissioners did. Not only was the gate shut at the end of March, but in early April the commission put up signs declaring the road closed.
"Once you get down there and get hurt, you can't get back out," County Commissioner Roger Morley said. The county is not discouraging pedestrian use to those who feel safe walking Yingst Road.
The county has no plans to repair the road.
"Yingst Road is literally a last choice for us to fix," Morley said, noting other county infrastructure the flooding damaged.
And some argue that it would be a waste of public resources.
"It's a dead-end road," Nellis said. "It doesn't seem like a good expense of taxpayer money to pay for something people don't use."
Instead, he said, it should be permanently closed to motorized vehicles and reserved for a walking trail.
Nellis walks the road weekly "mostly to try to stay from getting too fat," he said. It is more difficult to walk now, plunging into craters of rock that used to be its base.
But Nellis and Irwin are willing to lend a hand to make it better.
"That would be relatively easy," said Irwin, whose mules have helped him haul pieces of abandoned vehicles out of the canyon. "It just takes some manual labor to build up a trail."
Jogging along Yingst Road on March 29, Darbi Neff was ecstatic about their plan. Neff was in town visiting her parents but grew up nearby and has been jogging the road since high school.
"I love the fact that cars can't come down here anymore," Neff said. She'd spotted a porcupine and a red fox just the day before. "I had never seen those things in the past."
Irwin believes that the absence of motorized access will result in less garbage being tossed onto the road.
Jerome County Commissioner Catherine Roemer had hoped that Yingst Road was not the county's responsibility. Since she learned otherwise, she's open to the offer of help from Nellis and Irwin.
"I don't think we'd turn down any suggestions, particularly for pedestrian traffic," she said.
Jerome County Sheriff Doug McFall said the sheriff's office has secured a key from Pristine Springs fish farm to use its access road to reach that section of canyon in case of an emergency.
G. Asphalt woes
The parking lot at Rock Creek Park was a patchwork of fractured and arched asphalt April 19, but Beatriz Delgado barely noticed.
The Twin Falls mother sat watching her two boys look for frogs near Rock Creek's swiftly flowing waters. It was their first visit of the year to the county park.
"Once it starts getting warmer and the kids are out of school, we'll come out a lot," Delgado said.
She won't be alone, and a potential closure of the parking lot for repaving this fall could affect ease of access to the park.
"The parking lot down there is just absolutely disintegrated," Parks and Waterways Director Rick Novacek said.
The county closed the road to Rock Creek Park for a couple of weeks in March when a crack opened in the asphalt near the top.
"The road settled a couple of inches next to the guardrail, and that's what caused the crack," Novacek said. After crews filled it, he was confident the road would stabilize.
But the parking lot will need complete repaving — at least a $60,000 project just for the main section. And there's simply no money for it this fiscal year, so construction won't start until at least October, Novacek said.
The city of Twin Falls also faced budget issues when it discovered $9 million in road damage after this winter's freezing, thawing and flooding. In April, the City Council allocated $4.3 million in reserve street funds to make a dent in the workload.
Delgado was relieved that something was being done about potholes on Twin Falls streets — despite the inconvenience of road closures.
H. River recreation
Tennis ball in mouth, the small black Labrador swam over the submerged boat dock toward her owner, who waited in camouflage waders. Six-month-old Naga was at Centennial Waterfront Park on April 19 for exercise and training as a future "duck dog."
James Medlin of Jerome apologized profusely as the wet animal darted happily toward bystanders. Normally, he said, they'd do this water-based fetch routine above Shoshone Falls, in a small park near the boat launch.
"There's no beach," Medlin said. "It's all underwater."
Besides, the swift water there posed a safety risk for Naga.
In fact, recreation all along the Magic Valley stretch of the Snake River was feeling the big-snowpack effect.
High flows prompted Idaho Power Co. to close the Shoshone Falls boat access in March. Idaho Power spokesman Brad Bowlin said there was concern for boaters' safety with the high water and the debris it brought, which would have to be cleaned up once the water receded.
Farther downstream, another project still waited for completion in mid-April. The road into the Relish Whitewater takeout near Hagerman had eroded due to February flooding. It was temporarily open but would have to be closed for repairs later in the season, Bowlin said.
Idaho Power was also warning boaters about Bliss Bridge before the takeout. Watercraft that would normally be able to pass under it couldn't on some days because of the river's height. Scout ahead before hitting the water, he advised.
Centennial Waterfront Park's boat docks, meanwhile, were usable but partly underwater.
AWOL Adventure Sports had to have trees trimmed above a nonmotorized boat dock, which owner Paul Melni said was floating about 10 feet higher than usual in mid-April. And because an expanse of water still covered one end of the dock, he improvised by launching kayaks from the shore.
The park vendor was also having a late start to its watercraft rental season.
Melni could hardly have asked for a better opening day for kayak rentals in 2016, when temperatures reached 71 degrees on April 2, and the park vendor did almost 100 rentals.
But this year, following weeks of heavy flows and bad weather, the business attempted an opening weekend April 15. It was 53 degrees at 2 p.m., and the brave few who attempted to paddle against 24,000 cubic feet per second of rushing water returned shortly.
"They came back kind of shivering," he said.
Melni called it quits, and the next day was no better, with wind that prevented AWOL from doing rentals.
AWOL planned to watch flows and attempt rentals again later this month. Melni expected that with the high flows he wouldn't offer paddleboards or sit-on kayaks early in the season.
The Shoshone Falls boat ramp may reopen by Memorial Day, Bowlin said, depending on how snowmelt affects water levels.
I. Drifting snow on Blue Lakes South
As winds swept snow across country roads, some people driving to Joslin Field, Magic Valley Regional Airport were delayed. Now, the airport board is considering how it might prevent future problems on Blue Lakes Boulevard South.
"The highway district worked really hard to keep that road clear," Airport Manager Bill Carberry said. "We're just trying to think of it critically."
The airport board discussed options in March.
About a half-mile stretch of the road had problems with drifting snow, possibly limiting traffic to one lane at times, Carberry said. He plans to meet with a farmer who leases land from the airport to discuss options such as snow fencing or shrubs.
The airport pavement, meanwhile, is in good shape after all the bad weather, Carberry said. And about 180 planes were diverted to Twin Falls on their way to Sun Valley between November and March. Normally, that number might be closer to 100.
"We feel good about being able to assist," he said. "All of those diversions actually are good for the businesses at the airport."
J. Rough roads at the reservoir
Spring snowmelt quickly eroded roads accessing Salmon Falls Creek Reservoir, causing extensive damage that posed a threat to visitors.
The Bureau of Land Management warned motorists about the deteriorating roads and sprang into action to get those roads graded — although some are managed by the county.
"They're not in great shape, but they're passable," Twin Falls District BLM spokeswoman Heather Tiel-Nelson said in late April. "... We're just advising people to be very cautious and careful."
As more vehicles travel on the roads with warmer weather, the agency feared conditions could worsen.
And the BLM was still having difficulty accessing several of its roads in the Jarbidge Field Office area southwest of Twin Falls. Crews had been working feverishly for weeks, grading roads that were listed as priorities for firefighting access to desert lands and range managed by the BLM, Tiel-Nelson said.
"We'll continue on that cycle and make more permanent repairs later on those roads that are continuing to deteriorate," she said.
The majority of BLM roads with access issues were in Twin Falls and Owyhee counties, she said. But pavement was undercut at the Milner recreation area near Burley, and the BLM posted signs to warn visitors.
The BLM estimates it will cost $750,000 to $1 million beyond its regular maintenance budget to repair its roads in south-central Idaho, Tiel-Nelson said.
K. Winterkill at Wilson Lake
The morning of March 24, Idaho Department of Fish and Game staff waded into Wilson Lake Reservoir to clean up some of the mess.
Thousands of dead fish had been discovered at the manmade lake north of Hazelton just weeks before. Dozens still floated along its bank near the boat docks.
The signs pointed to one cause: winterkill, where snow and ice covered the lake, hindering photosynthesis and suffocating the fish.
"We don't typically see a lot of winterkill," said Scott Stanton, a regional fisheries biologist.
Stanton and another Fish and Game employee were out moving dead fish away from where the public might encounter them.
Wilson Lake Reservoir is more of a recreation destination than a fishery, Regional Fishery Manager Doug Megargle said.
"This was a courtesy effort," he said. "We are not obligated to certainly pick up every dead body."
Most of the fish were moved into the water and out of sight, Stanton said. "Mother Nature will take care of the rest."
Mother Nature was at work earlier that month. Birders hoping to spot a few early shorebirds were surprised by what they found instead: hundreds of other birds feasting on the bounty.
"The gulls were having a heyday," said Melody Asher of Twin Falls. "The pelicans were all so full."
She'd gone to the reservoir on friend Pat Weber's recommendation but hadn't known about the winterkill.
"They're huge," Asher said of the scaly carp floating in the water. "It's pretty gross."
Weber returned to Wilson Lake on the afternoon following Fish and Game's partial cleanup. From a dock, she spotted 17 bird species through her scope. A male pelican floated happily on the other side of the reservoir, preparing to mate.
She was disappointed that rising water — a result of the North Side Canal Co.'s aquifer recharge efforts — had left fewer opportunities to spot shorebirds. And she didn't see the 20 or so bald eagles and more than 1,000 gulls — including a rare flock of herring gulls — that she'd spotted the previous week.
"It's always a good day, though," she said, wearing rose-tinted sunglasses and tallying her list on her phone's eBird app.
Most of the fish arrive at the reservoir each year from the Snake River via irrigation ditches. Fish and Game estimated deaths of 16,000 carp, 10,000 largescale suckers, 4,000 bullhead and hundreds of yellow perch and Utah chubs.
Carp aren't a typical target for anglers because "they have a meat quality that most people don't know how to cook," Megargle said. He didn't expect that any of the game species — yellow perch and bullhead — survived.
And there are no plans to stock the reservoir because its water levels and quality for fish life are unpredictable.
"It wouldn't be worth managing unless we see some positive change with water management," Megargle said.
It's possible that additional spring runoff introduced a toxin that killed the fish, Megargle said, but no evidence had proven that.
Some of the fish were scavenged by birds, and others sank into the river for decomposition, but Megargle said the March 24 cleanup effort may not be particularly productive. Especially if the wind shifts directions, bringing more bodies from the middle of the reservoir.
"They're going to want to come to shore sooner or later," Megargle said. "It just depends which shore."
L. Soggy landfill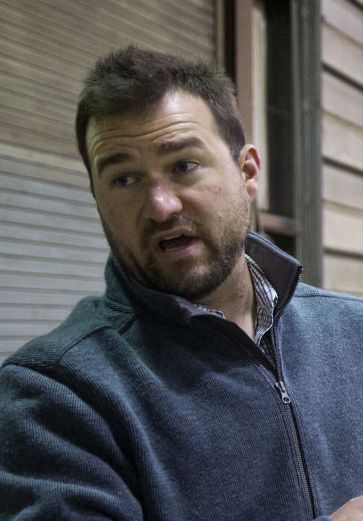 When the Milner Butte Landfill got more water than it could handle this winter, employees sprang into action.
As meltwater inundated stormwater collection ditches, Southern Idaho Solid Waste suddenly found it was short on pumps, Executive Director and CEO Josh Bartlome said.
The district initially tried to lease pumps from rental companies.
"You couldn't rent anything because they were all out pumping," Bartlome said.
But to comply with regulations, the landfill had to get rid of the standing water. After buying four pumps from a federal surplus sale in February, it had seven up and running to move the water into a 12-foot-deep retention pond on site.
"We pumped over 7 million gallons away from the landfill in 10 days," Bartlome said. "… I had never seen that retention pond this high."
Standing water was just a part of their troubles. The landfill also had several partial-day closures so staff could get out during times of heavy snow. Water threatened to wash out the main hauling road, and the consistency of other landfill roads made them too dangerous to use for an entire week, Bartlome said.
While most effects from winter storms had been taken care of by late March, some of the extra water was being put to good use.
Leachate ponds at Milner Butte collect moisture that percolates through the landfill — usually from household waste such as discarded detergents, beverages and foods, Bartlome said. Typically, those ponds evaporate quickly in the arid climate.
But this year, precipitation filled those ponds to the point where the liquid should be removed to prepare for spring storms. So Southern Idaho Solid Waste crews began using it for dust control — a recirculation that's permitted but rarely happens.
"We're just pumping some of our leachate out of our leachate ponds and putting it back on the landfill," Bartlome said March 21. "We've been doing it for about a week now."
He estimated the liquid from those ponds could be used for another week, saving the solid waste district from using other water from an on-site tank for its dust suppression.
Although stormwater can slowly seep through the landfill and into the leachate collection system, Bartlome said it was difficult to gauge what effect that might yet have in coming weeks.
After this year's scramble, Southern Idaho Solid Waste also changed its operations policy for dealing with excess water. From now on, it plans to review its operations annually so it can better prepare for such events.
M. Rupert's trouble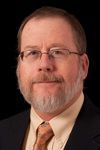 For several years, downtown businessman Charlie Creason has wanted to see Rupert Square get a new fountain and safer sidewalks. But he recognized a much bigger Rupert problem needs his help.
"We realized so many streets have maybe a higher, even more pressing need than that," he said.
The damage multiplied following this winter's sudden snowmelt runoff, which flooded the town.
But Creason didn't lose sight of his original goal, either. He joined a city subcommittee to develop a master plan for the square and help with a bond election going to voters in May.
If approved, the bond issue would fund street repairs needed after this year's storms — and kick-start the square improvements.
"As a private citizen, I'm wholly supportive of the idea," Creason said.
As proposed, the city would borrow nearly $4 million in bonds, to be repaid over 30 years. About 59 percent of the funds would be used to repair roads, stormwater systems and underground systems. Nineteen percent would fund improvements at city facilities, including the Rupert Senior Citizen Center ($70,000) and the Rupert Square ($700,000). Another 22 percent would repair water systems.
Rupert has been falling behind on its infrastructure maintenance — especially roads — for years, City Administrator Kelly Anthon explained. Realizing its mistakes, the city more than doubled its spending on road maintenance over the past five years. Even then, it was still eight years behind on road maintenance.
"Then the storms hit and we had the flooding," Anthon said.
The city's pavement needs went from $1.6 million to an estimated $2.3 million after flooding and other winter damage. At current spending levels — $150,000 to $200,000 annually — it could still take the city 15 years to catch up on paving, Anthon said.
That's not all. When roads are repaved, Anthon said, there is often the need to replace underground structures such as water, wastewater and electric lines. That work would add another $1.4 million to the immediate needs.
"At current spending levels, using only our street maintenance budget, it would take well over 20 years — as much as 25 years — to catch up," he said.
Even if the city got some hoped-for state and federal emergency road money, it would still be about a decade behind.
If the bond issue passes, a homeowner with an assessed property value of $100,000 would pay about $4.79 per month. But low-income individuals eligible for the Circuit Breaker exemption would see no tax increase unless the home is assessed at $150,000 or more.
Rupert residents will vote May 16.
N. Parakeets and barbed wire
As floodwaters in their pasture rose to 6 feet in February, Coreen and James Hart moved their cows to a neighbor's place. But when it was safe for the animals to return, the Harts discovered they had another problem: As the water froze, thawed and receded, it had broken the barbed wire around the cow's enclosure.
"The ice froze the barbed wire fence and snapped it in countless places," Coreen said.
James was still working in late March to repair the broken fences at their property north of Acequia. The cows waited nearby in a smaller enclosure.
But the damaged fence was a much smaller loss than Coreen discovered in her chicken coop: A hundred or so parakeets had all drowned.
"My poor babies are gone," said Coreen, who has raised and sold parakeets for seven years.
While the birds had plenty of perches, she believes they must have thought the 4 feet of water with spilled seed on top was the ground. "They met their maker instead."
At $15 apiece, Coreen figures she lost around $1,500 of parakeets, plus a few chickens.
Coreen hasn't decided whether she will get back into raising parakeets, but she considers herself lucky that her house wasn't damaged.
"The only thing we could claim was the parakeets."
O. The irrigation scramble
Jared Bingham's wife told him she hadn't seen him in two months — and on March 30, the catch-up work was far from over.
Bingham, watermaster for Minidoka Irrigation District, was buried in paperwork, trying to keep up with the estimated $850,000 in extra materials and overtime needed to prepare for the 2017 irrigation season.
"The flooding has us about two weeks behind," he said about the annual preventive maintenance. "We dedicated most of our assets to the flood zone."
A breach in the Minidoka district's Northside Main Canal four miles east of Acequia required five days to fix, plus 135 loads of dirt and 10 loads of rock. And while the canal company planned to bring water into the canal in mid-April, it would need to be at half the usual rate — raising it just 6 inches per hour.
Damage was also spread throughout the company's 500 miles of canals, laterals and drains, with assessments changing daily.
"We've been very busy," General Manager Dan Davidson said. "We've put in a fair amount of overtime not just in repairing the damage, but for our routine spring maintenance."
And there were barriers yet to overcome to accomplish that maintenance. On March 30, equipment operator Evan Overson surveyed the access road to the drain near South Meridian Road and 125 South in Rupert.
The water from an adjacent hayfield flooded the maintenance road, carving out a section of road as it headed toward the major irrigation drain. The road had to be repaired so excavators could clear away silt the floodwaters had carried into the ditch.
That ditch, Bingham said, had been cleaned out two years before. With all that work undone, it would take an estimated 710 hours to redo it.
"We'll still be feeling the effects of this for at least two years from now," he said.
Pump panels that were submerged will also have to be replaced over the year, with pump damage another costly possibility.
While Bingham doesn't expect another event like this spring's runoff in his lifetime, he's taking steps to ensure the next generations have the guidelines for dealing with one. By October, he hopes to have a plan in place to leave certain headgates open during the off-season, allowing water to flow to prevent a future breach.
P. Washed-out gravel roads
Abrahan Maldonado was still behind on his senior project.
It was early April, and the student at Malta's Raft River Jr./Sr. High School had two weeks left to complete his project: constructing a trailer for hauling a four-wheeler. He'd already been busy trying to catch up on more than a week of missed schoolwork due to unusable roads.
"The flooding got so bad, it washed out the roads completely," Abrahan said. "They kept having school, but everyone was so busy putting up sandbags and helping with the floods. I had quite a bit to make up."
He drove his pickup on the flooded roads south of Malta a couple of times, with water almost up to his door. School buses couldn't negotiate some roads, and parents with young children had to try to meet the buses wherever it was safe.
Raft River Highway District ran out of "road closed" signs during February's flooding — it had to borrow some from another highway district and buy more.
"We actually had probably about 60 miles of our roads that were completely washed out," highway district director Scott Hitt said.
That included a main road accessing City of Rocks National Reserve. And the Malta post office couldn't make deliveries to about 20 residents for a couple of weeks, postmistress Laurie Darrington said. By law, the carriers couldn't pass the road-closure signs.
"They had to go slow and see what they could do," she said. "The road crews have been really good at getting the roads passable."
By early April, Raft River Highway District had made temporary repairs to most roads, but two residents still had go to the post office for their mail.
"We shaped (the roads) up the best we could," Hitt said. "We've already used an awful lot of our budget."
The district hired five temporary crew members for six weeks to help with repairs. Hitt estimated total damages were about $2.2 million — 10 times what the district typically spends on a year's maintenance.
"Our regular maintenance on roads is going to be pushed back," he said.
Funding, Hitt said, was in limbo until the district learned whether it would get federal money. In the meantime, crews were working to repair the last 15 miles of washed-out roads — while hoping the rest wouldn't sustain more damage.
"We're still fighting the battle out here."