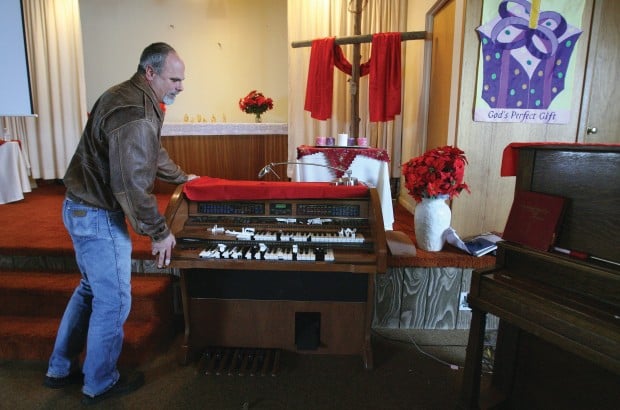 Pastors at the Community Church of the Brethren are praying for whoever vandalized their place of worship.
Small bits of broken glass still littered the floor Wednesday where Pastors Mark and Kathryn Bausman preach. A perpetrator burglarized the Twin Falls church sometime Saturday night or Sunday morning, but that has not slowed the church from holding services.
Marking the church's second unsolved break-in in about six months, the weekend burglary at 461 Filer Ave. W. was a hate crime, according to Kathryn Bausman, because whoever did it was "full of hate."
"No one would do this if they weren't in pain, if they weren't confused or angry," she said. "Jesus died for these people."
An electric organ was destroyed and will cost about $9,000 to replace, said Mark Bausman, whose eyes became teary while explaining that the instrument was donated by the widower of a dedicated organist for the church. Bausman estimated the total damage to the church around $9,500 to $9,600, and insurance will help cover some of the losses.
On Wednesday, the organ's keys were mangled, projecting unnaturally and broken beyond repair, the pastors said. A dent to its back side was left as the apparent remnant of a strong strike.
The damage didn't end there.
Baby Jesus from a Nativity scene was thrown across a room and found in one piece, but a shepherd was broken.
Rooms were also ransacked, children's books were defaced, walls were struck and broken, and a fire extinguisher was sprayed throughout the kitchen and on dishware. A camper on the church property was also burglarized and pungent since blue toilet chemicals were dumped on beds.
Some small items were taken in the latest burglary, according to the Bausmans, including a tool chest, a DVD player and a CD player.
Police have not made an arrest in either case, according to the Bausmans, who say they don't know who is responsible and are satisfied with their service from law enforcement.
But that doesn't mean that the perpetrator should escape justice.
Forgiveness doesn't mean relieving people from the consequences of their actions, according to the pastors. "God loves us enough to let us experience the consequences," said Kathryn Bausman.
It is unclear how many church burglaries there have been so far this year in Twin Falls. City police did not immediately provide answers to questions from the Times-News on Wednesday about the vandalism, or other possible crimes against churches.
For now, more security will be installed at the church. The pastors believe the weekend's unknown intruder or intruders entered through a window.
The church also shares its space with a separate congregation, Iglesias Fundamental Baptist Church, the pastors said.
"We want to show how we can overcome," said Mark Bausman.
About 35 to 40 people usually attend the church's Sunday service, and more security is being installed since the weekend break-in, the pastors confirmed.
"They can break our stuff but they can't break the spirit," Mark Bausman said.
Meanwhile, the church invites the public to attend three live Nativity shows with free hot cocoa at 6 p.m., 7 p.m. and 8 p.m. on Saturday.