TWIN FALLS — Mike McNeill is a six-foot-four, broad-shouldered man in his early fifties with a salt-and-pepper goatee.
He's taking a knee in the grass outside Bridgeview Estates, where he's the maintenance director, talking about what life has been like the past three weeks. Every five minutes or so he apologizes because he has to pause, wipe away tears with one of his big hands and wait a second for the lump in his throat to pass.
"We're fighting an invisible war," McNeill said. "There's just not a damn thing we can do about it."
Bridgeview Estates is one of several long-term care facilities in the Magic Valley where COVID-19 has found its way in. Bridgeview Estates Executive Director Cindy Riedel said as of May 21, Bridgeview had 19 COVID-19-positive residents, three infected residents in the hospital and six residents who have died from the disease. For residents, staff and family members, the past few weeks have been brutal.
Bridgeview staff get to know residents well, and losing one is like losing a family member, McNeill said.
"I've been through a lot," he said, choking up. "But I've never been through this …"
Despite the sorrow, it's the positive moments that stick out in McNeill's mind. There have been many, and he clings to them. He calls them wins, and he says everyone at Bridgeview looks for them constantly. Making someone laugh is a win. So is making someone smile.
Magic Valley long-term care facilities are on lockdown. Only employees are going in or out. Residents, who often struggle to deal with solitude under normal circumstances, have had to cope with new levels of loneliness. Family members can call, video chat or visit through the window, but they say it's not the same.
The past few weeks have led to some of the most profound moments in McNeill's life. He's also seen things he describes as miraculous. One moment has stood out among the rest.
"The hardest thing so far was the horse at the window," he said.
A little while ago, one resident's family came by her window for a visit. But the family didn't just walk up to say hello. The woman's young granddaughter rode a big horse right up to the glass. That gesture overwhelmed McNeil.
"It just blew me away, the extent we're going to try to make the best out of a bad situation," he said. "I had to walk away."
COVID-19 wreaking havoc among the elderly
Hundreds of nursing homes and assisted living facilities across the country have been devastated by COVID-19. According to data collected by the New York Times, a third of all U.S. COVID-19 deaths have been nursing home residents or workers — and the number could be higher.
According to the South Central Public Health District, there have been 66 COVID-19 cases among long-term care facility residents and 60 among employees. Idaho isn't releasing information on which facilities have had cases. South Central Public Health is not sharing information on the number of deaths at facilities.
At least eight of the 19 confirmed and probable COVID-19 deaths in Twin Falls County as of Thursday were at Bridgeview Estates and Canyons Retirement Community.
Long-term care facilities here began locking down and restricting visitation in February and March, before the virus had begun to spread locally.
Whenever a staff member enters a facility they have their temperature taken and are screened for COVID-19 symptoms. They wash their hands. When they leave at the end of their shift, they do it all over again.
But COVID-19 has proven difficult to keep out. Multiple long-term care facility owners told the Times-News that COVID-19 can make its way in no matter how careful you are. Part of the challenge is that many people who get COVID-19 don't show symptoms, and staff at these facilities work in constant physical contact with residents.
COVID-19 got into Canyons Retirement Community more than a month ago, infecting several residents and employees and killing several hospice patients. Troy Bell, owner of Tanabell services — which owns Canyons Retirement Community and Serenity Transitional Care in Twin Falls, said at least two deaths at Canyons are attributable to COVID-19. He also said that Canyons has been COVID-19 free for over 25 days.
"Sometimes screening isn't enough," Bell said. "We can screen all we want. But taking a temperature doesn't always work."
Pandemic loneliness
Even at facilities without COVID-19 cases, the strict quarantine measures have been difficult for residents.
"They're so lonely," said Cathy Lynch, owner and administrator of Cedar Draw Assisted Living in Filer. "To go through Easter and Mother's Day, that's pretty sad without your family."
Carolyn Bolton's mom lives at Serenity Transitional Care, where there haven't been any cases. But she said her mom's mental health is suffering. Knowing that the lockdown and visitation changes are due to a pandemic doesn't ease her sadness.
"Mom feels very much abandoned because family and friends can't visit," Bolton said.
Many long-term care facility owners, and family members of residents, said it's not so much the fear of contracting COVID-19 that's worrying their loved ones right now. It's being cooped up and not being able to see their families in person that is causing the most pain.
"They feel locked in," said Tracy Garwood, who co-owns three assisted living facilities in Buhl. None of Garwood's facilities have had COVID-19 cases. "They feel like they're in jail. They can't have visitors — yes, they can through the window, but it's not the same. A good old hug goes a long way."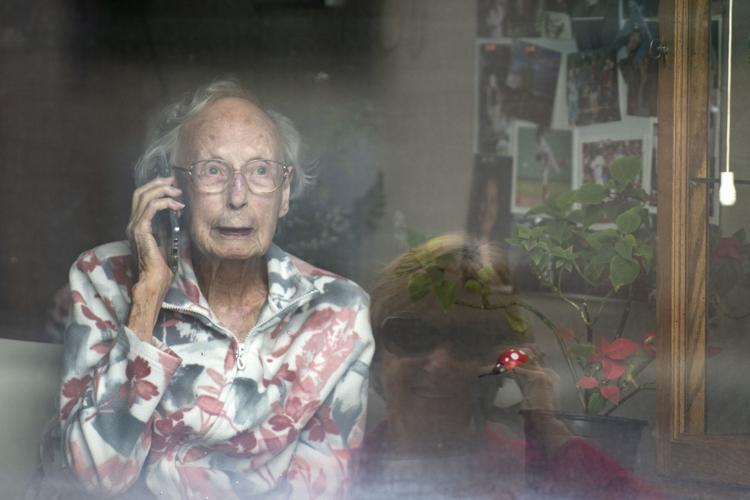 One of Garwood's residents, a woman in her 90s, has gotten her hair done almost every Thursday of her life until now. Losing that weekly routine has been tough.
"To her, that was the whole world," Garwood said.
Katie Neff's mother, Kathy Neff, lives at Creekside Care Center in Jerome, which has not had any cases. Kathy has Alzheimer's, and Katie said her mother's awareness of COVID-19 is limited. But it's still hard not to see her mom every day.
"I know it's really hitting my dad really hard," Katie Neff said. "He'll just sit and look out the window and say, 'Man, I miss my baby.'"
Most of the long-term care facility administrators and staff members the Times-News spoke to said they've been blown away by the community's support. Lynch mentioned the Filer Fire Department lifted everyone's spirits when they came to wash the windows. Many mentioned donations of sewn masks, hand sanitizer and toilet paper. All of that has helped immensely, they said.
Health care workers stepping up
Even in normal times long-term care facility staff go through a lot.
"It's a low-paying job," Lynch said. "You can honestly go work at McDonald's and make more money than what these girls make."
Long-term care facilities have always struggled to find workers. In addition to the low pay and what are often odd hours, the job itself is difficult.
McNeill and Bridgeview Estates nurse and supervisor Heather Kunz both said that staff have been incredible throughout this ordeal. People are often working 12- to 14-hour days. They've continued coming to work, despite the risk.
"Every day I'm astonished by the staff that are still showing up," Kunz said. "They've all gone above and beyond their normal duties."
McNeill said he's been overwhelmed by the resolve and dedication of Bridgeview's nurses and healthcare workers.
"I watched (one nurse) walk out of a room, and she was in tears," McNeill said. "And I walked up to her, and I just said, 'Are you OK?' And she said no. And I looked at her and I said, 'You're a great nurse.' And she said, 'What do you mean?' And I said, 'The fact that you care this much about your patients,' and I said, 'That's a compliment to you and your patients.'"
An hour later the patient in that room died.
After the Times-News spoke with Kunz and McNeill on Thursday, Riedel said no other staff would be made available for comment Friday. Twin Falls Center, which has had three staff members but no residents contract COVID-19, according to Chief Medical Officer Dr. Richard Feifer, would not let the Times-News talk to employees. The Times-News was unable to talk to employees at Canyons Retirement Community in time for this story.
Not enough PPE
Shortages in personal protective equipment throughout the COVID-19 pandemic have been well documented. There have been instances when state governments directly competed with each other to place the highest bid for an order of masks or other gear.
Some Magic Valley nursing home directors and owners said that it's incredibly difficult right now to get the protective gear they need. Lynch said she ordered gowns, goggles and face shields three months ago, but they haven't arrived.
"We've had to beg and borrow," she said.
There isn't enough personal protective equipment for long-term care facilities throughout the country. Facilities have had to do the best they can. Kunz had McNeill buy out a supply of $5 women's dresses at Walmart. He filled up his truck with 111 of them to be used in place of personal protective gowns. Despite that, Riedel said Bridgeview has enough personal protective equipment.
"I've put off most of my work because I'm just trying to find what PPE I can," Bell said. "We're going through hundreds and thousands of maks and gowns and gloves a week, and we can't find them."
Bell said searching for personal protective equipment has been a nightmare. Even when he can find materials to buy — he often can't — the prices have skyrocketed. For example, you used to be able to buy 50 disposable gowns for $25. Now they cost between $7 and $15 each.
Staff members often use multiple gowns when helping one resident with a task. Plus, they have to change their gowns whenever they interact with a different resident. Some facilities have hundreds of residents, so the cost of personal protective equipment can be astronomical. Some facilities have been priced out.
The situation with surgical masks is no better. Before COVID-19, you could buy 50 surgical masks for $3 or $4, Bell said. Now they're selling for $1 or $2 each. And some facilities are running through 600 or 700 masks a day.
Part of the problem is that companies are selling personal protective equipment in bulk for millions of dollars. In many cases, only the biggest facilities and government entities can afford those prices.
Staying strong
McNeill said part of him feels helpless. He sees Bridgeview's nurses doing everything they can to care for ailing residents, and he wishes desperately that he could help, do more.
He's found a way to pitch in: Support videos addressed to Bridgeview staff.
McNeill has been asking many of his friends to send encouraging videos, and he then shares those videos with his coworkers. He has a surgeon friend who has sent one, a pastor, Magic Valley law enforcement and firefighting agencies. As of Thursday, he had nine, and he said they're doing an incredible job of raising the staff's spirits.
One of the videos is from McNeill's friend Miguel Cruz, who served 10 years in the U.S. Marine Corps in Iraq and Afghanistan.
"I know what you guys are going through there at Bridgeview," Cruz says in the video. "It's tough. We get it. We all know. We're thinking about you guys … Keep up that fight. One foot in front of the other."
Cruz says in the video that everyone at Bridgeview will emerge from this experience stronger. They'll look back on the work they're doing these days, days where they've had to deal with death, and they'll be proud of all they did to try to save their residents. McNeill said hearing messages like that are helping everyone get through this. He wants to get as many videos as he can.
"I've gone from being proud to being scared to being anxious, to determined, all wrapped up," McNeill said. "It's been all of that in one moment.
"Wild horses couldn't pull me away."
"These nurses, and these CNAs and these housekeepers, they need people to know how hard they're fighting." 

- Mike McNeill, Bridgeview Estates maintenance director
Concerned about COVID-19?
Sign up now to get the most recent coronavirus headlines and other important local and national news sent to your email inbox daily.