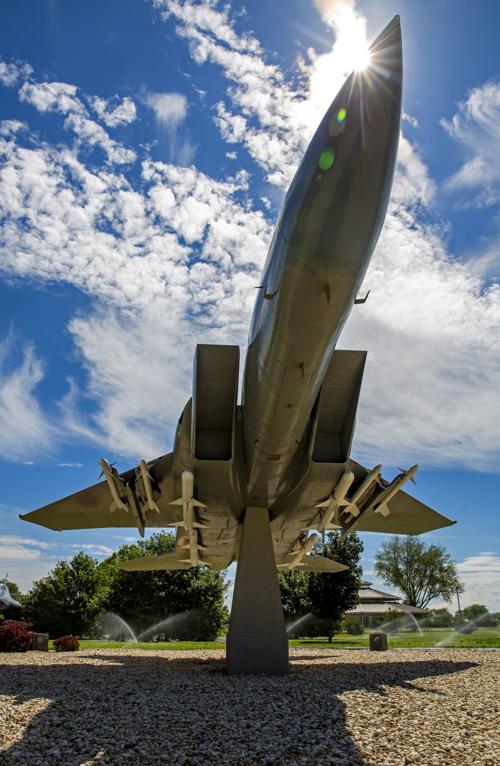 MOUNTAIN HOME — The Air Force wants to lower supersonic flight floors in order to provide pilots with more realistic training opportunities.
Conservationists worry those changes could have negative impacts for wildlife, especially bighorn sheep and sage grouse, that live in the huge area covered by Mountain Home Air Force Base airspace.
"This should be a major, major cause for concern," WildLands Defense Public Lands Director Katie Fite said. "This is happening in some of the most important country anywhere for the protection of wildlife."
The Air Force has started working on a low-level and supersonic flight expansion proposal and is in the development phase of the National Environmental Policy Act process. Public scoping meetings this fall in Boise, Grand View and Mountain Home presented a general expansion plan. A draft Environmental Impact Statement, analyzing the potential impacts of low flights and sonic booms, isn't expected until next winter or spring.
Pilots can already fly low and at supersonic speeds in southern Idaho. But the Air Force says it needs to fly lower in the portions of Mountain Home AFB airspace that lie in northern Nevada and eastern Oregon. There could be changes to airspace in Idaho as well.
"Current flight level restrictions … inhibit aircrew ability to become proficient in low-altitude tactics necessary for survival in a combat environment," the 366th Fighter Wing Public Affairs Office told the Times-News in an email.
Craig Gehrke is the Idaho director of The Wilderness Society. He and Fite were both involved in previous Mountain Home base range expansion battles in the 1990s, and he said that experience makes him worried about the lack of specificity in the Air Force's current proposal. He said he's nervous about what the military is asking for, and how it will impact wildlife and recreation in the Owyhees.
"The Air Force burned through a lot of goodwill trying to expand," Gehrke said. "They would tell you anything last time through. So I'm coming into this extremely jaded."
Flight training at Mountain Home
Mountain Home AFB airspace is massive. It's divided into six military operations areas, called MOAs. The biggest two are in Idaho. Combined, those two stretch east to west from roughly Castleford to the Oregon border, and go from near Glenns Ferry down to Nevada border.
The Air Force doesn't train in the Idaho MOAs the same way it trains in the Oregon and Nevada ones. In Idaho, pilots can fly as low as 100 feet above the ground and can break the speed of sound above 10,000 feet. In the other MOAs, those numbers jump to 3,000 feet above the ground (or 10,000 feet above sea level) and 30,000 feet above sea level for supersonic.
No supersonic flights are permitted above the Duck Valley Indian Reservation, which straddles the Idaho-Nevada border.
Many government agencies and private stakeholders fought over those flight floors back in the late 1990s. The final numbers represent years of debate and legal battles.
Gehrke was part of the lawsuit that influenced the final altitude parameters.
He said that, in theory, it could be legally difficult for the Air Force to make changes to the 1999 settlement. The Air Force would possibly have to approach the plaintiffs in order to alter flight floors.
In a written response to the Times-News, the 366th Fighter Wing Public Affairs Office said that current flight level restrictions "prohibit realistic training."
But there are still questions as to what the Air Force is asking to change, and what areas might be exempt from lower altitude flights.
Fite and Gehrke both said that low and loud flights over designated wilderness areas would be especially detrimental. Fite said she's worried about fighter jets flying in canyons, and Gehrke noted it's critical that existing seasonal flight restrictions in southern Idaho bighorn sheep habitat be protected.
The 366th Fighter Wing Public Affairs Office said more specific information about the proposal will be in the draft Environmental Impact Statement, which will come out in early 2021.
But the 366th Fighter Wing Public Affairs Office said that it would like to allow aircrews to train at supersonic speeds starting at 5,000 feet — half the height currently allowed in the Idaho MOAs. The 366th also said that "consistent, low-altitude flight levels at or below 500 feet" and supersonic training at 5,000 feet above the ground "would ensure aircrew readiness and survivability in real-world combat situations."
The Air Force says training lower in northern Nevada and eastern Oregon will give pilots the opportunity to work on low, evasive maneuvers, and practice terrain masking in mountainous areas. Terrain masking is when an aircraft keeps low enough to avoid radar detection, or flies near mountains, canyons or ridges to stymie radar.
"Because of the mountainous terrain and minimal obstructions underlying portions of the Mountain Home Air Force Base airspace, it could be optimized to provide a critical training environment," the 366th Fighter Wing Public Affairs Office said.
Big deal for bighorns?
The Owyhees make up some of the most remote land in the lower 48. That remoteness helps make it excellent habitat for several species.
But sonic booms and low flights could stress sensitive animals such as bighorn sheep and sage grouse.
"We know noise affects wildlife," Fite said.
Bighorn sheep were reintroduced into the Owyhees in the 1960s. The animals flourished, and their numbers grew so well that hundreds of the animals were transported to other locations — including the South Hills in the Magic Valley — in an effort to return sheep to historic ranges.
Bighorn sheep might be especially susceptible to loud noises. It's possible that booms cause the animals chronic stress, or push them to lower quality habitat. When startled, the animals expend more energy, which, for a sheep, can be significantly detrimental.
Fite said the flight restrictions above the Duck Valley Indian Reservation show the noise level that humans are willing to tolerate — and sheep are probably more sensitive to noise than people.
Idaho Fish and Game Regional Wildlife Biologist Rachel Curtis said there isn't much good data on how bighorn sheep respond to loud noises. There have only been a few studies, mostly back in the 1980s and 1990s, and Curtis said most of those had holes in their research.
Studying the impacts on the Owyhee populations would be incredibly difficult.
Because of the lack of data, Curtis said it's difficult to assess how existing low-level and supersonic flights affect the Owyhee bighorns.
"For me, as a biologist, I'm not sure either way," Curtis said. "There's a lot we don't know."
New opposition
Gehrke pointed out that public perception of the Owyhees has changed dramatically in the last 20 years. Few people used to raft or travel down the rivers in the summer. Not many people braved the bad roads, studded with sharp rocks, to get into the country for hiking or mountain biking.
"The mistake the Air Force made last time was to assume the Owyhees was some empty landscape, that nobody was really down there," Gehrke said. "It's become a place that people care about very deeply."
Fite said the military continues to ask for expansions at Mountain Home, gradually expanding its footprint again and again. She'd like to see overflight noise reduced, rather than increased, and emphasized that the upcoming EIS must include thorough analysis of impacts on wildlife. There needs to be a study to analyze existing noise in the Owyhees, she said.
She's also frustrated that the Air Force proposal doesn't provide more specific information because it limits the public's ability to provide meaningful comments.
Gehrke reiterated that he's deeply concerned, and that he worries these changes will hurt a special, wild place.
"I do assume the worst," he said. "How many times do we go to the well here in Idaho and create conflict with what makes the state special?"