TWIN FALLS — A few years ago, Carole Malone's tremors and spasms became so intense she could barely move.
The Twin Falls resident, who has had Parkinson's disease for 30 years, used to wear a helmet in case she banged her head against a wall. But now, less than two months after having deep brain stimulation surgery, her symptoms have significantly improved.
"I'm still in awe," Malone said Wednesday while sitting at a table at O'Dunken's Draught House in downtown Twin Falls. It has definitely been life-changing, said her sister Bev O'Connor, who owns the pub.
It's a good medical advancement, said Dr. John Rolston, director of functional neurosurgery at University of Utah Health. "The results have been fantastic. All three patients are much improved since before the surgery."
DBS has been used since the late 1980s as a surgical therapy for movement disorders — mainly Parkinson's, but also dystonia and essential tremor, Rolston said.
Parkinson's is a degenerative central nervous system disorder that affects movement and can cause other problems such as depression. It happens as a result of nerve cells breaking down or dying in a person's brain.
The new technology is amazing and it's the first new DBS upgrade in about 20 years, said Dr. Saulena Shafer, who works with movement disorder patients at the University of Utah. "It's really revolutionized the system."
The new electrode allows for proper tremor and movement control, Shafer said, without electricity hitting other areas of the brain and causing side effects.
Under the new technology, the electrode has eight metal contacts — up from four in traditional DBS systems. In order to get good control under older systems, "you can actually stop people from talking, depending on how much electricity you use," Shafer said.
It meant patients were sometimes left to make a difficult choice — either being able to move or talk. "They don't have to do that anymore," she said.
So how is the surgery performed? A small, thin electrode about the thickness of a piece of spaghetti is implanted into parts of the brain such as the thalamus or basal ganglia, Rolston said.
For those with Parkinson's, it makes an immediate impact on the tremors they experience, he said. "It can basically stop the tremor when the electrode is on."
It can also equate to giving patients five or six more meaningful hours of time each day, he said, when they were previously immobile or held back by the disease.
Tremors typically only respond to medication about 50 percent of the time, Shafer said. "The DBS will handle the tremor better than anything else we have technology-wise."
'She's never given up'
Malone moved to Twin Falls two years ago from Alameda, Calif., near San Francisco, where she'd spent her entire life. She worked as a city bus driver for 10 years, which she described as stressful — not because of the traffic, but because of the people.
After her Parkinson's symptoms intensified, "my sister brought me here," Malone said. "She came and got me."
Here in Twin Falls, she saw Dr. Richard Hammond — a neurologist at St. Luke's Magic Valley Medical Center — who asked if she'd considered DBS.
Malone and O'Connor had heard about the surgery. They attend Parkinson's support group meetings in Jerome and had met a woman who'd gone through it.
Hammond suggested calling the University of Utah and being persistent, O'Connor said. She and Malone called every Monday and about a year later in June 2017, Malone had her first visit to see if she'd be a good candidate for DBS.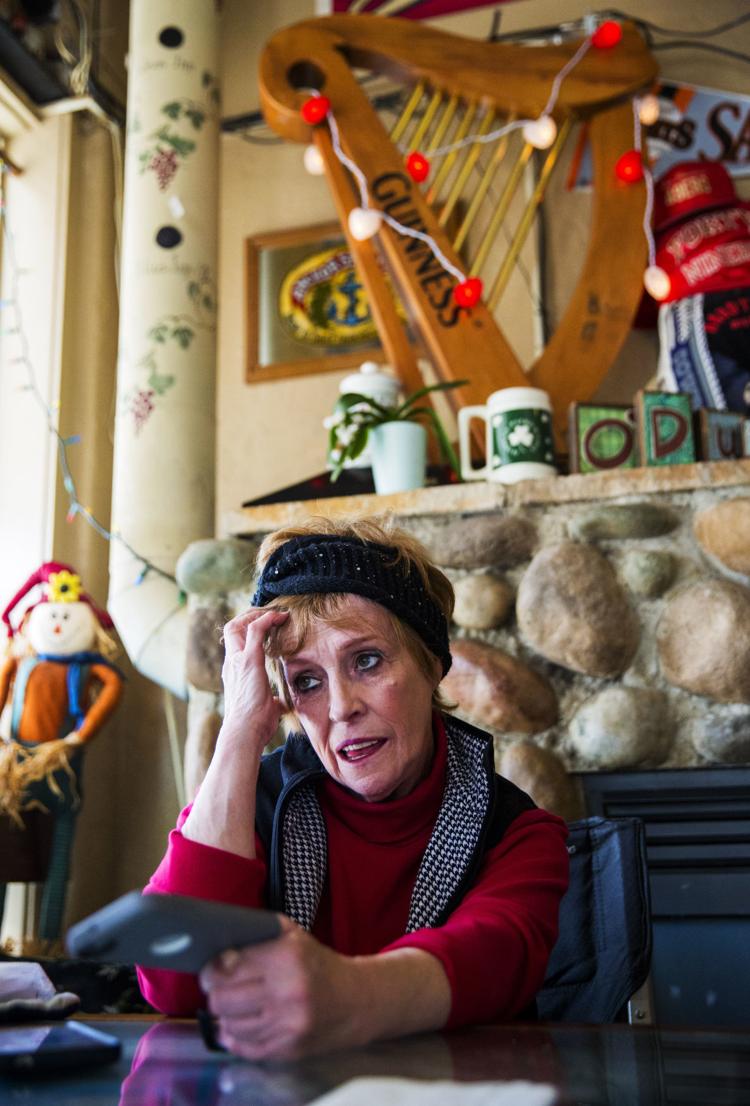 Malone underwent surgery Feb. 19 and spent one night in the hospital before heading home to Twin Falls. Two weeks later, she returned to Salt Lake City to get a pulse generator implanted and it was turned on about three weeks after that.
"It was a lot more simple than we anticipated," O'Connor said.
You have free articles remaining.
Now, she hopes to reach out to people who have Parkinson's — including through her local support group — who don't know about the surgery.
Despite medical challenges, O'Connor said her sister stays active. "She's never given up. She's never given into it. She's fought it."
Malone volunteers at O'Dunken's, helping with tasks such as handing out menus to customers. She wears a special badge with a message telling people to be nice to her because she's a volunteer.
Malone said customers were praying for her. "All the customers want to know what's going on," O'Connor said.
Malone is among three sisters working at O'Dunken's. When she's having a challenging day and her siblings tell her she should take a nap, she pushes back.
"No, I don't take naps," she said Wednesday.
After brain surgery, the recovery has gone smoothly, Malone said. "I almost forgot I had Parkinson's."
The surgery
There aren't many hospitals in the Intermountain West that perform deep brain stimulation. It's not offered at any Magic Valley hospitals but is at St. Luke's Boise Medical Center. The hospital implants Medtronic systems in two to four patients each month.
The surgery is performed either while the patient is awake for parts of the procedure to interact with the surgical team or the newer asleep method — which Malone opted for — under general anesthesia and using an MRI scanner.
The surgery takes about half a day and patients stay overnight in the hospital.
Later, they undergo an outpatient surgery to have a pulse generator for the electrode — which Rolston described as a "brain pacemaker" — implanted under their collarbone.
The new system uses wireless controls and the patient has an iPod touch-like system they can use to change the range of electrical stimulation a little.
Most patients leave the device on 24/7, but some turn it off when they go to sleep when they're not as troubled by their symptoms.
On Wednesday at O'Dunken's, Malone pulled back her thick fuzzy black headband to reveal a surgical scar on top of her head.
Holding her pulse generator control system in one hand, she said: "It's connecting to where the generator is in my chest." She can tap a plus or minus button to control the level of electrical stimulation and adjust it for one side of her body or the other.
After she finished demonstrating how it works, Malone put the device back into a plastic pouch and then into a denim bag with the phrase "Contents: my life" on the front.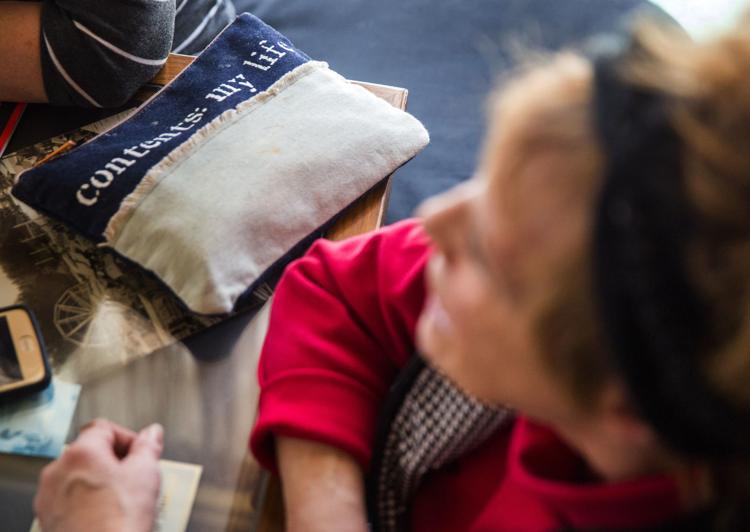 Malone and O'Connor were slated to return Thursday to the University of Utah for the final pulse generator programming to turn it on all the way. Malone was using a lower level of electrical stimulation before that while her brain was healing from the surgery.
The sisters refer to the stimulation as "zapping," and it's something they joke about together. But on a serious note, everyone around Malone has seen the improvement, O'Connor said.
Recently, O'Connor received a text message from her sister saying she was going to take a shower and would meet her in 30 minutes. That was unheard of before the surgery.
It used to take Malone two hours — or sometimes, much longer — just to get dressed, because of the intensity of her tremors.
"Things like that are life-changing for Parkinson's," O'Connor said.
And when Malone helps at O'Dunken's now, there's a fun perk: Her hands are steady enough to pour her own beer.
*Editor's note: This story was updated April 6 to correct the date the U.S. Food and Drug Administration approved Abbott's Infinity DBS System.