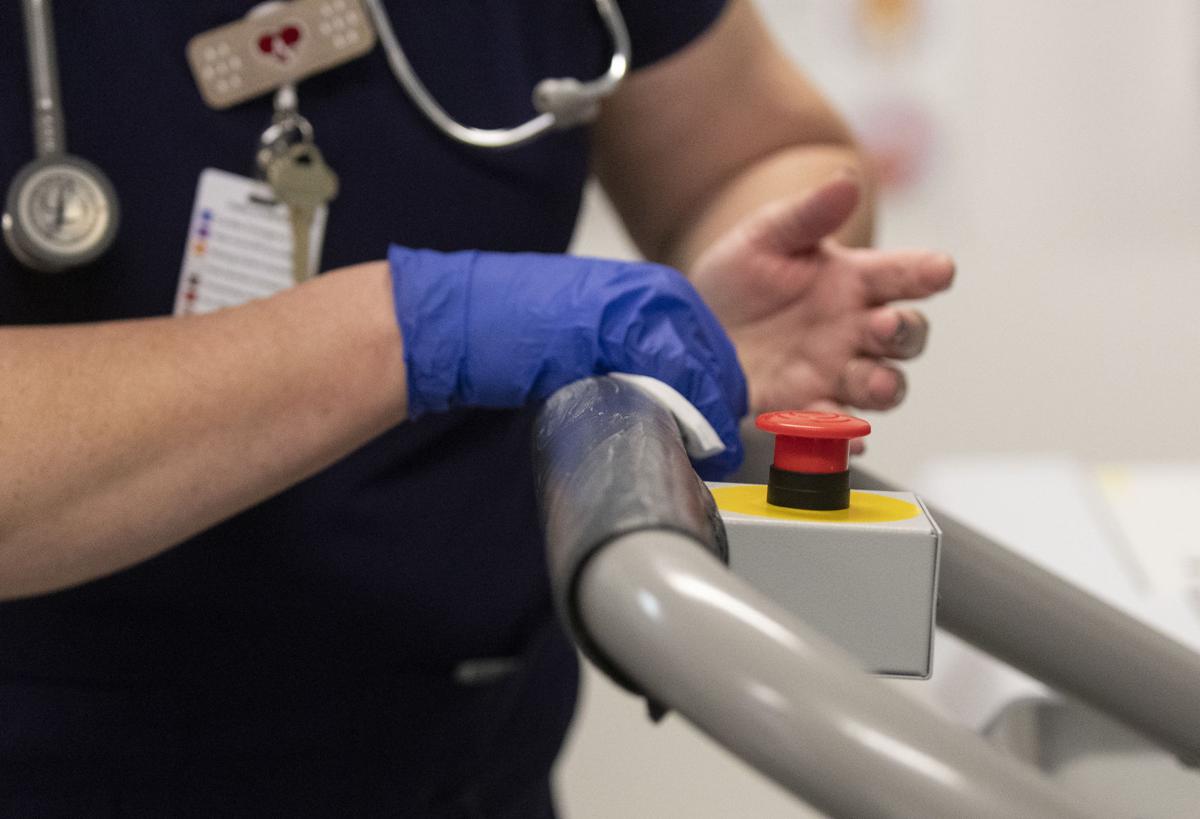 TWIN FALLS — Idaho hospital officials were weary but firm Thursday as they described what "crisis standard of care" means for patients across the state.
The state announced that hospitals were at crisis levels of care, which is when resources like ICU beds are allotted to patients most likely to survive, and in dire cases, patients are given pain relief and other palliative care as they die.
The latest COVID surge comes on top of pent up demand for medical care from last year and communities that are no longer rallying against the virus as they did last December, St. Luke's Health System president and CEO Chris Roth said.
"We are being absolutely crushed by COVID," he said during a video conference with media from across the state.
Although hospitals have done everything they can over the last 20 months to avoid this situation, rampant misinformation and insufficient vaccination rates has led the St. Luke's Health System and other hospitals to face rationing care.
"The net is gone," said St. Luke's Chief Physician Executive Dr. Jim Souza. "People will fall from the wire."
Health officials point out that the crisis could have been prevented if people would get vaccinated.
"Our local hospitals have been under incredible stress for too long because of the surge in COVID-19 cases. We're now at the point providers will have to decide who gets treatment and who has to wait," South Central Public Health District Director Melody Bowyer said in a statement. "We don't have to be here. We can fight back this disease, lessen the strain on our hospitals, and protect lives if we all choose to get vaccinated as soon as possible. In addition to choosing actions that will slow the spread of disease, now is also an important time to avoid activities that may land you in the hospital."
Anyone in Idaho who wants a free COVID vaccine can visit covidvaccine.idaho.gov to learn more and schedule an appointment. People in south-central Idaho can also call 208-737-1138 from 8 a.m. to 5 p.m. on weekdays.
"If you're eligible for COVID-19 vaccination and not yet vaccinated, please do so! That is your best protection. Those unvaccinated are 11 times more likely to die from the disease," Regional Board of Health Medical Consultant Dr. Keith Davis said in the statement. "If you've had COVID-19 but aren't yet vaccinated, ask your care provider for guidance and refer to the CDC for the latest evidence-based clinical recommendations."
Souza described the conditions in St. Luke's hospitals. Surgical procedures that aren't immediately necessary have stopped, including some surgeries to remove breast cancer and other cancers from patients.
While this policy may only last a few weeks, for patients, it's an eternity.
"When you get a cancer diagnosis don't you want it out yesterday?" Souza said.
Some patients are put on prolonged bag ventilation, meaning medical staff manually pump a bag for hours in some cases while waiting to be transferred.
Vital sign monitoring has also been reduced, he said.
St. Luke's Chief Operating Officer Sandee Gehrke said the stress and strain on health care workers is "heartbreaking."
And, on Thursday, 400 employees system-wide were off work due to COVID, she said.
St. Luke's Magic Valley Medical Center has three overflow COVID units and is looking to expand to four, she said. Additional space has been made in surgical, pre-op and post-op units.
"Additional overflow areas we open mean patients are being taken care of on stretchers," she said, which can add additional risks.
In Boise, St. Luke's has set up additional morgue space to deal with the large number of dead.
"It's bad today. It's going to get much worse," said Dr. Steven Nemerson, chief medical officer with Saint Alphonsus Health System. "I am scared. I'm scared for all of us."
Nemerson said no one has been removed from life support to make room for another patient, yet.
"If we continue on this path it will happen" he said.
Nemerson urged the public to not get caught up in data and emotion so much that they don't see the dire problem in the community or don't come in for care they need.
"Half the country doesn't trust the greatest health care system ever created on earth," he lamented.
Souza agreed, saying he doesn't blame the misinformed, but those who misinform them.
In a separate interview with the Times-News, Cassia Regional Hospital Administrator Ben Smalley said the statewide crisis standards of care announcement doesn't mean that every hospital will immediately begin using crisis standards.
Cassia Regional will only begin using the standards if the hospital becomes overwhelmed.
But, he said, the statewide expansion of crisis standards of care means the hospital can move into crisis standards without further state approval if needed.
Rural hospitals have been at capacity several times in the last few weeks.
"It brings a hyper focus to being ready for that worst case scenario," Smalley said.
Many of the sickest patients at Cassia Regional are transferred to larger hospitals around the state and Utah, he said.
"There is an amount of concern that those hospitals may become so full they can't accept those transfers anymore," Smalley said.
If people come to the emergency room with COVID-19, after a car crash or when they are having a heart attack, he said, those patients will still be taken care of but their needs may be prioritized and the hospital might not be able to provide the same standard of care that it normally would.
"But it doesn't mean no care," Smalley said.
A patient may find that a hospital bed is not available or it is in a repurposed room or needed equipment is not available or they may be moved to another hospital.
Idaho hospital officials are working together to level out the patient loads between hospitals, he said.
Each day at 10 a.m. hospital leaders talk about their patient loads, he said.
A hospital with an open ICU bed may accept a critically ill patient from another hospital and transfer a patient with less critical needs to that hospital.
"We are trying to help each other," Smalley said.
The surge in COVID-19 cases does not just affect those with the virus, it also impacts people with emergency medical needs and those requiring elective surgeries.
To date, the hospital has not suspended all elective surgeries, but it may have to in the future.
"It's impacting people's quality of life," he said. "At this point we have limited resources and it's a problem."
Last year, Smalley said, they held out hope that if they could get the vaccine out to people it would relieve some pressure from the overwhelmed hospitals.
"It never crossed my mind that people would actually refuse to get vaccinated," he said. Often people are basing that decision on misinformation.
In the state between May 15 and Sept. 11, 91.1% of COVID patients requiring hospitalization were unvaccinated, according to the Idaho Department of Health and Welfare.
The hospital is seeing record numbers coming in for testing, and seeing a 30-40% positive rate. In 10-15 days, that means many more people will be admitted to the hospital, he said.
Minidoka Memorial Hospital CEO Tom Murphy said his hospital has been "on and off" capacity for the past several weeks, he told the Times-News.
Last year Minidoka Memorial commandeered an unused nursing home wing at the hospital and expanded its swing beds by eight, bringing the number of hospital beds to 25.
"Our inpatient volumes are greater than they were last year," Murphy said. "We are so far beyond that first wave, it's far more serious now."
They are examining ways to further increase the bed count by another three to four beds, and are leaving no stone unturned, he said. The hospital also has a last-resort plan to set up cots in spaces like cafeterias, if necessary.
"We're not long from having to set up those cots," he said on Thursday's media call.
For about three weeks, Idaho hospital officials have been working together over the phone each day.
In one instance, Minidoka Memorial had a coronavirus patient that needed to be intubated and the hospital traded that patient with a less critically ill patient from Portneuf Medical Center.
Murphy said if other hospitals can't accept patients from them and they reach an overload point, the decision will be made to move into crisis standards of care.
When a hospital shifts into crisis standards, Murphy said, it allows the hospital to assign more patients to each nurse and abbreviate the required documentation so nurses can spend more time bedside.
In worst case scenarios, Murphy said, the highest levels of medical care may be suspended for patients who are "deemed too far over the threshold to recover."
If Minidoka Memorial reaches crisis status and care has to be "rationed," decisions about who will receive what treatments will be made by a team that will include multiple physicians, Murphy said.
Generally people become doctors because they are compassionate, and they want to help people, he said.
"No physician wants to make that decision," he said.
But many Idaho hospitals are quickly approaching that level.
"It's very sobering right now," Murphy said.
Minidoka Memorial Hospital Chief Nursing Officer Sara Zielinski said the daily calls with other hospital officials highlights their critical status.
"When you listen to people from the larger hospitals on that call you can hear that people are tense and emotional," Zielinski said. "You can hear their voices cracking."
Murphy said on Thursday's video conference that he hopes communities will rally together to beat this wave of the virus.
"It's time to trust physicians we've known for years and trust hospitals that have been taking care of us for years," he said.
Toward the end of the call, Murphey held his hand up to just below his eyes.
"We're doing OK," he said. "The water line is right here."