TWIN FALLS — Melissa Barry knows that waterfalls are an easy sell when it comes to attracting tourists.
In early 2017, large amounts of snowmelt inundated Idaho's streams and rivers, bringing these scenic attractions alive in a rare way. Shoshone Falls roared over the 212-foot ledge, peaking in mid-April at 22,000 cubic-feet-per-second. The news went viral, and waterfall tourism spiked.
As visitation dropped off during the cold winter months, Barry — the director of Southern Idaho Tourism — came up with an idea to bring everyone back. After all, who could resist the idea of Shoshone Falls lit up at night with multicolored lights and a nifty laser show?
The City Council last week approved her proposal for Lights & Lasers at Shoshone Falls, scheduled May 17 to 19.
"This is kind of building on that momentum," Barry said. "I'm going to make sure it's a high level of professionalism, and it'll be a great event."
The event will include family-oriented vendors, food trucks, a medical station and lost child booth, and a 20- to 25-minute light and laser show choreographed to music. The lights and lasers will bounce off the falls and the crowd and can include pictures and animation, she said. Barry had initially hoped to do the event around Christmas, but icy roads made it a hazard.
Tickets are available at visitsouthidaho.com — general admission is $12, children 12 and younger cost $6 and children 5 and younger can come for free. Limited platform viewing costs $50 per seat. But hurry and get your tickets, soon: Two days after the event was posted to Facebook, more than 7,000 people said they were interested.
Buses will shuttle people each of the three nights from the River Christian Fellowship Church, 4002 North, 3300 East, beginning at 8 p.m. The show will begin at full dark, likely around 9:45 p.m.
Can't make it to the light show? There are still plenty of opportunities to see southern Idaho's waterfalls in all of their glory. Here's a list of Barry's nine must-see waterfalls in the area:
1. Shoshone Falls
Why you should go: This one is ranked No. 1, naturally — it would be blasphemy not to include it, Barry said.
"It has a presence," she said. "You walk up to it and it's just bigger than life."
Shoshone Falls is the pinnacle of all other waterfalls in the area — so much so that it's been nicknamed "Niagara of the West."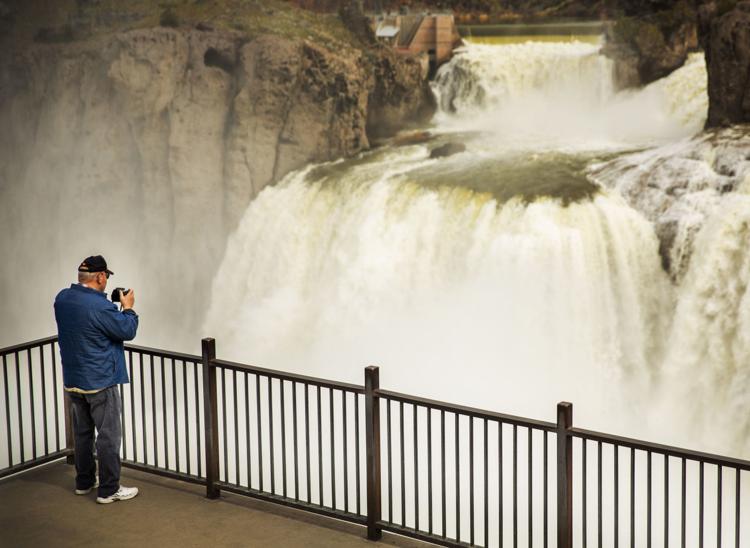 When you should go: The best time, in Barry's opinion, is in the evening as the sun is setting and orange and pink reflect on the water.
As of Thursday, Shoshone Falls was flowing at about 15,000 cfs.
"That's probably going to last at least through the end of April," Idaho Power Co. spokesman Brad Bowlin said.
The park is open from 7 a.m. to dusk.
Cost: There is a $3 vehicle fee ($25 seasonal pass) to park down there, but you can walk if you choose.
How to get there: Head east on Falls Avenue East and turn left at 3300 East. Stay on the road that leads into the canyon.
2. Cauldron Linn
Why you should go: The sheer sight of it, of course.
"It almost makes you dizzy," Barry said. "It's an insane amount of power."
And if it's running over 10,000 cfs, it's common to see extreme whitewater kayakers going over the falls, she said.
When you should go: Barry recommends you try to go by June, if you haven't gone already. After that, there may not be much water to see. The time of day doesn't matter as much here.
How to get there: Drivers can take U.S. 30 to Murtaugh. At the far northeast corner of town, follow 3425 North to the Murtaugh Bridge over the Snake River. In Jerome County, the road becomes 1900 East. Follow the road out of the canyon for about a mile. You will see a BLM sign pointing to Caldron Linn at the first gravel road to the right. Drive 1 mile east on 1475 South to 2000 East, then turn right and go south to the canyon's edge.
You can park and walk into the canyon from there, or you can drive if the road is passable, but stop at the rim first to check the condition of the road before continuing into the canyon.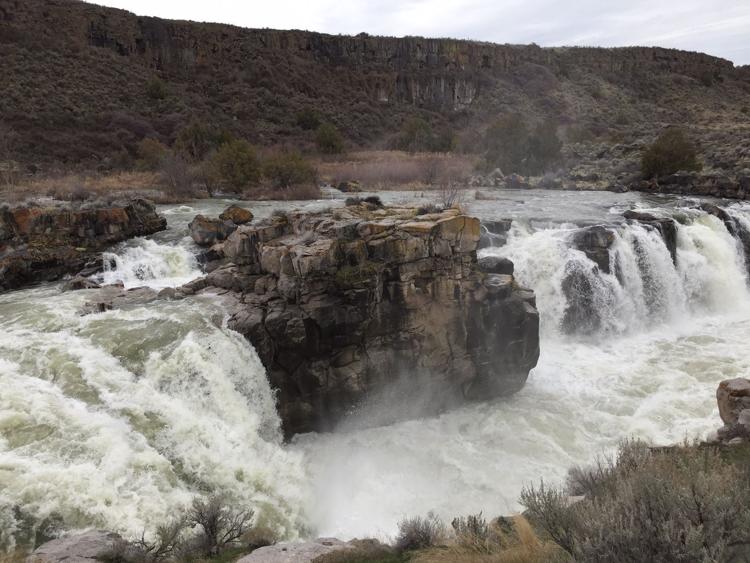 Barry recommends bringing a high-clearance vehicle to tackle the terrain — and prepare to do some walking. You will also need to watch young children carefully because there are no safety fences.
The easiest way to get directions if you're unclear is to ask one of the businesses in Murtaugh, Barry said.
3. Malad Gorge
Why you should go: This waterfall has a significant drop, and you can stand on a footbridge right above it, Barry said. There is also a park, visitor center and hiking nearby. Barry warns against trying to whitewater kayak here because it has been known to crack people's kayaks.
When you should go: Spring is the best time to see these falls, Barry said.
Cost: There is a $5 vehicle admissions fee into any unit of the Thousand Springs State Park. A $10 annual Idaho State Parks Passport will get you in all the state's parks for free for a year.
How to get there: If you're on Interstate 84, take Exit 147 at Tuttle. Signage will point to west on 2350 South and north on Ritchie Road to the Malad Gorge unit of the Thousand Springs State Park.
4. Minnie Miller Springs
Why you should go: It's a neat view because of nearby Ritter Island and a cattle farm, Barry said. Not to mention the spring-fed, crystal clear water surrounded by moss. There are also nearby hiking trails and boat tours offered by 1000 Springs Boat Tours.
When you should go: Barry doesn't notice the flows changing much here year-round. But she recommends going in the morning when you'll see more wildlife, especially birds.
How to get there: Thousand Springs State Park Ranger Eric Whittekiend said if you take Exit 155 from Interstate 84, you should turn left toward Hagerman. After about 3 miles, turn left onto South 1500 East. Follow the brown wooden signs toward Ritter Island.
The island is technically not open until Memorial Day, Whittekiend said, but it is open at times in good weather. If the gate is open, park at the Idaho Power parking lot and walk across the island. You can also see the springs from the gate, or from Highway 30 at the Thousand Springs Resort, he said.
5. Niagara Springs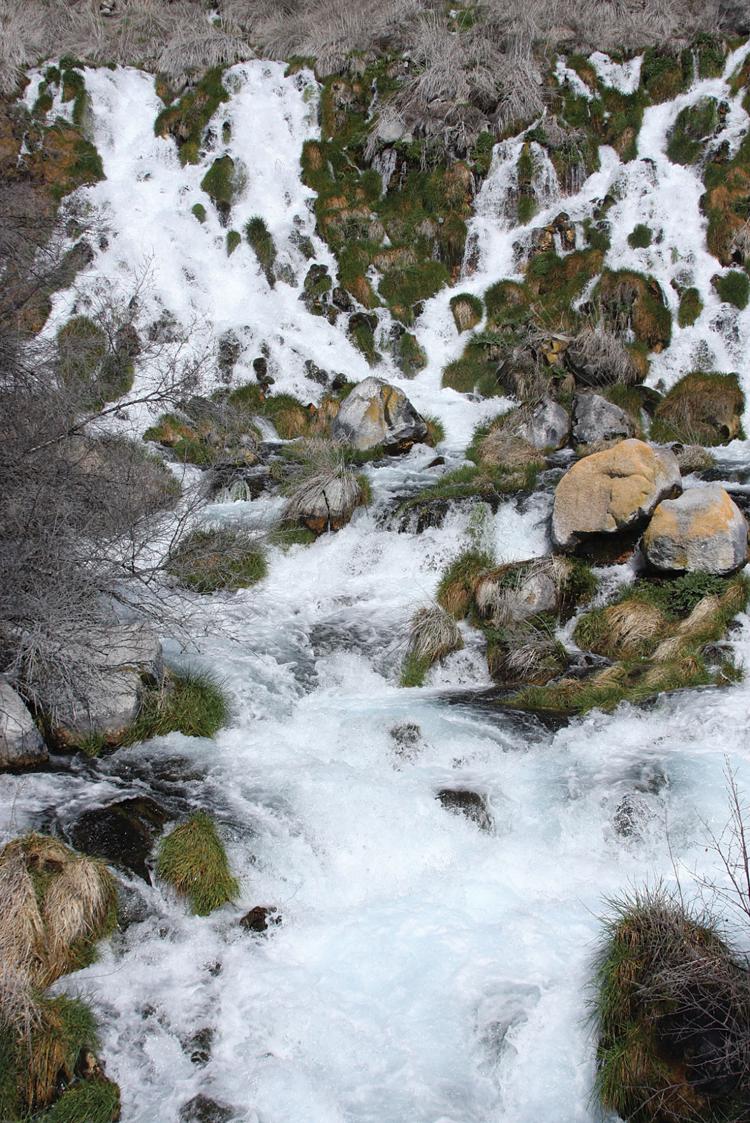 Why you should go: "It kind of almost spider-webs down the canyon," Barry said. There's also a lot of greenery around the falls, and visitors can go fishing and picnic nearby. Vehicles can drive right up to the falls and park on the side of the road, she said.
When you should go: This one is good to view year-round, Barry said, and at any time of day. But if you want to fish, go early.
Cost: There is a $5 vehicle fee for parking.
How to get there: Take Exit 157 from Interstate 84. Turn south, away from Wendell, on the Rex Leland Highway. After about 5 miles, there will be a big curve in the road and you'll want to follow signs to the left, then immediately to the right, Whittekiend said.
Southern Idaho Tourism notes that the road to the springs is narrow and steep.
6. Twin Falls
Why you should go: If nothing else, you should go because the falls is Twin Falls' namesake, Barry said. But there's also a nice park nearby run by Idaho Power Co. with boat docks and hiking trails, restrooms, barbecue stands and picnic tables. Idaho Power has started to allow people to reserve the picnic shelter online.
The waterfall itself isn't the most picturesque, in her opinion, and unlike its name, there is just one falls there now. It's currently running about 10,000 cfs, with 5,000 cfs being diverted through the power plant, Bowlin said.
Visitation here has increased as the population has grown and the economy has improved, Bowlin said. The park is also the take-out point for the Murtaugh Reach.
When you should go: This park is open year-round and has plenty of shade for midday visitors. Barry thinks sunset is the best time of day for viewing. March through early June is recommended.
How to get there: The turnoff for this is pretty much a straight shot from that to Shoshone Falls. From town, take Falls Avenue East until you reach North 3500 East and turn north.
7. Auger Falls
Why you should go: This is a different kind of falls than you're used to expecting, but Barry says it's still a sight to see.
"It's not a plunging waterfall, it's more of a cascading waterfall," she said.
When you should go: Auger Falls is good to see in either high water or low water, Barry said. However, she notes that summertime is hot down there as there isn't a lot of shade.
How to get there: From Blue Lakes Boulevard North at the north end of Twin Falls, turn west onto Canyon Springs Road and take it down into the Snake River Canyon. At the road's end, you'll find a trailhead parking lot at the park gate. From there, you will need to hike or bike into the falls.
8. Perrine Coulee waterfall
Why you should go: The dramatic plunging factor over the side of the canyon makes this an iconic waterfall to see, Barry said. You can also get a view of the I.B. Perrine Bridge, and take a trail and go right behind the waterfall.
"You really can't beat that setting," she said.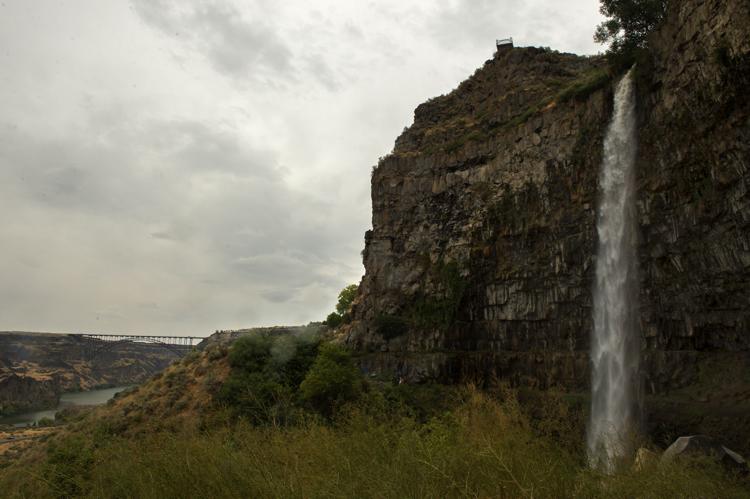 When you should go: Barry thinks this waterfall is good year-round. But she doesn't recommend going first thing in the morning, as you'll likely encounter a lot of pedestrians on the roadway.
How to get there: Take Canyon Springs Road into the Snake River Canyon and look to your left. There is a pullout area on the shoulder of the road but watch for pedestrians and other vehicles. Barry suggests pulling over on your way back up the grade versus on the trip down.
9. Ross Falls
Why you should go: The scenery here is beautiful with mossy ferns and a nearby stream and bridge, Barry said.
When you should go: Spring is the best time to go, but summer isn't bad, either. Any time of day is fine.
How to get there: If you are headed to Magic Mountain Ski Resort on Rock Creek Road, the trailhead is 2 miles north of the resort. While there is a turnout area for parking, visitors will have to hike 10 to 15 minutes to see the falls.
"People of all ages can do it," she said. "It's a fun, family-friendly hike."