TWIN FALLS — As Lisa Gibson strolls through aisles of the Habitat for Humanity ReStore, she stops as she approaches one of her volunteers.
"Are you doing okay?" Gibson asks, holding firm eye contact with the young man who could pass for a high school-aged kid. "Are you taking vitamins? You really need to take vitamins."
Gibson is the store manager at Habitat for Humanity, a charity that secures housing opportunities and funding for individuals and families who otherwise would not be able to buy a home. The ReStore, which sits next to the charity's office building on Eastland Drive, functions as cross between a thrift store and a Home Depot.
Gibson welcomes any and every household item, from lightbulbs to bathroom sinks, from baseboards to front doors. Some items that she cannot legally sell for sanitary reasons, like washing machines, are given away based on need.
"What one perceives as junk, another perceives as treasure," Gibson said.
Habitat for Humanity, like most charities in south-central Idaho, are in the business of turning around unfortunate circumstances, and turning junk into treasure. Those charities tend to receive more donations around the holiday season, but plenty of challenges remain for nonprofits.
'We're going to have an epidemic'
Jeanette Roe was scrambling. Then again, she's usually scrambling. Such is the life of a nonprofit director.
On Nov. 9, Roe was waiting to see if the Twin Falls Senior Center would receive a $20,000 grant. In a span of 30 minutes, four separate visitors and a nurse popped into her office. The final visitor offered good news. She got one of Roe's clients back on his medicine after a period of extended confusion.
"He gets confused so easily," Roe said. "He's just lonely."
After a brief moment of good news appreciation, she was back to scrambling.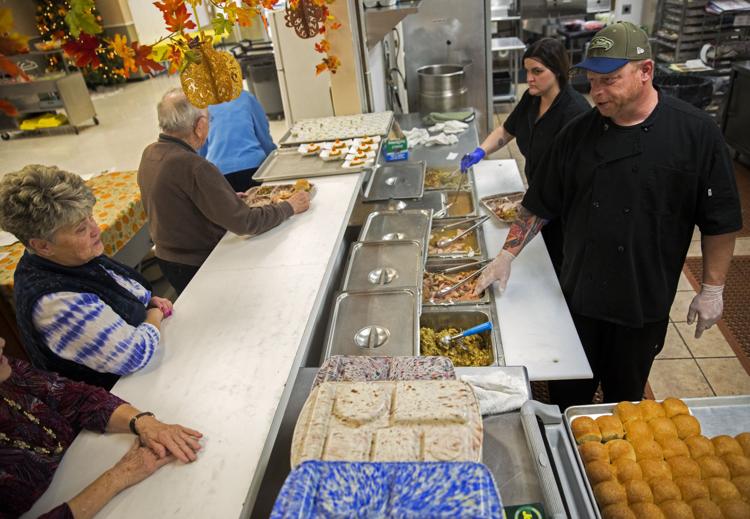 Roe is in her sixth year as the site/financial director at the senior center. The charity's Thanksgiving dinner was seven days away — one full week before actual Thanksgiving Day — and her list of duties seemingly never ends.
One of those duties is informing people about what the senior center actually does.
"As much as I've been on TV and done interviews, people don't understand what the senior center's purpose is," Roe said. "They think it's like the Moose Lodge, a social club. It's a lot of things, but primarily, we feed people."
The center hit an all-time high in October with 6,481 meals provided, including 4,838 that were delivered through their homebound services like Meals on Wheels. Those services, Roe said, take up about 65 percent of the center's budget.
Twin Falls has become a hub for retirees. The low cost of living, coupled with the close proximity to health services makes the city an appealing place to write the final chapter of a life. As the elderly population of Twin Falls explodes, however, the senior center's budget is tighter than ever.
"The demand is going up, but the funding is going down. There's a huge, major deficit in funding," Roe said. "We're going to have a huge crisis. We're going to have an epidemic."
The center relies heavily on grants for funding, but federal funding cuts, especially to the Meals on Wheels program, are imminent. That logic, according to Roe, is backward.
"If we can just take people and feed them here, we would be paying a lot less in Medicaid costs because they'd be healthier. Every one dollar we spend here saves $50 of Medicaid spending," Roe said. "You can feed a person for an entire year here for $2,000. You can't even go to a hospital for one day or live in a nursing home for three days for that same price."
About a mile and a half north of the senior center, in a small building in which rent is $275 a month, Interlink Volunteer Caregivers faces similar challenges.
IVC does not accept federal funding, so it relies heavily on local grants and community partners like St. Luke's Magic Valley, Glanbia and United Way.
"When you accept federal funds, you have a lot of hoops to jump through, and they get to set all of the rules," said executive director Edie Schab. "We don't have that, so we're able to help people no matter what age they are."
Interlink provides myriad services to elderly, disabled and chronically ill people, including yard work and the building of wheelchair ramps, but Schab estimated that 85 percent of their time and resources are reserved for providing transportation to and from medical visits. Eighty-five percent of those services, she estimated, were for people over the age of 65.
Interlink is a significantly smaller operation than the senior center — Schab is the only full-time employee, and she has just one part-time assistant — but the director echoes many of the same frustrations as Roe.
In addition to the rapid influx of elderly people in Twin Falls, another outside force increased demand for its services: College of Southern Idaho's Office on Aging.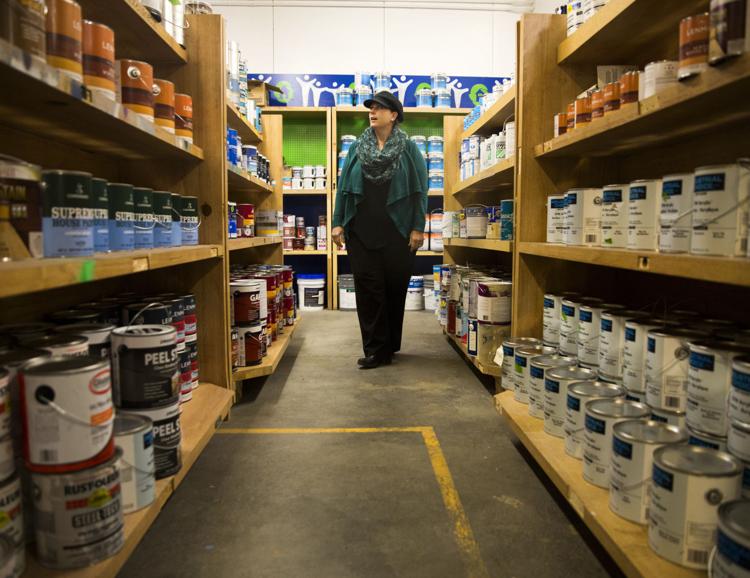 About two years ago, the Office on Aging stopped providing free transportation for the elderly. That left IVC as the lone cost-free provider in south-central Idaho.
"They served a lot of people. I took it to my board, we talked it over, and they said that if we don't take over their clients, they're going to come our way eventually anyway once their transportation gets shut down," Schab said.
When Schab accepted the position of executive director, Interlink served just four counties: Twin Falls, Jerome, Lincoln and Gooding. After CSI stopped offering free transportation, IVC expanded to all eight counties of south-central Idaho. But while the program's client base has expanded, its funding is still tight, and volunteers are always needed.
Schab said IVC and its 53 volunteers will provide services for more than 7,000 people this year. But if that number outpaces the rate at which IVC recruits volunteers, the lone source of free transportation in the Magic Valley could be forced to turn people away.
"I never thought it would explode this quick. The need is not going away," Schab said. "To this point, we haven't had to say no. I don't want to get there, and I don't want to get to the point where we can only do medical appointments instead of the other services too."
Why volunteer?
The rewards reaped from charities are not just limited to customers and clients for Lisa Gibson and Habitat for Humanity's ReStore. It also extends to the volunteers who keep the store running.
Some are just looking to give back to the community, but others are completing court-ordered community service hours.
Gibson makes little distinction between the two, and fellow volunteers rarely know who is volunteering for which reason.
"If they're volunteering, they're volunteering," Gibson said. "Whether they're being forced to or not doesn't really matter."
Gibson, a California transplant and mother of three sons, describes herself as having "broken wings syndrome." She relishes the opportunity to mentor those who are repaying a debt to the community, especially if they are young and impressionable. She also sees the long-term effect the store has on her volunteers.
"It shows them compassion. You put everyone on an even playing field and let them help people. It's an extension of my motherhood," she said.
Gibson also told a story of a young Hispanic man who had a few young kids of his own, and landed at Habitat for Humanity through court-ordered community service. A filthy, muddy bike came in as a donation, and he did a cursory job of cleaning it up before putting it on the floor to be sold. Gibson pulled him aside and suggested he clean it up to the point that he would buy it for his own 5-year-old child.
When the bike returned to the floor, it was sparkling. The store charged just five dollars for the bike, so it was snatched up in no time by a young child who gasped at the low price. When the volunteer saw the elation on the boy's face, Gibson said he broke down in tears.
"He thought at first, 'What difference does it make? It's some stupid old bike.' But when he saw the excitement of the little kid, he got it," Gibson said. "When you see mothers qualify for homes and cut a ribbon on a home they never would have been able to own otherwise, you get it."
At Interlink, most of the volunteers are retired, like Gary Babbel of Twin Falls.
Babbel, 77, was born and raised in Twin Falls, and spent nearly 40 years of his life in the Magic Valley. He, like many volunteers at IVC, primarily drives clients to and from appointments. But he also does some odd jobs for clients, like repairs, lawn mowing and simple social visits for people who just need some company.
"It sounds trite, but I've been blessed in my life with a lot of wonderful things. I want to give some back," Babbel said. "I get to meet people who have had different experiences than I have. I never would have met these people otherwise."
The holiday season
Money is unquestionably welcome at charities. Without money, those charities fold. But Jeanette Roe at the senior center urged people to think outside the box when donating during these winter months.
"If they're going to give you a free turkey when you grocery shop, take it. Don't throw it away. Bring it to us," Roe said. "We can use a turkey. We can use canned goods and potatoes. We can use that."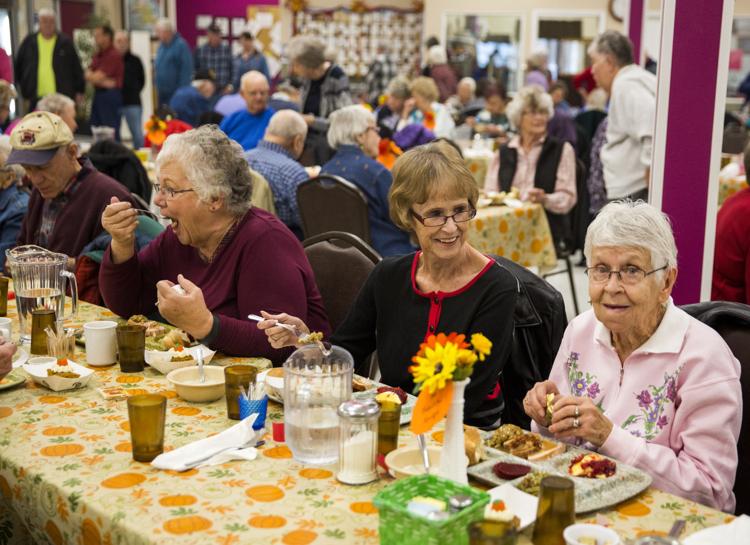 Roe laments the tendency of people to donate to charities concerning animals and children instead of the elderly, noting that she "can't make getting old warm and fuzzy."
"People will give to puppies before they give to old people. If there were kids out in the street and they were not getting fed, people would be rioting in the streets, demanding that people take action," Roe said. "Why aren't you in the same realm doing it for old people? These are people that served their country. They raised families. They've paid their taxes. They're part of the community. And we're just supposed to throw them away?"
This is the time of year, however, when people are more likely to turn an eye – and a wallet – toward local charities.
A 2012 Guidestar survey showed that 50.5 percent of organizations surveyed said they received the majority of their contributions between October and December. The same year, a survey by the Center on Philanthropy at Indiana University found that 42.7 percent of high-net donors (identified as households with income greater than $200,000 and net worth over $1,000,000) gave more during the holidays than the rest of the year.
The same is true at the Twin Falls Senior Center, where Roe said food donations tend to be heavier during the holiday season. Still, on days like Thanksgiving and Christmas when the shelter is closed, people need to eat. That puts the center in a bind of preparing meals and deliveries ahead of time.
"We've more than doubled the number of meals that we do on homebound, but we haven't doubled our budget," Roe said. "It's not just a problem for us. We have to run this like a business, and it's tough."