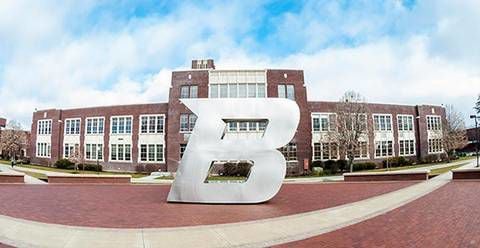 BOISE — Four Boise State University international students are in self-isolation for 14 days after clearing a health screening for coronavirus COVID-19 upon their arrival to Seattle on Monday.
According to Boise State officials, none of the students have shown any signs or symptoms of illness. Based on recommendations from federal and state public health experts, Boise State has instituted procedures for self isolating students visiting or returning from countries with Level-3 travel warnings, according to a press release.
The Centers for Disease Control and Prevention has created three levels to categorize the risk travelers could face. Level-3 asks travelers to avoid nonessential travel to South Korea, China, Italy and Iran due to the coronavirus.
"Public health experts have assured us that the chances of any instance or spread of the illness are very low," said Boise State spokesman Greg Hahn. "Out of an abundance of caution we want to do all we can to support and ensure the health and safety of everyone in our campus community."
Boise State's actions mirror other precautionary measures being taken by agencies across the state.
Boise State University adopts CDC recommendations
In an email to students on Thursday, Boise State administration officials explained that they are adopting the CDC's recommendation to impose a 14-day isolation period for Boise State community members returning from Level-3 countries. In addition, students are asked to be cautious as they make plans for the upcoming spring break and check in with their managers and trip sponsors to discuss whether university-sponsored travel should be canceled, delayed or continue as planned.
"Boise State leaders are preparing for multiple possibilities in the event the outbreak escalates locally and federal and state institutions call for further action," the email reads. "Including restricting group events, further suspending travel, moving more classes to an online format, and expanding telecommuting."
Boise State has also created a webpage to include frequently asked questions regarding the coronavirus, its symptoms and additional public concerns.
City of Boise task force
Earlier Thursday morning, Mayor Lauren McLean and acting Boise Fire Chief Romeo Gervais announced a Boise Coronavirus Task Force.
"It's important to remember that the individual risk to Idaho is low, but we want to be prepared as a city if there is an outbreak to address it quickly and efficiently. This task force will ensure we can do that," McLean said in a press release.
The task force, made up of seven Boise Police, Boise Fire and City Council members, will focus on coordinating and planning for an outbreak with other state and local entities, and will report to the mayor on efforts and on coordination with local, regional and state agencies, according to the press release.
Local call centers for coronavirus concerns
In addition, Central District Health (covering Ada, Boise, Elmore and Valley counties) announced Thursday that it is starting an Information Call Center in response to the volume of coronavirus-related calls.
The call center will operate weekdays from 8:30 a.m. to 4:30 p.m. and can be reached at 208-321-2222.
Similarly, Southwest District Health (covering Adams, Canyon, Gem, Owyhee, Payette, and Washington counties) is also operating its call center for coronavirus response weekdays from 8 a.m. to 8 p.m. Call 208-455-5411 for information.
Concerned about COVID-19?
Sign up now to get the most recent coronavirus headlines and other important local and national news sent to your email inbox daily.