TWIN FALLS — The easy part is setting a goal of going to a gym. The hard part is actually doing it.
There are lots of new gyms and other exercise options in Twin Falls — Planet Fitness just opened, and in the past year Twin Falls also gained a new yoga studio and a cycling studio.
But going to the right gym or finding the right exercise routine can be a struggle, so we asked two of the Times-News' fittest staffers for their personal recommendations. Here are their three non-big-box gym suggestions to consider this year:
CSI best option for athletes
If your New Year's resolution is to get strong, you probably want to go to the College of Southern Idaho gym. Even if CSI wasn't the best gym in Twin Falls, it'd still be the best bang for your buck.
The first thing I look at when I go into a gym is the number of racks — the platforms where you squat and deadlift, et cetera. The CSI gym has five. Most weight rooms aren't going to beat that.
If you plan on simply getting ripped or burning calories, you might not care about the number of squat racks, but if you're planning on getting strong, you're going to be squatting.
When you squat at most gyms during rush hour, you're probably going to have to wait in line, which can be miserable. Maybe once every two months I have to wait five minutes for a rack to open up at CSI, but most of the time nothing interrupts my lift.
CSI also has a basketball court — shooting around is a great way to get loose before hitting the weights.
The only potential knock on CSI, as far as I can tell, is that it's not open 24 hours a day. But that's only a problem for you if you plan on working out between 10 p.m. and 4:30 a.m. on weekdays. The weekend hours are good, too.
Climb your way into shape?
Twin Falls is fortunate to have cross fit gyms and yoga studios in addition to standard gyms. But there's one gym in the city that really stands out. Two years ago, a climbing gym opened up in Twin Falls. 
Gemstone Climbing Center offers dozens of rock climbing routes, plus dozens more bouldering routes. Bouldering is when you climb without a rope, and only climb as high as you're comfortable falling.
Climbing is energy intensive, especially when you're just starting out. But it won't just get you in good shape, it will keep you more athletic and nimble than benching and squatting will. Plus, if you hate running or swimming or lifting weights, climbing might be a good alternative. The amount of focus required to climb sort of takes your mind off the physical strain.
Then, on top of that, Gemstone has yoga classes and a weight room, so your membership doesn't just cover climbing.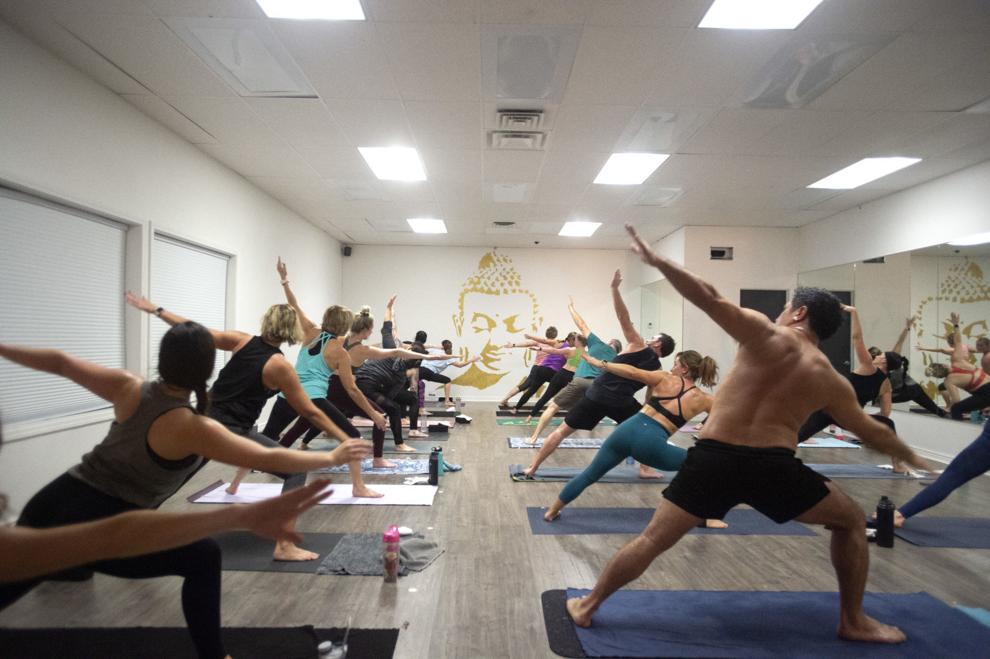 Want to sweat? Head over to Hive Hot Yoga
Looking for a new way to sweat? Try hot yoga at Hive.
Since it opened last January, Hive Hot Yoga has become a mecca for both dedicated yogis and those seeking to shed a few pounds, which is easy to do in a humid, 100-degree studio with infrared heat.
The studio is celebrating its first anniversary Saturday.
"The heat and the sweat really detoxes your body, especially after the holidays," instructor Kathy Jones said. "The heat is so good for your joints; it makes you stronger and tones your muscles."
The veteran yogi has taught the age-old art at studios and gyms across town since 2005. Now, she is solely instructing at Hive, where she teaches two Hot 60 classes, a Hot 80 and a Vinyasa flow.
At Hive, the classes are bigger than at the other studios on average, and students consistently come back.
"The space has evolved into so much more," Jones said. "The energy that surrounds it is amazing. So many people who have never tried yoga are trying hot yoga now."
In hot yoga, the series is the same each time.
"People start to learn the routines, and know where they are going, so they work on the form," Jones said.
The hot series includes a set of balance poses, a spine series, leg stretches on the floor in the "corpse" pose Savasana and a flow.
"The spine series is critical," Jones said, "Even for younger people, it's a form of preventative medicine and one of the most important parts of hot yoga — keeping your low back strong."
But it's not just experienced yogis who spread their mats at the studio. Families and couples are showing up, making attendance a daily and weekly ritual. 
"We instruct for first-timers," Jones said. "You can stay in child's pose and focus on breath work."
Beyond the daily sweat sessions offered seven days a week, Hive offers teacher training, pop-up classes and workshops such as the upcoming three-day Yoga Shred from Feb. 7-9 — a combination of aerobic yoga and breath work.
"Hot yoga can be challenging, but the goal is just to stay in the room," Jones said.
Practitioners can expect tangible results, including weight loss, increased physical endurance and mental focus, improved muscle tone and a stronger back and core.
"It's not just about hot yoga," Jones said. "It's about everything Hive stands for — community, energy, coming together, supporting each other."