TWIN FALLS — After moving to Twin Falls from Colorado in November 2018, I had no way of knowing what the cycling was like with snow on the ground, the daunting task of unpacking belongings, and starting a new job at the Times-News. But my son, Landon, and I had already pedaled copious amounts of miles together on the expansive network of trails, paths and bike lanes in metro-Denver and along the Front Range. Now we just needed the snow to melt.
When seasons finally shifted, I was pleased to see options offered in Twin Falls and our surrounding areas. From the dirt trails at Auger Falls and Indian Springs to the paved trails of Rock Creek and Canyon Rim, there is something for everyone.
Saddling up my mountain bike with Landon's bike trailer in tow, he and I began exploring town one warm day in early April. My apartment is only one block south of the sharrow bike lane on Heyburn Avenue, so Landon and I easily made our way north toward the Canyon Rim Trail on Madrona Street.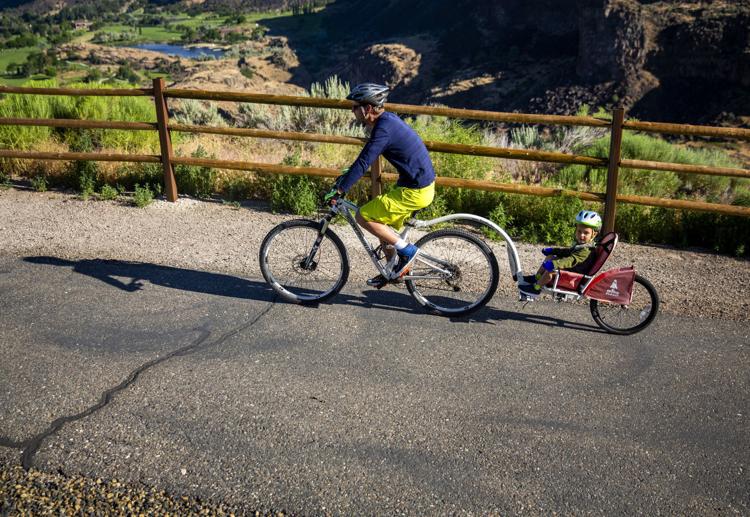 A casual pedal through the neighborhoods using Candleridge Drive and Mountain View Drive connected us to the Canyon Rim Trail.
Farther down the path, we headed for Shoshone Falls. The faint roar of the water cascading could be heard a mile away. Yet as we neared the falls, Landon's giddy laughter overpowered the sound, while we descended the steep path into the park. This was our first experience biking in the Magic Valley.
Bicycling remains the most energy-efficient mode of transportation on the planet. Multiple reports estimate there are two billion plus bicycles in use worldwide and more than half of the human population knows how to ride one.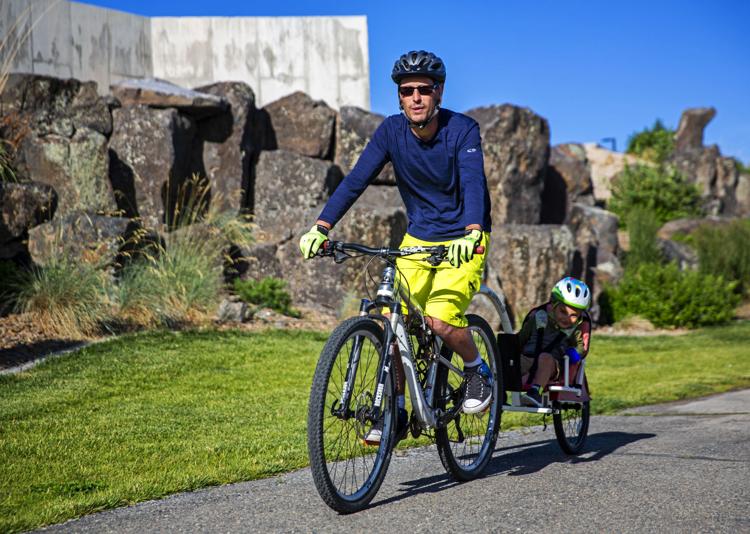 A study conducted in 2018 by the Outdoor Industry Association found bicycling (road, mountain and BMX) was the third most popular outdoor activity with 16% — or 47.5 million Americans age 6 or older pedaling — based on a 48 outings per cyclist per year average.
Closer to home, Twin Falls has an estimated 27 miles of bike, sharrow and multi-purpose lanes designated within the city limits. Double that number when including Auger Falls and almost quadruple it with Indian Springs attached. That's more than 100 miles of trail that you, your friends and family can pedal within a 30-second out-the-door saddle-up to a 30-minute drive from your house to the trail.
Landon and I opt to take full advantage of these figures and trails. Though he is a little too young for Auger Falls or Indian Springs, we have biked nearly every mile on pavement since spring arrived three months ago. Our favorite ride is from home off Maurice and Addison to Shoshone Falls and back.
"Give a man a fish and feed him for a day. ...
Teach a man to cycle and he will realize fishing is stupid and boring." —Desmond Tutu